STV's Stephen Daisley yesterday penned one of the more thoughtful analyses we've seen on the future of Labour, both UK and Scottish varieties, although it's perhaps a bit heavy on "they should do things that are popular and will make people vote for them" and a bit light on what those things would actually be.
But there's also this.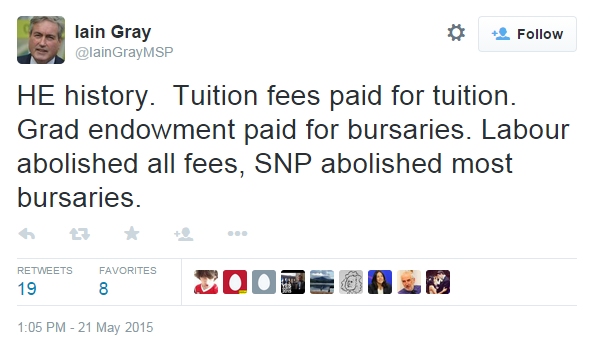 It's a bit like watching a rabbit on a motorway explain that lights can't hurt you.
Gray, along with the rest of Scottish Labour, spent the day screaming about Scottish education, with which there are undoubtedly some worrying issues. Tweet after tweet asserted that the SNP are very bad, but with practical ideas for improving the situation rather thinner on the ground, which is a politer way of saying "non-existent".
(The most we can deduce is that Labour seem to be opposed to free tuition again, although the party campaigned in the general election on that very policy.)
But that's only a symptom, not the real problem. Time and again since the carnage of May 7th, Scottish Labour politicians have bemoaned that the problem wasn't its policies, but that people simply wouldn't give them a hearing at all. What today shows is that they've learned absolutely nothing from the experience.
The facts about the history of tuition fees in Scotland are stark and unarguable:
– in 1997 when Labour came to power, higher education was free.
– the Labour government then introduced fees of £1000 a year across the UK, which meant a four-year degree in Scotland suddenly cost £4000.
– in 2000, the Labour-led Scottish Executive replaced said fees with a "graduate endowment", meaning that Scottish students paid £2000 retrospectively towards the cost of their education – half of what it had cost them under Labour's fees system in 1999, but still £2000 more than the £0 they'd been paying in 1997.
In the space of three years, then, while claiming to have "abolished" tuition fees, Labour had in fact increased the cost of a degree in Scotland from zero to £2000. Those are the cold, hard, unyielding truths.
Yet astonishingly, 15 years later, the party's education spokesman in Scotland is still trying to dance on the head of a semantic pin and insist that Labour abolished fees. The assumption, flying in the face of more than a decade of accumulated electoral evidence, appears to be that Scottish voters – including those who had to pay the "endowment" – are simple-minded idiots who can be fooled by a bit of wordplay.
It's a trait that regular readers of this site will recognise as being personified in the form of party activist Duncan Hothersall – a desperate evasion and twisting of reality by the use of linguistic pedantry, doggedly ignoring the fact that everyone long ago realised the emperor's nudity.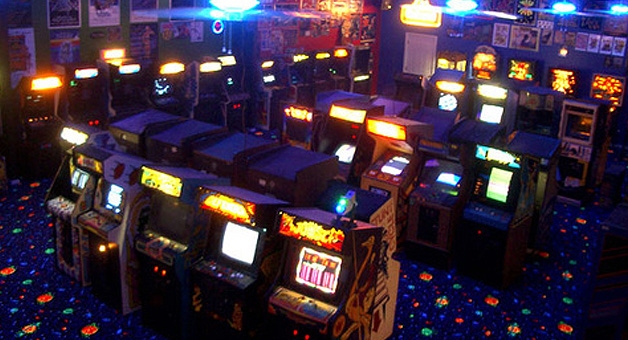 Readers, we miss the amusement arcades of the 1980s (especially the decade's first half). The halcyon era of the coin-op videogame, the period saw every second building on seaside promenades dedicated to a wide range of varied, inventive cabinets showcasing the then-new medium to intoxicating effect in dark rooms full of neon lights, twinkling CRT screens and cacophanies of unearthly electronic noise.
But arcades died. Those that survive are different beasts, full of fruit machines and "redemption" devices effectively carrying out the sale of wildly-overpriced plastic tat and cuddly toys to children. Affordable games consoles found in every other home now outstrip coin-op cabinets technologically by a distance, rendering the arcade redundant as a place of discovery and awe.
Kids don't want to shovel £1 a shot into games lasting 180 seconds when the same amount of money (or less) would buy them infinite play on one for their iPhone.
The simple fact is that the arcade's time has passed. A few examples still cling grimly to life on piers and esplanades, eking out a living from sallow-faced gamblers and audiences held captive by the British weather, but they're basically ghosts. There's no resurgence coming, no return to the glory days waiting just over the horizon.
Watching the Labour Party in 2015, stubbornly repeating the same lines that people have been seeing through for years, it's hard not to find ourselves transported wistfully back to Southport and Bridlington and Blackpool, the same kind of resort towns where the People's Party used to hold its annual conferences.
Iain Gray dutifully trotting out the "Labour abolished tuition fees" line yet again, even as his timeline fills with angry people telling him they're still paying off their student debts from Labour's time in power before the SNP finally DID return the cost of a Scottish university education to zero, sounds to our ears a lot like the arcade industry trying to convince itself that gigantic six-player "ride" games like Galaxian 3 would finally haul it out of the doldrums.
(As do the procession of would-be UK leaders proclaiming that only a move even further to the "centre", ie the right, can reverse the party's electoral fortunes.)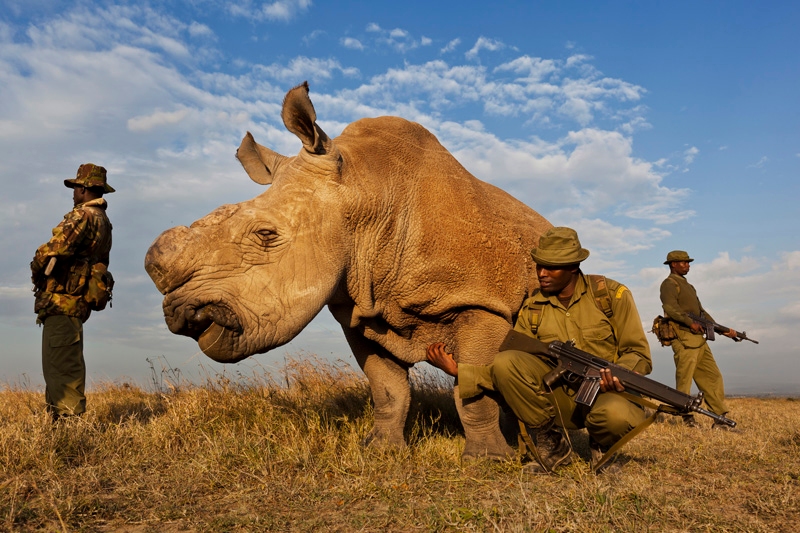 In Scotland, Labour is reduced to below a breeding pair, like the last white rhino in Africa. Were you to press us to fill in the detail missing from Stephen Daisley's piece on how to save the party, we might draw a blank too. Sometimes there's simply no option other than to set your jaw and submit to the inevitable. Sometimes history just moves on, and there's no avoiding it.