Now, it hasn't come as any surprise to us that "Bonnie Prince Bob", who is this week's darling of the Scottish media and is running for the Edinburgh Central seat against Angus Robertson, is a deeply tiresome faux-revolutionary Bella Caledonia-type poseur straight out of the most insufferable kind of student drama society.
We were already aware of the fact because he's been morbidly and creepily obsessed with Wings (and in particular my sex life for some unfathomable reason) for years.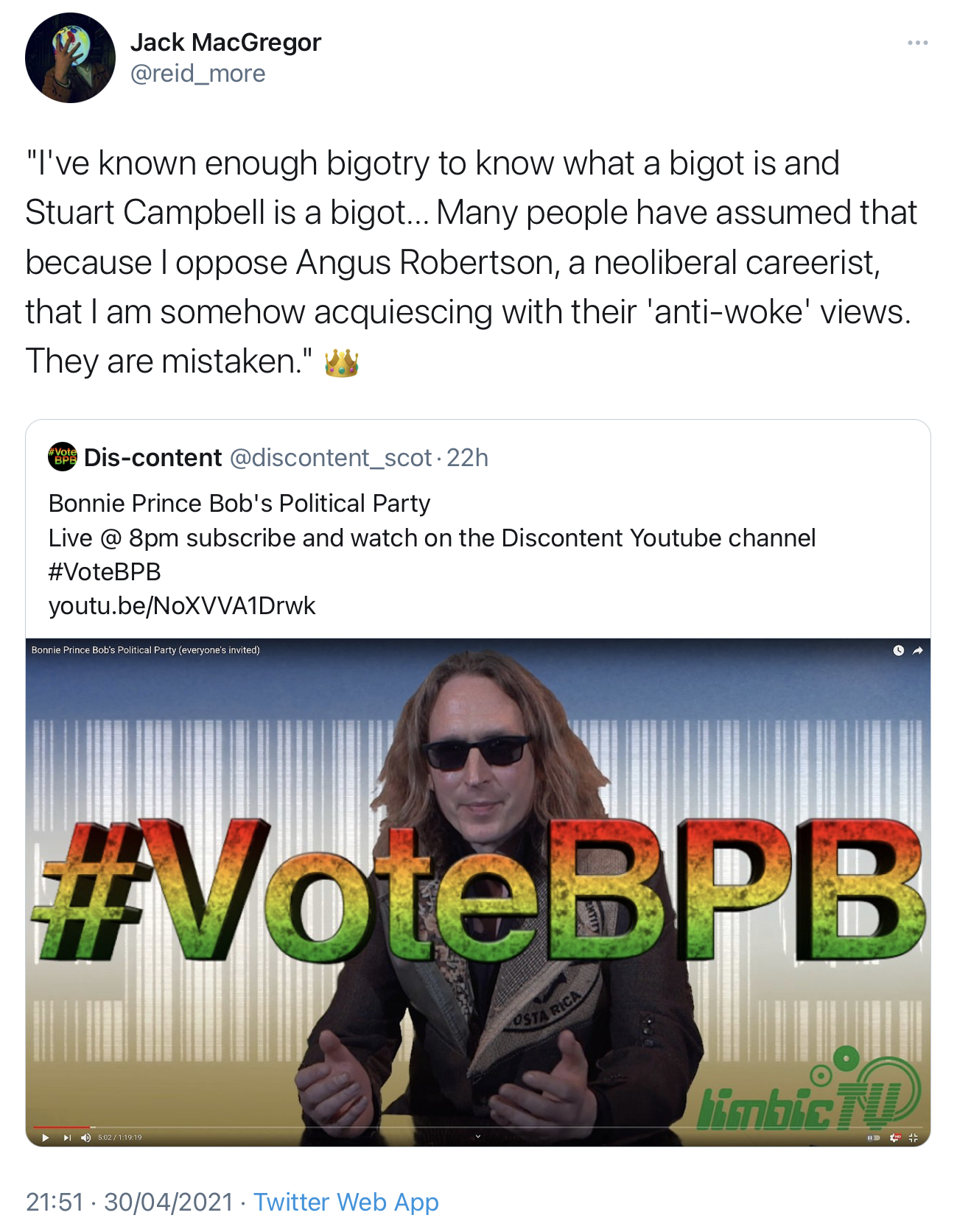 Bob is a dedicated self-publicist to whom the election is just an opportunity for a bit of attention-seeking and grifting. He's raised over £8,000 for unspecified purposes in a campaign that's being conducted almost entirely online at next to no cost.
But hey, everyone's got bills to pay, so good luck to him on that. There was a gap in the market for a cross between a slightly less clever pro-indy Neil Oliver and the oblivious wearing-outdoors-accessories-indoors bombast of George Galloway, and he seems to have cornered it with a modicum of aplomb.
His other goals are a bit more suspect, though.
Because Bob's standing as a man of the people, a firebrand proletarian class warrior aiming to give Edinburgh back to the downtrodden masses through the medium of sarcastic YouTube videos. He told Holyrood Magazine, for example, that he intended to fight the "flogging and whoring of every square metre of public space to crap hotels and fetid Etonian spivs". Admirable stuff indeed.

Yet for some reason he's not standing on the Lothian list, where just 6% or so of the vote is enough to make you an MSP. Instead he's contesting a constituency seat where the departing incumbent, Ruth Davidson, needed five times that share to edge out the SNP in 2016 in one of the night's biggest shocks.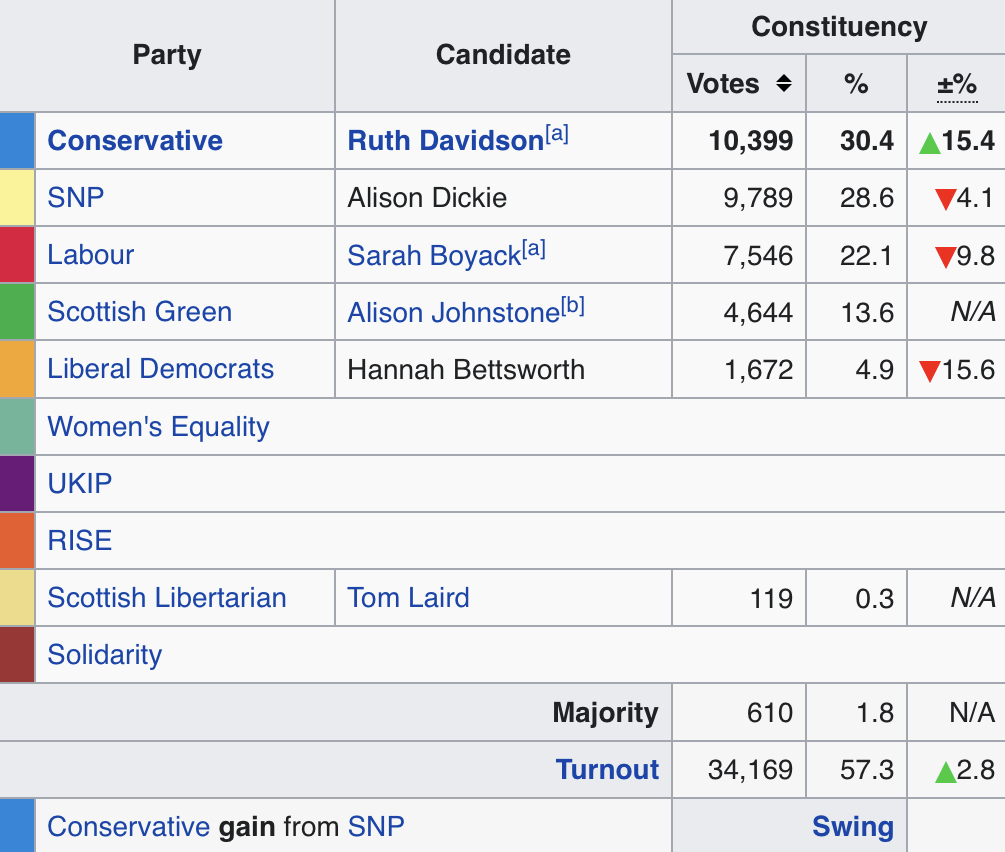 What that tells us is that Bob has no interest whatsoever in actually becoming an MSP, with all the boring hard work and suit-and-tie wearing that entails. Because while 6% is just about conceivable for an independent with some media profile and presentational ability, and could – at least in his wildest dreams – put him into Holyrood where he could try to effect change, he has absolutely no chance of winning the individual seat, and running for it is purely a self-glorification exercise.
But that's not to say he couldn't still make a difference.
The last time round, the Scottish Greens' no-hoper vanity candidate Alison Johnstone almost certainly took enough votes that would otherwise have gone to the SNP to give Ruth Davidson her victory by just 610. She's standing for the Greens again this year, and while the Tories have put up a relative nobody to try to defend Davidson's seat, a combination of the Greens and Bob could very plausibly do enough damage to stop Robertson recapturing a seat the SNP has only ever held once.
(It had hoped to take it way back in 2007, when it surged to its first ever election victory, but put the job in the hands of the ever-hopeless Shirley-Anne Somerville.)
The result of that would be that the intervention of the Great People's Revolutionary Champion would have ensured an extra Tory in the Parliament – a major boon for the very "fetid Etonian spivs" Bob is ostensibly riding into battle to combat, but a prospect about which he's intensely relaxed.

Now, full disclosure here, readers: we'd not exactly be rending our garments and shedding floods of tears if Angus Robertson lost. The SNP stitched up the seat to keep Joanna Cherry out of Holyrood and he's part of the problem in the party, not part of the solution. We're no hypocrites. But we're also not the ones standing on a supposed platform of saving the working-class from the Tories while seriously risking letting a full-strength bona-fide Tory MSP in.
In 2016 the SNP got no list MSPs in Lothian despite only winning six out of the nine constituency seats in the region, so it's possible – and dear God let's hope – that their horrific lead list candidate Graham Campbell wouldn't get in even if Robertson was defeated, making it a clear net Tory gain.
And who knows, with polling poised on a bit of a knife-edge that one extra seat could even be enough to turn a pro-indy majority into a Unionist one, all for the sake of briefly inflating Bob's needy ego.
But what's weirdest about it all is that despite that real danger, neither the Greens nor Bob are being bombarded with the sort of vicious and relentless abuse from SNP supporters that the Alba Party are, even though Alba aren't fighting ANY constituency seats (the Greens are fighting 11 others, none of which they have any hope of winning) and are telling their supporters to vote SNP on the first ballot paper.
The SNP's jealous fury seems to be solely reserved for Alba, and we suspect that reveals rather a lot about whether the SNP are really in this election for independence or to preserve their own monopoly on pro-indy politics.