For several years now this site has been drawing attention to the weird phenomenon of phantom news – stories presented by the media without even a shred of supporting evidence yet treated as unquestionable empirical fact. And recently there have been more phantoms around the Scottish press than an episode of Scooby Doo.
The thing Alan Roden – who prefers intimidating ordinary members of the public by doorstepping them and vilifying them in his paper – links to in that tweet is an article on the Herald website last night. And it's a weird article, because it's an extensive, quote-laden story about something that doesn't appear to have happened at all.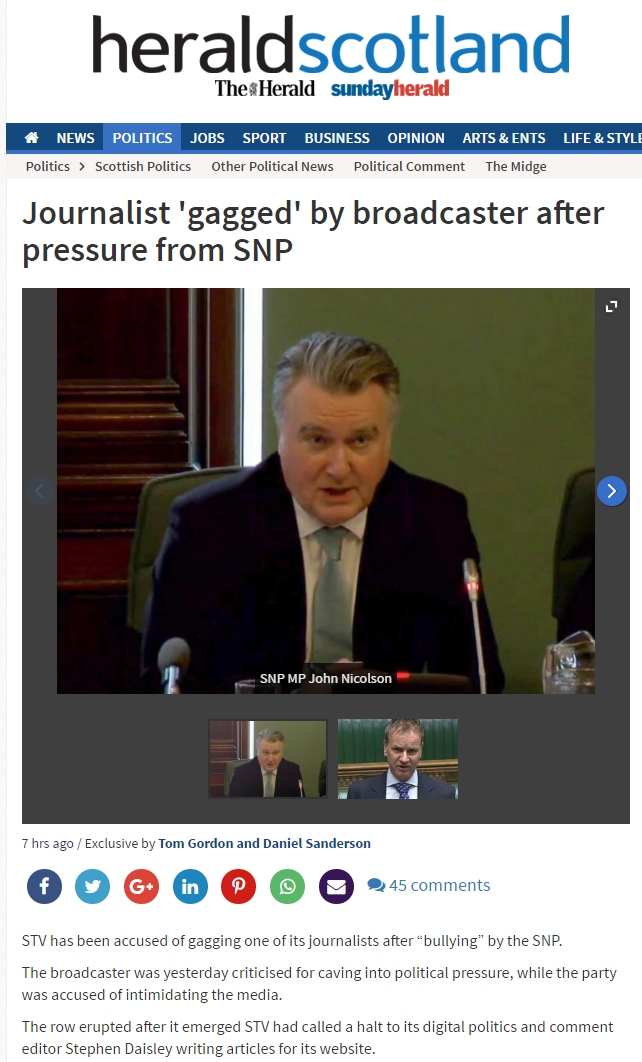 The first thing to note about those intro paragraphs is that absolutely no such thing has in fact "emerged". Neither STV nor Stephen Daisley has made any admission or claim that the broadcaster has "called a halt" to Daisley's commentary.
(Ironically, of course, the Herald is the newspaper which really DID gag two of its own journalists when they were the subject of pressure from a football club.)
The closest thing to evidence backing the assertion is the observation that Daisley hasn't penned an opinion piece for STV since July 19, which is only a month ago. It's the summer "silly season" for politics, and with both the UK and Scottish parliaments in recess all journalists are struggling for material.
Indeed, as far as we can tell, in the four weeks since Daisley's last, a wild-eyed rant about Labour, the STV comment section has only published (excluding one in Polish that we can't read) eight opinion columns in total, by eight different people:
Kevin McKenna on onscreen rape and violence
"Scottish rapper" Darren McGarvey on how the SNP are bad
Chloe Marvin on how Jeremy Corbyn is bad
John McTernan on how independence is bad
Labour MSP James Kelly on how the SNP are bad
Hannah McGill on how Andrea Leadsom is good
Andrew Collier on how "cybernats" are bad
Melanie Reid on how men are bad
So it's not like Daisley's right-wing views have exactly been going unrepresented in the station's output anyway. And Daisley himself has merrily continued trolling Nats on his Twitter account the whole time.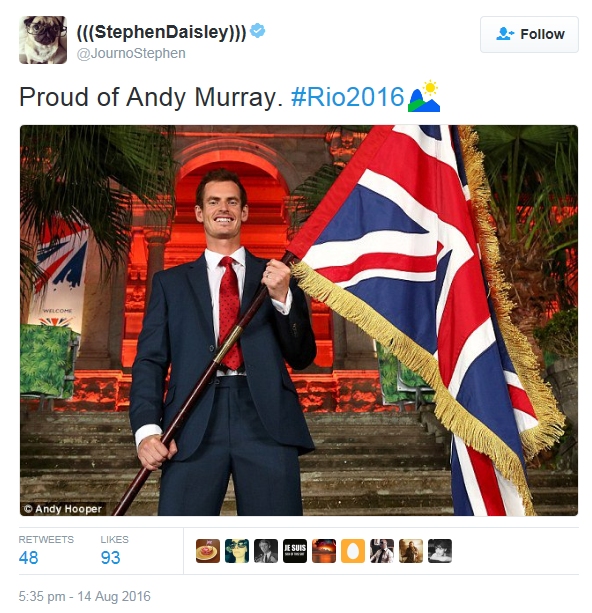 The fact that neither Daisley nor STV has given any statement saying that he'd been subject to any sort of sanction – the broadcaster in fact said that "Stephen Daisley is a key contributor", present tense – didn't stop Unionist politicians falling over each other in the rush to go on the record stating it as a fact:
And it's not until the very last line of a 700-word story – by which point, as we know, almost all readers have stopped reading – that we get the categorical denial from the SNP that they'd exerted any pressure over Daisley whatsoever:
We're sure the former Scottish Conservatives media adviser and News Of The World reporter will be fine, though. He has plenty of eager and staunch defenders – no less a figure than Ruth Davidson, leader of the Scottish Parliament's opposition, leapt to his aid this morning with all the bullish alacrity of a burly man outside a polling station.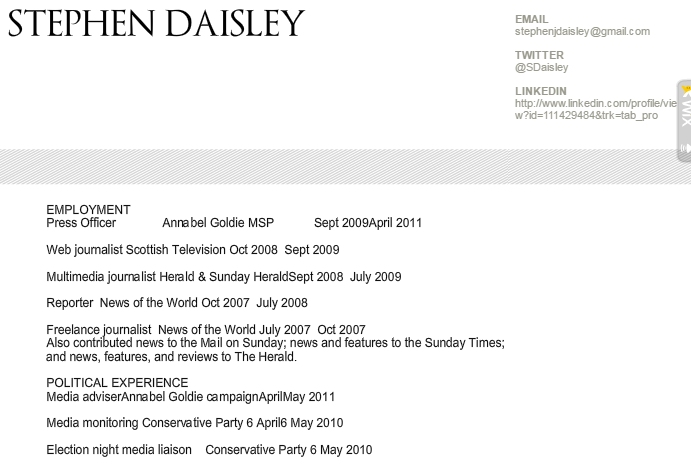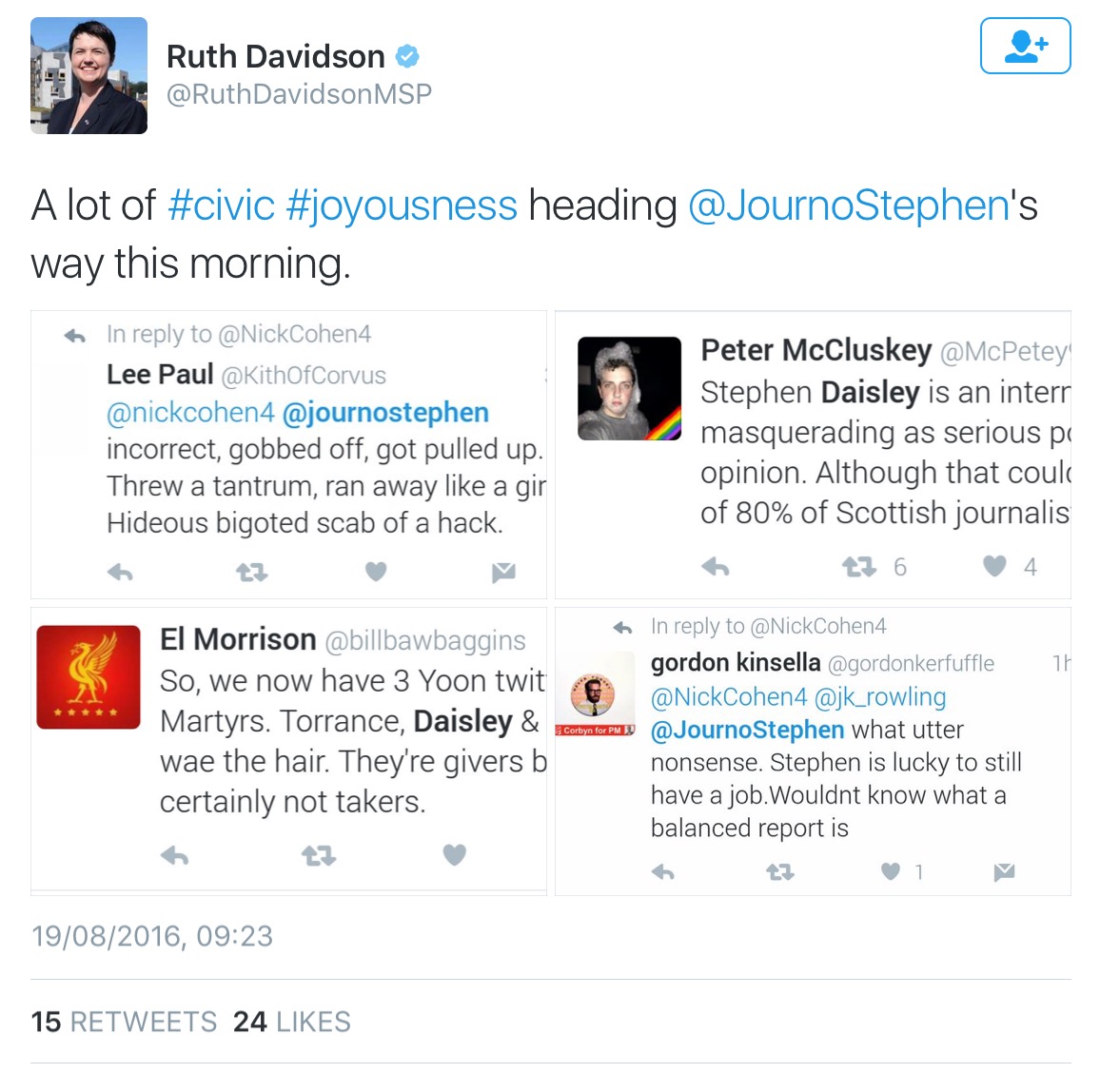 But he hasn't been the only Unionist painted as a martyr to the vile Nats this month. It's just a couple of weeks since David Torrance did a dramatic flounce off Twitter, citing non-specific, unseen abuse from those awful cybernats.
And earlier this week the papers were full of TV presenter and aggressively-Unionist columnist Neil Oliver saying he too had been driven away by the beastly monsters of social media.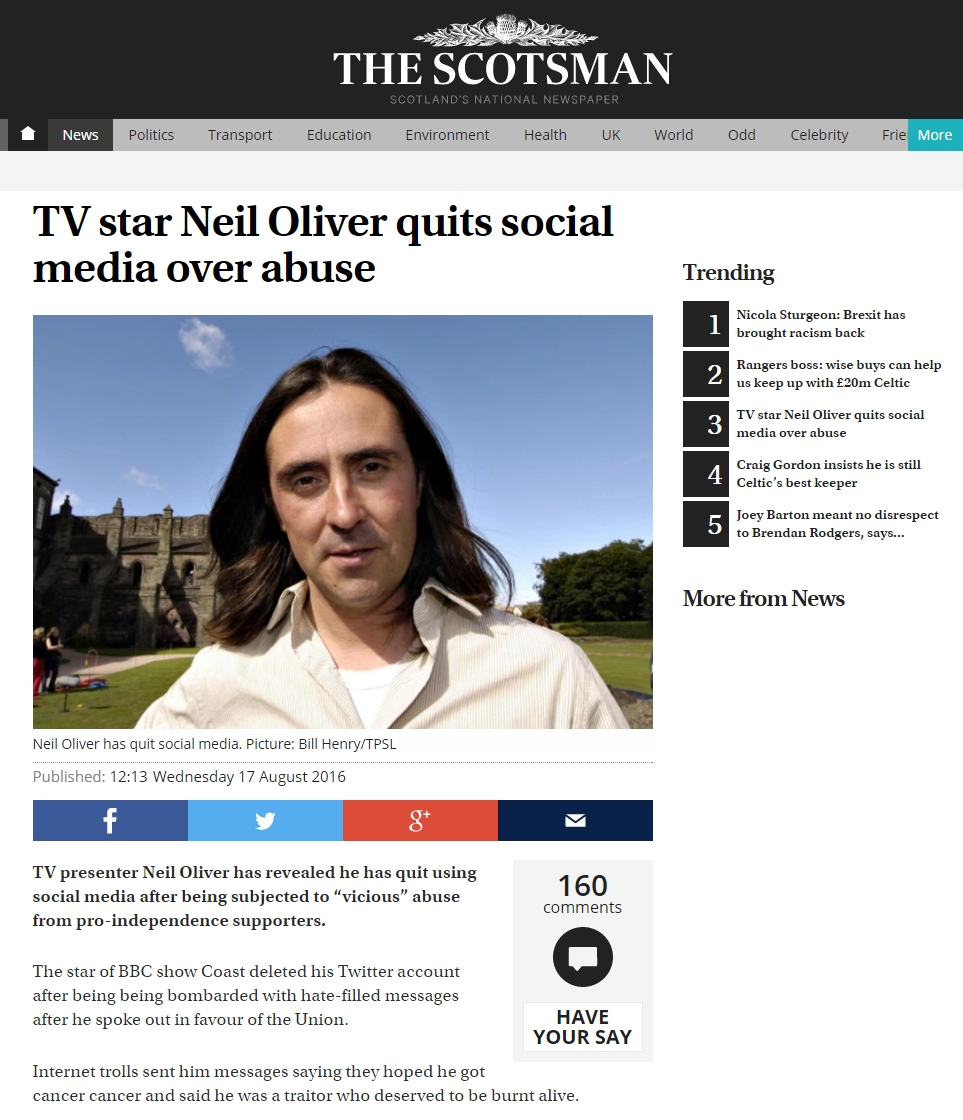 Every report on Oliver's rage-quit states as an unchallenged fact that "internet trolls sent him messages saying they hoped he got cancer and said he was a traitor who deserved to be burnt alive". Yet searching Twitter for messages directed to Oliver's now-closed account produces no evidence of any such abuse whatsoever.
Searches for "burnt" or "burned" produce no abusive results at all. And searching for "cancer" turns up not people wishing that Oliver had the disease, but people angrily reacting to HIS OWN use of the term to refer to independence in an extraordinarily provocative Sunday Times interview in September 2015 (followed by a similarly belligerent column in the same paper in May this year).
Of course, when a pro-independence paper reported that anger, right-wing Unionist hacks belonging to Daisley's clique had joyously celebrated the hurt feelings of people who'd lost relatives to cancer and objected to Oliver's language: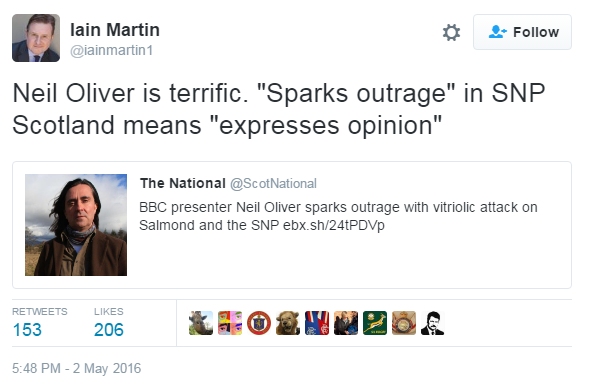 (Oliver's Twitter account was very little-used anyway, despite its large following. The most recent snapshot of it on archive.org is dated 3 May 2016, but the last tweets shown on it are from 6 September 2015 and show him gleefully boasting of how many people he's just blocked. He'd made only 1,978 tweets in over five years of having the account, or roughly one tweet a day.)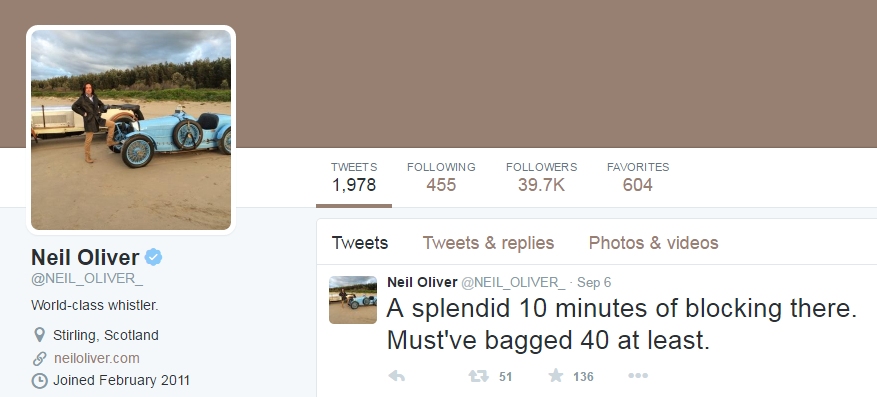 So a theme is developing. Oliver, Torrance and Daisley have all gone out of their way to antagonise and provoke supporters of independence, then have suddenly become victims of terrible supposed abuse that we're not shown and that nobody can find, such that they're "hounded off" social media (rather than, say, using the block and mute functions) or out of doing their job – even though they're still in their job – and the media goes off on another orgy of hyperbole about dreadful "cybernats".
(The Herald having prepared the scene earlier this week with another attack on them, from the same author as the Daisley story, based on comments made by embittered former SNP advisor Alex Bell at a Fringe "debate" also featuring right-wing Unionist Alex Massie and impartially hosted by, er, David Torrance.)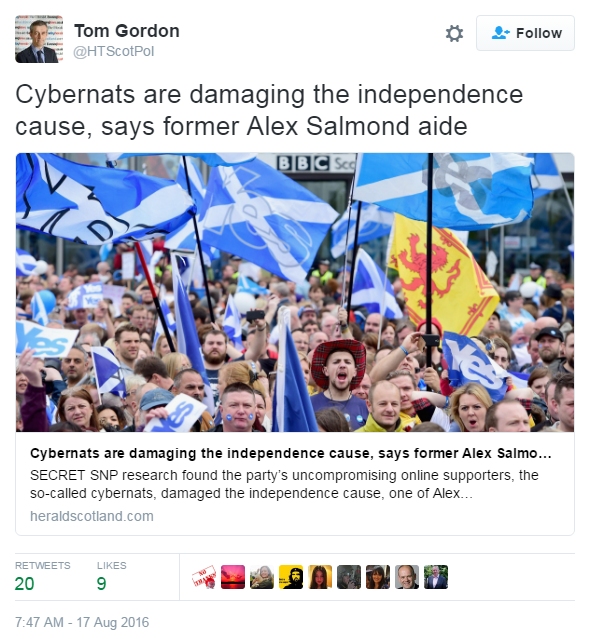 Comedian and columnist Frankie Boyle – who's been the subject of plenty of very real threats himself – has recently remarked on the phenomenon of phantom abuse:
"I find it incredibly worrying that we no longer need to hear the actual content of the thing we're told to be offended by. We hear of people being arrested for tweets without the tweet being reported; comics are blasted for routines that aren't printed; newspapers hire lip-readers to find something to get offended by at the tennis and then print the resulting fuckfest as asterisks.

And who decides whether we should be outraged at something we haven't seen or heard? The press. Our seething collective Id. None of us would trust a journalist to hold our pint while we went to the bathroom, yet we allow them to be ethical arbiters for the entire culture."
But there's nothing new about it, certainly not in the world of the Scottish political media. And if it had only happened in the last few weeks, we could have put it down to the summer silly season and desperate hacks with nothing else to write about.
But when it happens consistently, year after year, whether it's Stephen Daisley or Susan Calman or David Torrance or "ordinary mum" Claire Lally or Neil Oliver or Cara Hilton or Chris Hoy or JK Rowling or Nigel Farage or the nurse who definitely wasn't an actress, it looks a lot more like a modus operandi.