We saw this exchange on Twitter this morning, involving left-wing Labour activist Eoin Clarke, a reader, and Scottish Labour list MSP Elaine Smith.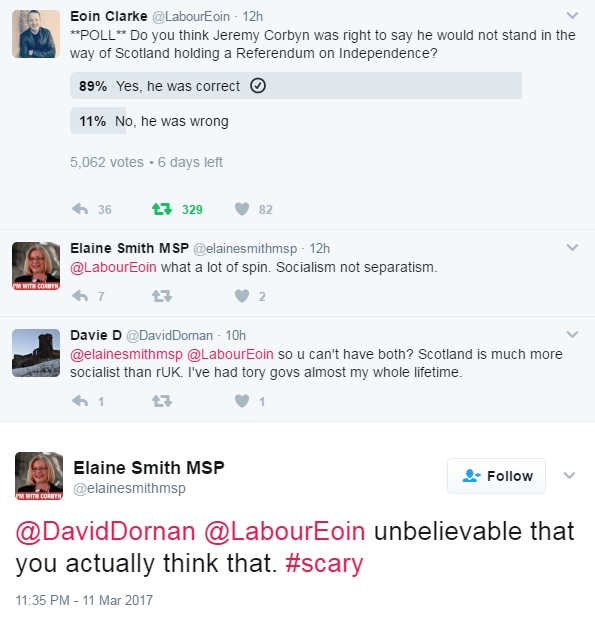 Smith professed to find it "unbelievable" and "scary" that the reader thought he'd had Tory governments for most of his lifetime. (We asked him how old he was and he said 34, which means he's had Tory governments for 62% of his life, so that checks out.)
But it's a standard Scottish Labour line that there's no real difference between Scottish and English voters in terms of favouring left-wing politics, so we thought we'd just quickly check the arithmetic on that. The results are unlikely to shock you.
Elaine Smith was born in 1963, which makes her the oldest of the people involved in the conversation. So starting from her birth, we added up how many Tory MPs had been elected in general elections in England and Scotland respectively, and also how many times the Tories had won the popular vote on each side of the border.
TORY MPs ELECTED IN ENGLAND: 51.7%
(3777 out of a possible 7304)
TORY MPs ELECTED IN SCOTLAND: 17.9%
(172 out of a possible 963)
TORY POPULAR VOTE VICTORIES IN ENGLAND: 64.3%
(9/14)
TORY POPULAR VOTE VICTORIES IN SCOTLAND: 0%
(0/14)
(Sources: 1963-2005 here, 2010 here and here, 2015 here and here.)
We'll be honest, readers, those seem quite different to us. Perhaps Elaine Smith has a different understanding of how numbers work. But we predict she and her Scottish colleages are going to have quite a hard time selling their vision of alternative maths to the Scottish public for the forseeable future.