We're back in the archives again today, because there's still no news. (The Herald is desperately trying to whip up outrage over trains arriving 61 seconds late, and David Torrance has finally turned up at the "OMG YES MOVEMENT SPLIT" party just as the last stragglers are heading home and the hosts are going to bed.)
And we're particularly enjoying this one, for a whole list of reasons: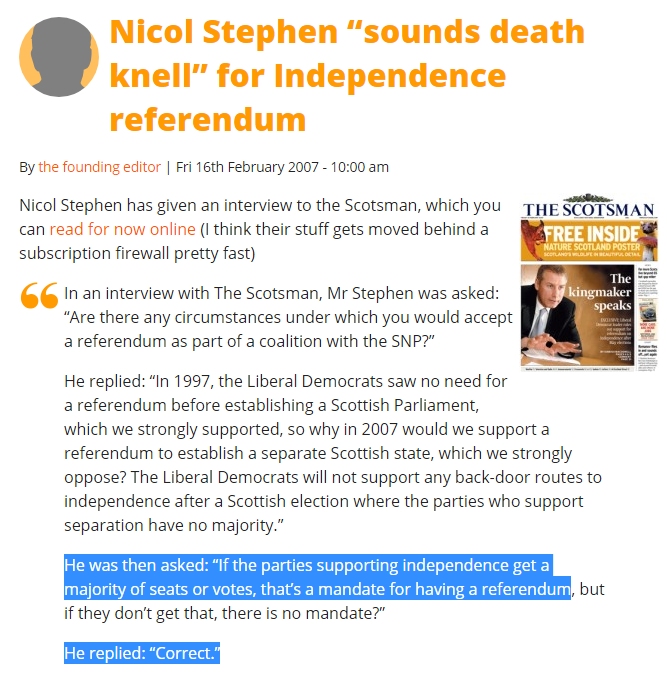 (You can read the full original Scotsman piece here.)
Stephen – who if Gordon Brown had had his way would have become First Minister in 2007 – wasn't the most recent Lib Dem to take that position, of course. Indeed, his own successor Tavish Scott had gone even further by the time of the next Holyrood election, saying that "if you want independence you can vote for it on Thursday":
In the same week Ruth Davidson had said the same thing:
"You don't get a referendum for free, you have to earn it. So if the Greens and the SNP – and the SSP or any of the other parties who've declared an interest in independence – get over the line and can make a coalition, make a majority, get the votes in the Parliament, then they'll vote through a referendum, and that's what democracy's all about."
The pro-independence parties DO of course have a majority of seats in the current Scottish Parliament, just as they did in 2011. But all of a sudden the rules have been changed, and changed radically.
Maybe we should just declare UDI now after all.
.
(NB: We should not just declare UDI now. But perhaps more of the media ought to be asking the Unionist parties what WOULD constitute a democratic mandate, rather than what DOESN'T.)