We were rather startled to learn this morning that Brian Donohoe, the former Scottish Labour MP for Central Ayrshire, had been awarded a knighthood in the Queen's latest Birthday Honours List.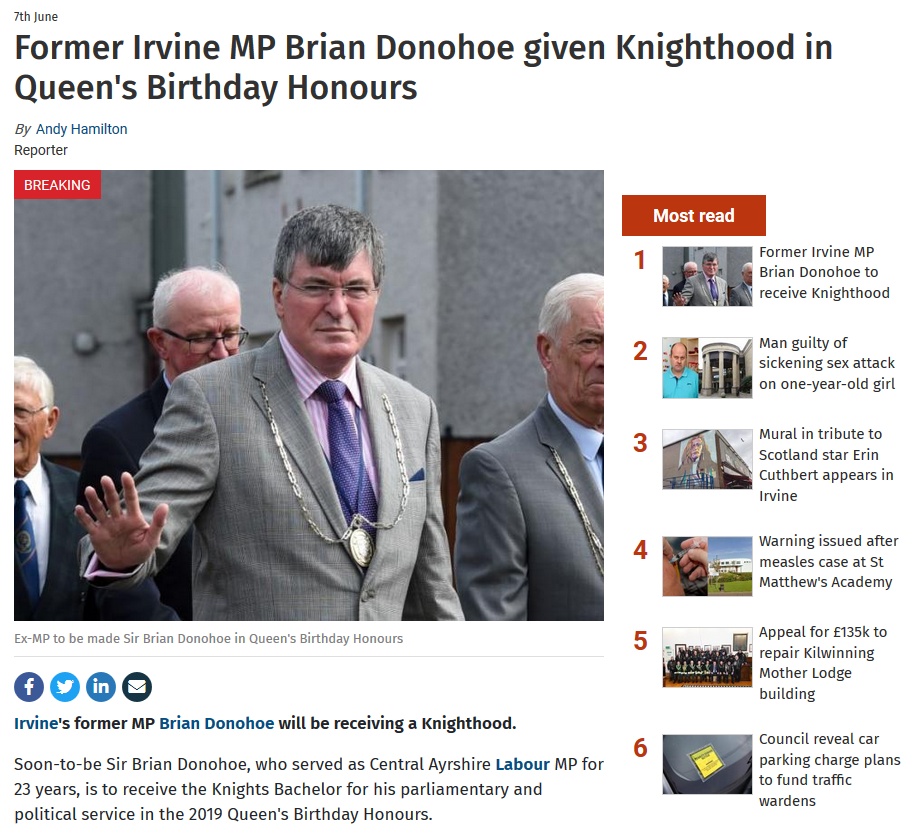 Not by the award itself, but because we assumed he must have done a lot of unsung charity work in his community or something. But no, the title was conferred purely for "services to Parliament and politics".
So we thought we'd do a recap.
Because for years, Donohoe was our go-to example if we wanted to illustrate the sheer seat-warming uselessness of Scottish Labour MPs.
One of his high points was the shocking 2015 revelation that apparently the Russians had already invaded Scotland and were sailing submarines up the Clyde at that very moment (which somehow proved the effectiveness of Trident as a deterrent):
When asked in 2014 about the fate of the disabled and handicapped under the welfare reforms of a Tory government if Scotland voted No to independence, he replied:
In so far as that word-dribble even makes sense in English, readers can judge for themselves whether it turned out to be true or not.
In the same year he proudly asserted that the UK had not been invaded by "a foreign body" for more than 750 years – despite only having existed for 307.
In 2013 he proposed to "celebrate" the start of World War 1.
Later that year he was one of the 47 Labour MPs who failed to turn up to a vote on repealing the bedroom tax, which was defeated by just 26 votes.
He consistently opposed equal marriage:
In 2014 he became briefly infamous as "the most embarrassing MP of all time", after making a video for his much-mocked comically awful website.
The website itself was later revealed to have cost taxpayers £2,300.
Donohoe also made a series of inflammatory remarks about travellers:
And raged against police investigations into the use of Prestwick Airport by the UK government to facilitate CIA torture flights.
Readers will no doubt be surprised to hear that he's a keen "Rangers" supporter, and advocate of a UK national football team.
From which they can draw their own conclusions.
But Donohoe's most significant contribution to UK politics in a 23-year career as an MP (indeed, as far as we can establish his only one, unless you count the 17 days that he spent as a Parliamentary Private Secretary to Andrew Adonis in 2009) was to be one of the decisive Labour voices of opposition to a proposed anti-Tory alliance following the 2010 general election.
Donohoe bitterly rejected the idea of working with either the SNP or the Lib Dems, the latter primarily out of his lifelong opposition to electoral reform which might threaten his "safe" seat of Central Ayrshire.
The furious tribal resistance of Donohoe and some other Scottish Labour hardliners ensured that David Cameron entered Downing Street in a coalition with the Lib Dems instead, and we all know how that ended.
Ironically, Donohoe reaped the electoral whirlwind in 2015 anyway, when his 12,000 majority was crushed by a thunderous 28% swing to the SNP's Philippa Whitford, who romped home by more than 13,500 votes. But Donohoe's reaction to his defeat wasn't to vow to fight back to regain the seat for the good of the people of Ayrshire.
He opted for a rather different attitude to their democratic choice:
(Let's just take a moment and mull that last line:
Sorry, whose time? Are you by any chance referring to the time for which you're very generously remunerated by the taxpayer at a then-rate of around £65,000 a year plus allowances, in order to help those people with their problems? How positively saintly of you to allow the ghastly oiks to impinge on your golf schedule for a moment or two.)
In the 2017 election, Labour dropped to 3rd place behind the Tories, in a seat which Labour had held since 1959. Donohoe's predecessor as MP had bequeathed him a Labour vote of 27,438. After two decades of enthusiastically sucking up wages and expenses (he always voted solidly for more money for MPs, even when that meant rebelling against his own party whip), he passed down less than half of that – 13,410 – as an inheritance to his Labour successor, ensuring that despite a reduced majority the conscientious and admirable Dr Whitford held onto the seat.
And at the end of the day that IS a worthwhile service to Parliament and politics, even if it took a while coming. Sir Brian, we salute you.