This afternoon we reluctantly watched some of the House Of Commons debate entitled "Scotland's Place In The UK", because it's our job. It was as dispiriting as its arrogant and presumptuous title suggests, and we could bear no more by about a third of the way through and went off to do something less annoying, like thread a muddy needle under a stroboscope while wearing boxing gloves and listening to One Direction.
Nevertheless, we managed to pick out a few choice lines at the time, and a few more from Hansard this evening, with our blood pressure soothed by merely having to read, not watch, Labour, Lib Dem and Tory MPs alike braying and hooting throughout, behaving with a lack of dignity and class that would have shamed a chimp's tea party.
(Or as Labour's Willie Bain put it, "the best of the House of Commons".)
The winner is below.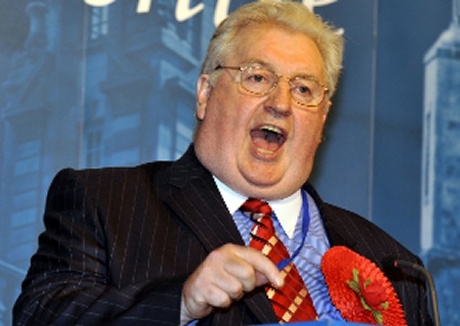 Mr Jim Hood (Lanark and Hamilton East) (Lab):
"Even if the SNP was right and there was a grand, great thing at the end of the rainbow for the SNP and its debate for independence, I would still be against it.

If the Scottish people are going to be better off economically and so on, I would still be against breaking away from the Union."
Wow. Scottish Labour in a nutshell, right from the horse's mouth, readers.
Mr Hood wasn't quite finished. He closed his speech with a line which was cut short by the Deputy Speaker because Mr Hood's allotted time was up, which is a pity as we'd have liked to hear the end of it.
"I am fighting against a lying Government now in the Scottish Parliament. In 30 years' time, when somebody asks what I was doing in 2014 and which side I was on, my grandchildren will be able to say, "He was on the side of Scotland, and he opposed devolution and -"
Wait a minute, he opposed what now? Sadly Mr Hood didn't get the chance to clarify this potentially significant statement, so we have to disqualify it from runner-up status, which instead goes to one of Mr Hood's lower-wattage colleagues.
Mr Brian H. Donohoe (Central Ayrshire) (Lab):
"Is it not also the case that the UK has not been invaded by a foreign body for more than 750 years? Surely that in itself demonstrates just how successful the Union has been."
Um. The UK has existed for 307 years, which alert readers will note is less than half of the time Mr Donohoe cites. It seems fair to say, then, that the lack of a UK invasion by a foreign power may not necessarily be attributable to the Union, given that said UK didn't exist for the 443 years prior to 1707, and therefore either (a) would have been difficult to invade at all, or (b) did not rely on a union between Scotland and England for its security. Tip-top work, Mr Donohoe, you fat-headed, trough-swilling buffoon.
Alistair Darling, if any of his constituents are wondering, was present in the chamber for once, but remained silent. Perhaps as the chairman of "Better Together", he was uncomfortable with the notion that someone might be allowed to challenge him.