This week's Scottish budget threw the opposition parties and the media into panic and disarray. Evidently having expected considerably more swingeing tax hikes than the extremely modest increases that were imposed on higher earners, they'd built up a head of steaming fury that had nowhere to go, and have been reduced to frantically scrabbling around for extreme (or flat-out wrong) examples to try to generate outrage.
Today's politics lead in the Scottish Mail On Sunday is a case in point.
By going through all the numbers with a fine-tooth comb, the SMoS has managed to pick out a tiny anomaly around National Insurance thresholds, and portrayed it as hitting people on a very healthy but not exactly super-rich salary of £45,000 with a total tax-and-NI rate of 53%.
The small print, as ever, is rather less dramatic.
Because the anomalous rate quoted only applies to the portion of people's earnings between £44,273 and £46,350. That £2,077 will be taxed at 53% rather than what the Mail calls a "much lower" 48% if it was in England.
That means an actual difference of £104 per year (£1101 rather than £997), or exactly £2 a week, for that particular slice of earnings.
Which isn't even news, because we already knew that the budget meant higher-rate taxpayers in Scotland would be contributing a little more than those in the rest of the UK, as the Mail itself had pointed out days earlier.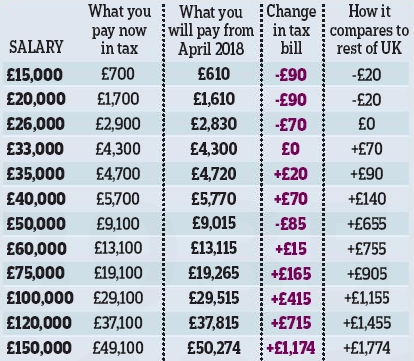 So the story is simply reframing stuff everyone already knew in such a way as to make it sound far worse than it really is. But it's not finished at that point.
Thousands of pounds? From our poor cash-strapped pensioners? Tell us more!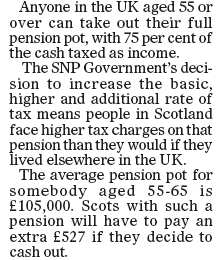 Oh. This is in fact a story run first by the Scottish Sun, which at least had the restraint to keep its hysteria down to "hundreds" of pounds: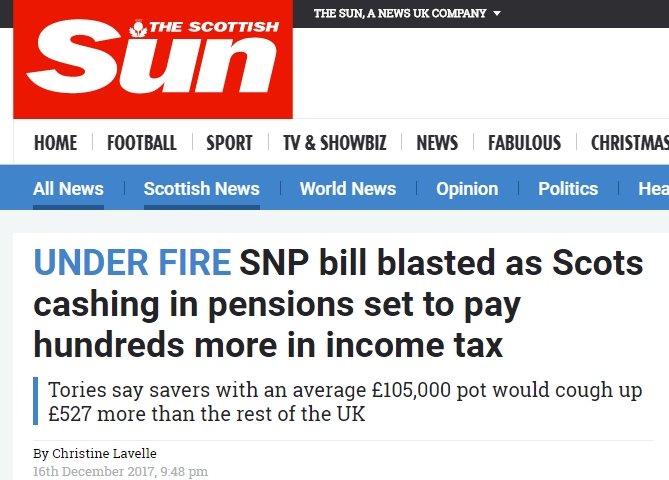 What it means is that anyone fortunate enough to have built up a private pension pot in six figures, and who decided to cash it all out as one lump sum rather than a much more tax-efficient annuity, would pay slightly more tax on it in Scotland rather than in England, reducing the value of an "average" £105,000 pot (we're not sure whose average that is) to a feeble, pathetic pittance of just, um, £104,478.
To get to the Mail On Sunday's figure of "thousands" in extra tax (let's keep it modest and say £3000), a pensioner would have to be cashing in a lump sum of £597,723.
A full-time worker on the UK minimum wage working a 35-hour week earns £13,650 a year before deductions. They'd have to work almost 44 years just to EARN that £598K, let alone be able to SAVE that much into a pension pot over their lifetime.
(The average full-time wage is about twice as much, so would take 22 years of saving every single penny a person earned – not paying any bills, or rent, or mortgage, or buying food – to build up a pension so large that it'd cost £3000 in extra tax.)
We're going to go ahead and say that anyone who's about to cash in a cheque for nearly SIX HUNDRED THOUSAND POUNDS in a oner can probably afford to kick in £3000 – about 0.5% – for public services and people less well off than themselves without suffering too badly. But whatever else you might say about the Tories or the Daily Mail, they know who their audience is.