Because to tell you the truth, readers, we're not sure the word "idiot" is accurate any more. The tweets you're about to read are far beyond simple stupidity and well into the shadowy realms of deliberate falsehood. (Delivered in the secure knowledge that the media won't challenge it, and in fact will probably exaggerate and amplify it further.)
So let's start with one of the better-known dum-dums.
That's serial bonehead Jamie Greene there, demonstrating that he can't count up to two, because what he evidently meant to write was "two pictures say eleven words".
This should be good.
We'll show you the full version of that second pic, because an awful lot of Tory dimwits were tweeting it yesterday. It's a Scottish Government graphic.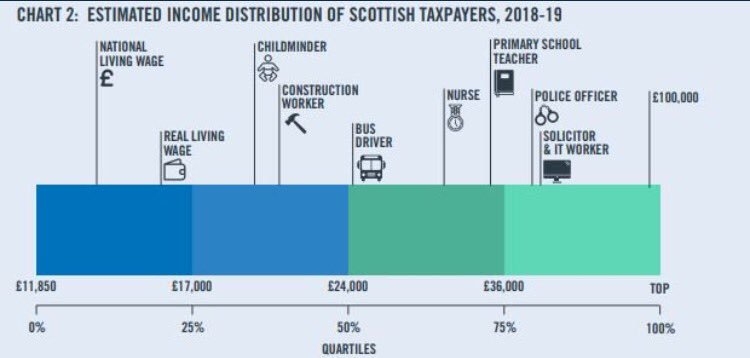 Greene's other pic is a table of the new tax changes, showing who gains and loses from the budget. This is a clearer version of it, taken from the Daily Mail: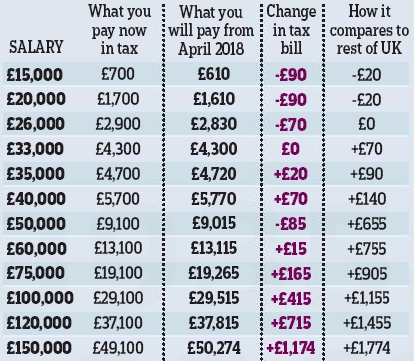 What we can see there is the much-cited and undisputed fact that nobody on less than £33,000 will pay any more tax under the new tax bands and rates. (Even on a pretty tasty £75K you're only going to be down £3 a week from your £1,442 salary.)
But where on the first chart, in terms of that £33K threshold, is our nurse?
Oh. In fact the supposedly representative nurse Greene is wailing about is well under the £33K threshold, on around £31,600. She'll therefore be slightly better off under the new tax bands, so what he means by "if you're a nurse in Scotland you will pay more tax" is "if you're a nurse in Scotland you will pay LESS tax".
And to be fair to him, that's 10 words right out of 11, bless his wee soul.
But what Greene oddly fails to mention is that the budget also ended the public-sector pay freeze and provided a guaranteed pay rise for public-sector workers like nurses.

For our "typical" nurse on £31,600 that means a 2% rise of an extra £632 a year, to offset the tax increase of, er, £0. It takes a quite special grasp of arithmetic to present that as them being worse off due to the budget.
As we learned earlier today, the other measure that's being used by the opposition and media to attack the Scottish Government over the budget is that of earnings and taxes relative to people in the rest of the UK. But if our nurse is on £31,600 she's in NHS pay band 6, which means she's already better off than her counterparts to the south.
(As are nurses in all the other pay bands, including Band 5, where most actually are.) At £31,600 she'll already have been on about £300 more than her English equivalent, so with the new budget measures she'll be almost £1000 better off in relative terms.
(The Tories have pledged to end the freeze in England at some point in the next two years but haven't provided any detail on when or by how much, while in Labour-run Wales the freeze is staying in place indefinitely, despite the party's endless howling about how everyone ELSE should increase public-sector pay.)
None of this has troubled the Scottish Tories' ironically-titled Head Of Research:
As far as we can establish the average teacher in Scotland (primary and secondary teachers are on the same pay scale) is actually making slightly less than a nurse, at £30,500. But if we take the graphic in good faith we find the one on just below £35,000 (which you in fact need to have been doing the job for six years to get):
And according to the table that still means zero extra tax. (If our teacher's pay creeps over £35,000 the additional tax burden becomes a whopping £20 a year.) And as public-sector workers they'll also be getting the guaranteed pay-rise, meaning they too will be hundreds of pounds a year BETTER off after the budget.
But is it worth it? Because according to former shopworker Annie Wells MSP, who now enjoys a salary more than twice the national average as an MSP, the budget is a savage attack on ambition and betterment.
We must assume from the above that she wasn't "hard working" in her previous career, because apparently only rich people can be hard-working. And we must also assume that Wells' own tax burden must have increased so much that it wasn't even worth her doubling her previous wage. So let's just look at the table again.

On an MSP's salary of £60,000 we can see that Wells will have to fork out an extra £15 in income tax a year. Or put another way, just under TWENTY-NINE PENCE a week. And yeah, in fairness, when you look at it like that it hardly seems worth earning another £577 a week if you're going to have to give 29p of it back in tax just to keep a load of scrounging schools and hospitals and fire stations running, does it?
But how many more will be suffering like poor Annie Wells?
According to the walking intellect-vacuum that is Dean Lockhart, the Tory list MSP for Mid Scotland and Fife, Scotland has almost 400,000 nurses, police officers and train drivers alone, all of whom are apparently in for a tax clobbering. Which seemed like a lot, so we had a quick check.
Police Scotland currently employs somewhere in the region of 17,300 officers. NHS Scotland has roughly 59,800 nurses and midwifery staff. Which means Dean Lockhart thinks Scotland has nearly 314,000 train drivers, which would certainly go some way to explaining why it has the best rail punctuality figures in the UK.
(The actual number is approximately 1,570. Their starting salary is around £25,000 a year, so inexperienced ones would in reality be getting a tax cut too.)
Lockhart apparently believes that these hundreds of thousands of largely-imaginary public-sector workers – the vast majority of whom will be paying NO extra income tax, who'll be getting a better pay rise than their UK counterparts, who will likely be exempt from LBTT and who are paying an average of £420 less in council tax than people in England and £250 less than those in Wales and getting better public services in return – are now about to desert Scotland en masse so that they can be much worse off.
Or rather, he expects YOU to believe that.
The Tories are fully aware that the claims they've made in the last 24 hours are flat-out lies. They know perfectly well that the overwhelming bulk of public-sector workers will be financially better off from this budget, and most of them by a decentish amount – hundreds of pounds. The numbers aren't complicated and none of them are disputed.
Now, it's entirely possible that they're catastrophically stupid as well as being liars – Dean Lockhart and his 300,000 train drivers, or anything Annie Wells has ever said, are compelling evidence to support that proposition – but the second part can be in no reasonable doubt whatsoever.
(Indeed, most of the Tories above have actually tweeted the very evidence that proves they're lying. That's how thick they are.)
As for picking a favourite, we'll leave that to you.