The very strange man who is David Leask, chief reporter at the Herald, has been hard at work with a shovel ever since we ran a couple of stories on Monday.
Accusing this site of publishing "an implausible blog about our paper this week, based on some unchecked &, well, weird assumptions", he curiously neglected to specify what those assumptions might have been, while embarking on a long, rambling and bewildering rant about what does and doesn't constitute "fake news".
Leask's argument, at least in so far as we can make any sense of it at all, is that even deliberately and knowingly made-up lies printed in mainstream newspapers are not, and can never be, "fake news".
That's a term which he insists only applies to spoof sites pretending to be real news outlets, which we'd presume – although it's by no means clear – means the likes of The Onion or the Daily Mash.
Which is an odd angle.
For one thing, there's already an official definition of the term – one which was arrived at with much public ceremony – and it's nothing like the one Leask is using.
On any traditional reading of English, that description applies to, for example, this week's demented newspaper coverage of the official flying of flags in Scotland, which the Scottish Daily Mail has apologised for today and for which we expect the Express and Telegraph to follow suit under pressure from the Scottish Government.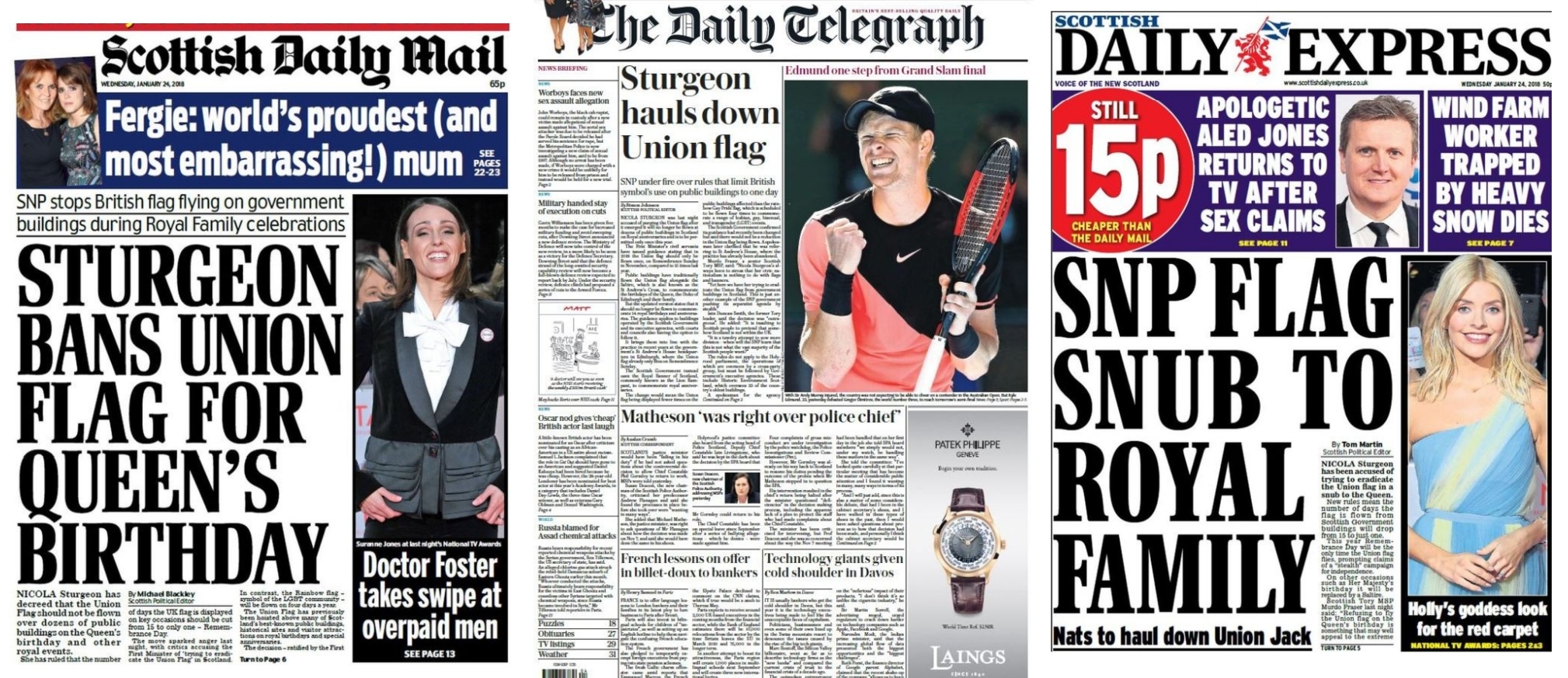 All of the papers' headlines were certainly "false" (hence the apology), and certainly "sensational" (being front-page splashes screaming about personalised attacks on the Queen and her family), and they were most certainly "done under the guise of news reporting". So they were fake news, right? Not according to David Leask. They were in the Mail and the Express, so apparently they CAN'T be fake.
But as he'd attacked us (again) as part of this debate, we thought we should address Leask's claims about this week's Wings pieces commenting on the Herald's front-page lead on Monday, in so far as we could work out what he was actually claiming.
The only problem with these assertions is that they're, to use another technical term:
Leask was trying to pretend that the Herald's front page was justified on the basis that Oxfam releases short blogs along with its reports, which are tailored to particular countries. In the case of the Monday report, that blog was this one, which quoted Glasgow-based Oxfam researcher Dr Katherine Trebeck.
But we'd known about, acknowledged and reported Dr Trebeck's comments. (We'd linked in one of our posts to an extended article she wrote for Holyrood Magazine on the subject, published the same day.) She was making generalised comments about inequality in Scotland, pointing out that while the Oxfam report released that day was global and didn't mention Scotland, inequality was "also" a problem there.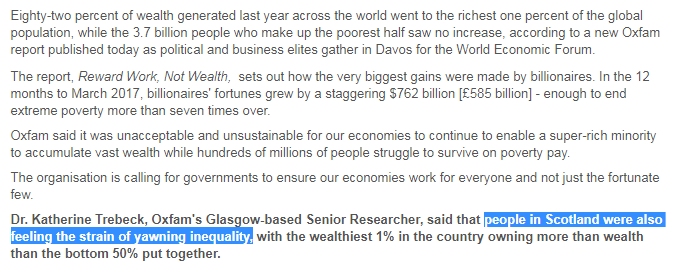 But that wasn't what the Herald said. It didn't say "a new report has been issued on global inequality, which is also a problem in Scotland". The Herald couldn't possibly have been any clearer that its headline – "SCOTLAND'S WIDENING INEQUALITY GAP IS 'OUT OF CONTROL'" – was current and referring to the report itself.
All emphases below are ours.
"A new report from Oxfam reveals that in Scotland, the richest one per cent has more wealth than the bottom 50 per cent combined."
That's a lie.
"Oxfam has just published a report that seeks to expose the extent of the gap and its effects in Scotland."
That's a lie.
"Oxfam's report says the top one per cent in Scotland own more wealth than the bottom 50 per cent put together"
That's a lie.
The report released on Monday said none of those things. It didn't mention Scotland anywhere, let alone "reveal" anything or "expose" anything about it. And nor did Dr Trebeck reveal or expose those things.
The statistic about the richest 1% owning more wealth than the bottom 50% that she mentions briefly in passing came from a report published nine months earlier, to which neither her blog post nor her Holyrood Magazine article made any explicit reference and which is not mentioned or linked to in the report Oxfam published on Monday.
What's more, as the paragraph below from the April 2017 report shows, it was citing figures from a single period between 2012-14, and notes that there is no more recent data available to draw wider conclusions from.
So we also know that this line from the Herald story:
"The gap between the rich and the poor is not a faraway crisis, says the charity; it is right here in Scotland and it is getting worse."
…is at best unproven and years out of date, and at worst could be outright false (for more than half of the period measured inequality in Scotland was apparently falling), yet the Herald presents it unequivocally as new and accurate information.
Once again, as we'd pointed out on Monday, we're not for one second disputing that there's massive inequality in Scotland, just as there is in every single country on Earth. Inequality is the most fundamental characteristic of capitalism. That's how capitalism works. Saying there's a lot of inequality in capitalist economies is like saying there's a lot of water in the sea. What we're talking about is terrible journalism.
The Herald ran a massively misleading story pretending that information existed which simply doesn't exist. It created a sensationalist headline out of a single throwaway half-sentence in what amounts to an opinion column based on questionable figures from years ago and pretended that it was hard data from a brand-new scientific survey.
At the very best, that's producing a broadsheet newspaper on the basis of "unchecked and weird assumptions", ironically enough. If only there was some shorter, punchier phrase for that.