The Daily Record's politics lead story today is a slightly underwhelming poll that shows 41% of Scots believe the Tories are carrying out a power grab against the Scottish Parliament, against 34% who think they aren't (and 25% who have no idea).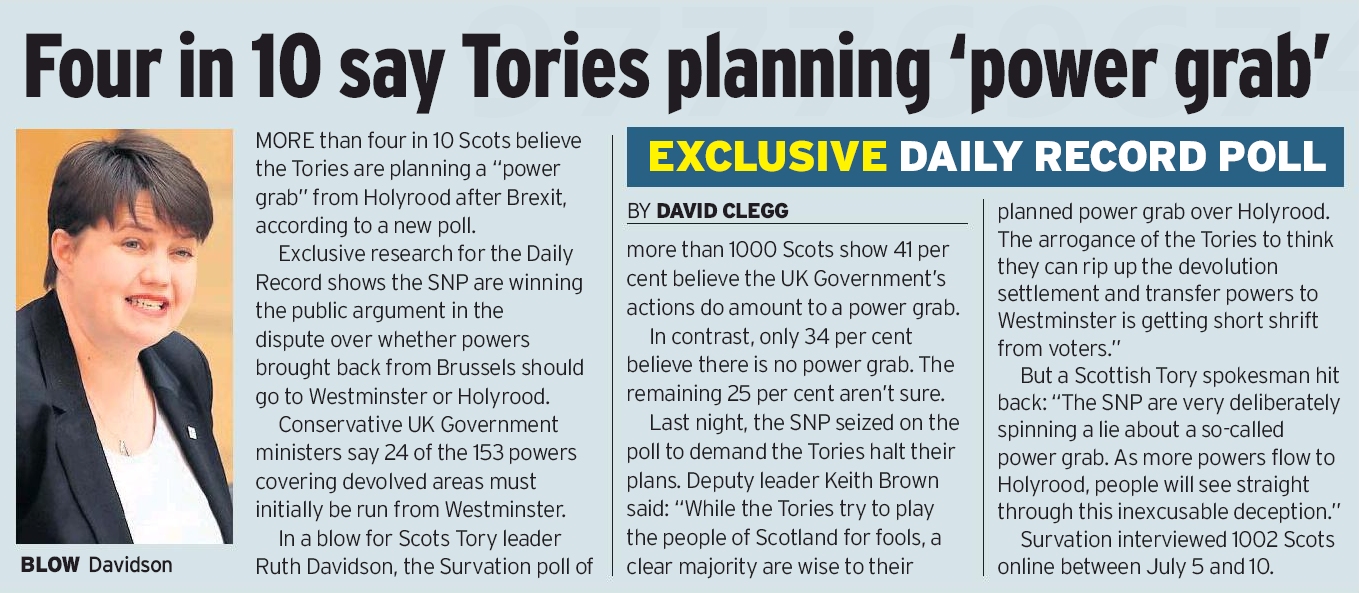 Which seems a good time to round up the last results of our own most recent poll, and some slightly disturbing revelations about the Scottish public's grasp of devolution.
Firstly, while the public may be deeply split on whether there's a power grab going on or not, there's one thing they're considerably more certain about – that Westminster isn't treating Holyrood with respect over it.
By a margin of more than 3:2, poll respondents thought the UK government was NOT treating its Scottish counterpart with respect to the allocation of powers. (Excluding Tory voters, the party that would still rather devolution had never happened at all, just 19% answered Yes versus 63% saying No.)
And they were almost as clear about who was most to blame for the mess.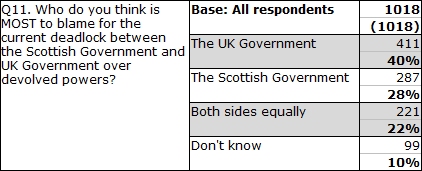 (Predictably responses divided down party lines, with SNP and Tory voters polarising at the extremes, Labour ones tending to back the Scottish Government and Lib Dems being more or less down the middle.)
But it's not surprising voters are confused, because almost 20 years into devolution the electorate still has remarkably little idea about what's devolved and what isn't.
Some of this can probably be attributed to a series of incredibly dishonest campaign messages from Scottish Labour, pledging to do things they actively fought to keep OUT of Holyrood's hands, like employment law. (Although at least only one in five are swallowing their line on nationalising the railways.)
But in truth the public has never really kept tabs on what is and isn't devolved, which is probably why Unionists keep getting away with promising to extend devolution as a sop to dissuade people from independence. Just over a quarter – 28% – correctly identified the fact that NONE of the powers in our question are in fact devolved.
But when we revealed it to them, large numbers WANTED them devolved.
And those figures become striking if you exclude Tory voters.
Minimum wage: 66%
Employment law: 67%
Nationalisation: 47%
VAT: 46%
Excise duties: 59%
Corporation tax: 54%
Immigration: 57%
None: 12%
Now, of course, you can't just exclude the wishes of a substantial percentage of the electorate. But those numbers illustrate the observation we made a few days ago: that on almost everything but independence, Scotland's politics are still pretty much the Tories versus everyone else.
More than half of Tory respondents didn't want ANY of the listed powers devolved, and just 15% of them backed devolving immigration, compared to 41% of Labour voters, 37% of Lib Dems and 72% of SNP supporters.
(As an aside, it was quite interesting to note that only a third of Scottish Labour voters wanted to repatriate the power of nationalisation – two thirds of supposedly socialist voters would rather the railways were privately owned by foreign companies, or foreign state-owned firms, than by the people of Scotland, which surprised us a bit.)
Both the Record's poll and our own, then, show that while Scots have a reasonable understanding of how devolution works in the abstract, the details are of little interest to them, which is probably why the power grab has had no discernible impact on support for independence even though lots of people are notionally unhappy about it.
For the Yes movement, the slowly-unfolding calamity of Brexit is still going to be the play that decides the game.