Scotland has 2,174 miles of trunk roads, of which 1.7 miles (that's just under 0.08%) comprise the Queensferry Crossing. For the next few days those 1.7 miles are going to be subject to some partial lane closures on the southbound side for maintenance.
They'll cause almost no disruption, because as it happens there's another very similar bridge conveniently located just a couple of hundred yards away – linked directly to all the same roads – that traffic will use instead.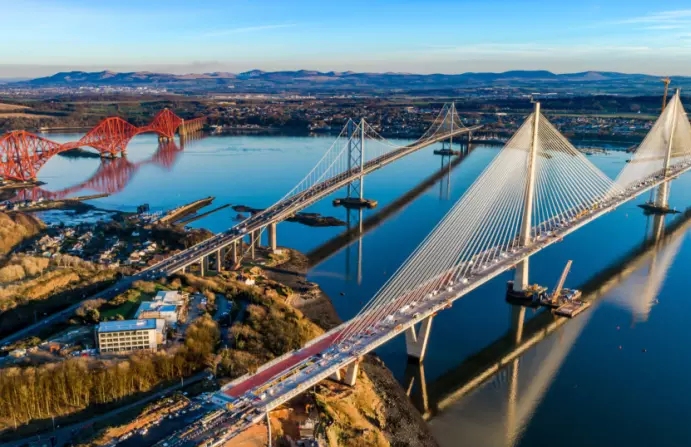 Not much of a story, is it? We don't know how many miles of Scotland's roads have roadworks on them on any given day of any given week, but we suspect it's quite a lot. It tends not to make the news beyond a few seconds on the traffic bulletin at the end, but today was different.
The Scottish media went into full-blown SNP CRISIS! mode, and Good Morning Scotland took this minor piece of travel news – the delay to users as a result of the work is estimated at a maximum of three minutes – so seriously that it featured THREE separate lengthy interviews with politicians about it.
Willie Rennie of the Lib Dems completely lost his mind, madly suggesting that the work amounted to the bridge being "two years late", while Jamie Greene of the Tories was uncharacteristically restrained – perhaps because he wasn't sure if bridges were devolved or not – and finally transport minister Humza Yousaf was given a somewhat over-the-top grilling by Gary Robertson.
(We love Robertson's tough interviewing style, but today he treated a minor temporary diversion as if the bridge had fallen into the sea. Greene, meanwhile, did manage to recover his hyperbole enough to describe being rerouted from one bridge to another one right next to it as road users having their "daily lives thrown into disarray".)
The headlines above, as anyone reading the stories underneath them will quickly discover, are absolutely spectacular cobblers, fundamentally untrue and bearing no resemblance to what anyone seeing them would naturally interpret. Let's look at a few extracts, adding some emphasis:
"further restrictions will be enforced at times up until September"

"The contract allows for those works to happen up until next September, at no additional cost"

"A Transport Scotland spokesman said although future lane restrictions were possible, timings of such measures had not been identified."
The headline leads readers to think that the restrictions will be in place solidly for the next 10 months. In fact the "10 months" figure has NOTHING WHATSOEVER to do with the state of the bridge, but refers to the terms of the building contract. It simply indicates that IF any further works are needed – and nobody knows for sure if or when any will be needed or not – then they won't cost the public purse anything so long as they happen in the next 10 months.
All bridges and all roads need maintenance for their entire operating lives. There's nothing unusual or dramatic about it happening on this particular piece of roadway – all new projects have teething hiccups – and the consequences in this instance are laughably trivial. Most roads don't have a handy alternative right next to them that people can use instead (and indeed have been using for the last 50 years). If you're going to close a lane of a road anywhere in Scotland, closing one on the Queensferry Crossing is just about the least "chaos"-causing place you could possibly do it.
The ridiculous story is part of a concerted, years-long campaign by Scotland's media and opposition to attack the bridge, because it's an SNP success – an excellent piece of record-breaking world-class infrastructure delivered under budget and more or less on time, despite political obstruction from the other parties and the inherent difficulties such a project presents in terms of being hostage to environmental conditions.
As recently as last Saturday, for example, the Daily Record ran this scaremongering piece on page 4, which was comprehensively rejected by Transport Scotland:
And since the bridge opened the press have leapt on every opportunity to run negative stories about it for any reason they can find, including blaming punctures on it.
That can partly be attributed to the fact that bad news sells more papers than good news. But BBC Scotland doesn't have any newspapers to sell, so readers can form their own conclusions as to why they've made such a mountain out of a molehill.