This man is still regularly invited on TV by both the BBC and STV as a serious pundit.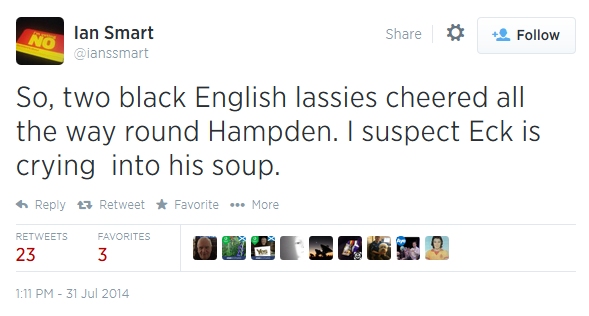 Were anyone to still be unsure of the fact that different rules of behaviour apply to Unionists and Yes supporters, we invite them to consider the evidence.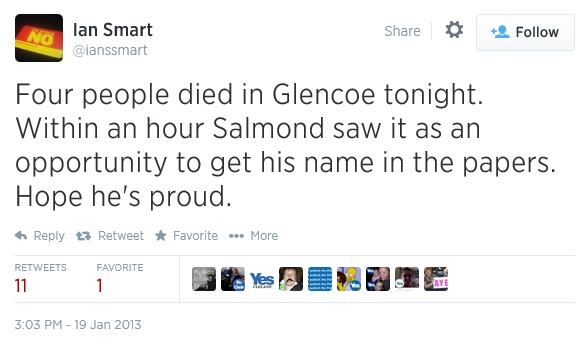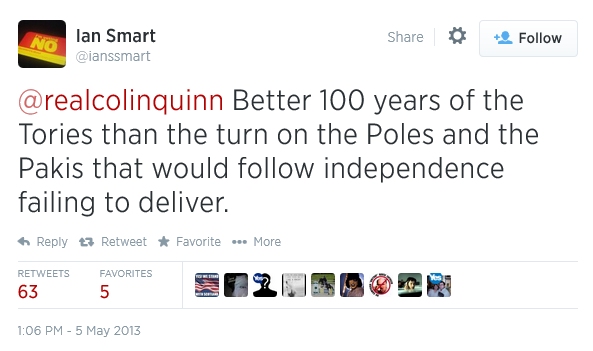 Take a second and imagine we'd said any of that, readers. But more even than the obvious offensiveness, consider what it says about the Scots. According to Ian Smart – an educated man who can't claim ignorance as an excuse – Scottish people (or perhaps just nationalists or the SNP or Alex Salmond) apparently hate English people, Polish people, Pakistanis, Jews, Catholics, black people and all dead people.
Apparently it's only the civilising influence of being ruled from London that stops us all being Neanderthal racist thugs. Within moments of a Yes vote angry mobs would be roaming the streets lynching all foreigners – even though it's Mr Smart's party that constantly denigrates anyone born abroad as an undesirable.
We gave up long ago the thought of this vile little man being held to account by the Scottish media in the same way that "cybernats" saying far less offensive things are. But is it really too much to at least hope that he stop being paid by the taxpayer to appear on our screens to spread such poison?
Sadly, it probably is.