We're big fans of Kevin Bridges. Not only is he one of the finest comedians Scotland has produced in many years, it turns out the Glasgow comic is also a top fella. On seeing a tweet last month from the Maryhill food bank showing some perilously empty shelves, Kevin got straight in touch, asked how much money it would need to fill them and turned up with Tesco vouchers for the whole £1000.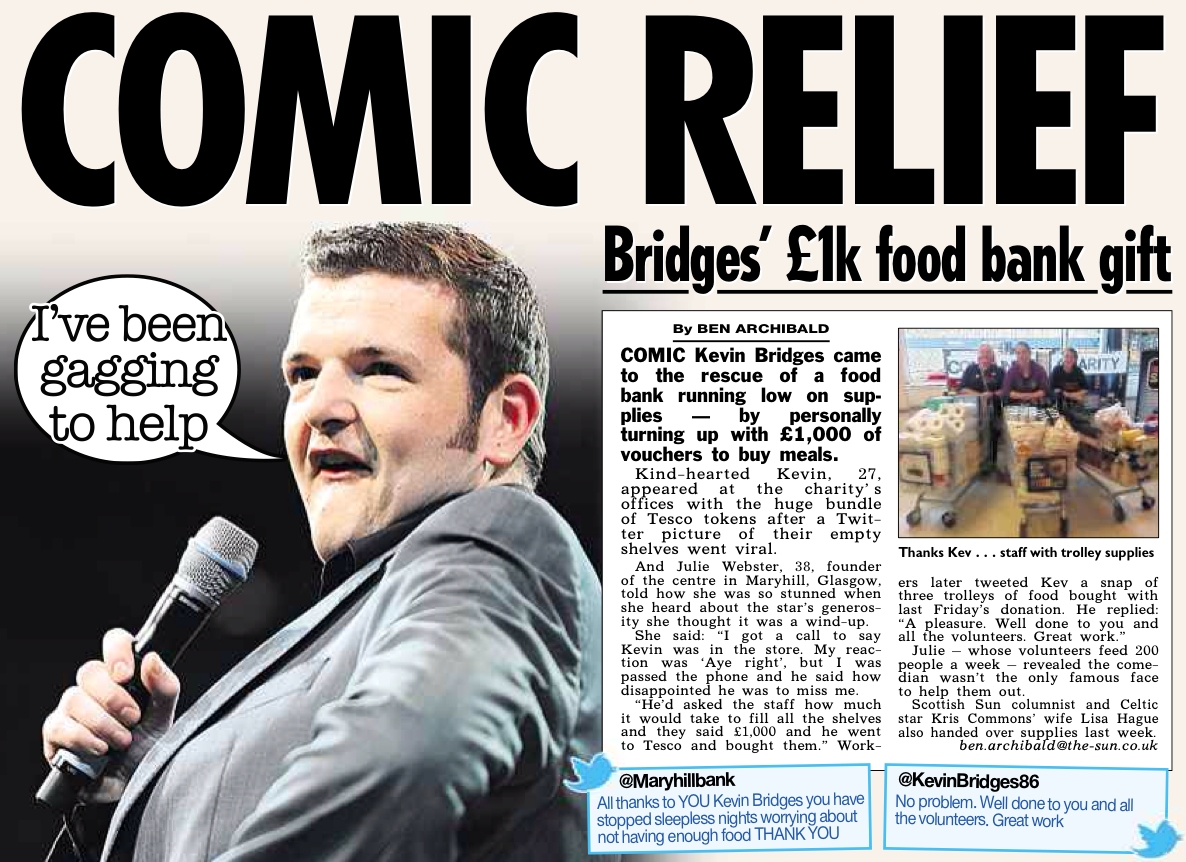 We salute him wholeheartedly, and it was right and proper that the story was widely covered in the press, with the Scottish Sun (pictured above), Daily Record and STV News all reporting the generous gesture, and all of them also mentioning that Celtic star Kris Commons' wife Lisa Hague had made much-needed contributions too.
There was something missing, though.
Because just last week, the very same foodbank received a donation five times the size of Bridges' one, yet which didn't get reported anywhere in the media (other than this site, of course). Cyclist Mark Coburn had pedalled 500 miles around Scotland in five days, raising money for various Yes groups but also for Maryhill, and he doubled his initial target to produce a £5000 cheque for the foodbank.
The important thing in both cases, of course, is that the foodbank got the money. But it seems that in the Scottish media, you can only draw attention to foodbanks if you do so without mentioning the political system that brought them into being.
If celebrities are what it takes to raise awareness of this shameful blight on the face of one of the richest countries in the world, more power to them. But when the entire press so blatantly censors the news to suit one side of a political agenda, it's perhaps worth pondering the state of our democracy.