We can do this in one picture, folks. Remember barely a fortnight ago, when the Tories were wailing about how there wasn't enough immigration into Scotland to sustain its economy in the coming decades? Here's a little snippet of data from a Survation poll for the Daily Mirror earlier this week.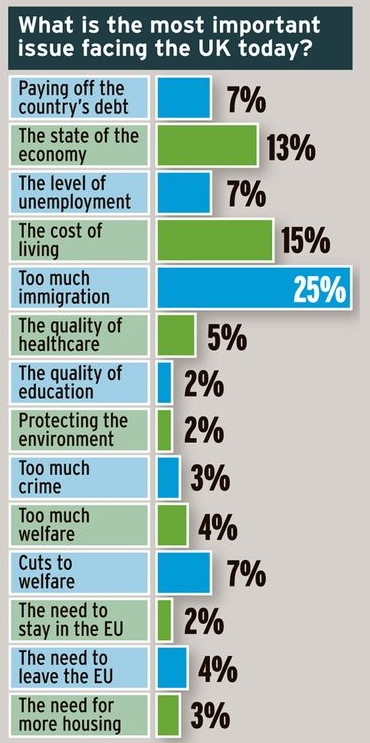 Well, there's a dilemma, eh? Scotland need more immigrants, but the rest of the UK is absolutely desperate to have fewer – so much so that it's 67% more important than the cost of living, twice as important as the state of the economy, over three times as important as unemployment or debt, and FIVE times as important as the NHS.
Immigration policy is reserved to Westminster. Which way do you see that going?
If Scotland stays in the UK, it will be starved of the human resources it needs to support its economy. It won't be able to raise enough taxation to pay for public services (especially as Labour plans to pile expensive, pointless bureaucracy on top of the tax system if it wins in 2015).
And as nobody will get elected on a platform of tax increases, that means EVEN MORE austerity on top of what's coming to the rest of the UK. Goodbye prescriptions, goodbye free tuition, goodbye bus passes for old folk, goodbye council tax freeze.
We normally put funny stuff up at this time of night. But it's been a pretty angry day today, and we weren't really in the mood. The UK electorate is demanding that the Westminster government implements a policy that will cripple Scotland's economy for a generation. Which party do you think is going to stand up to them?