God bless our dear old pals at the Labour-fronted Tory money-sink that is Scotland In Union. Fresh from their latest stirring morning office singalong of "No Pope Of Rome", they've decided to belatedly get in on the fact-checking game.
As the established force in the field, we had to have a look.
But first, let's set the scene with a small and pertinent digression. Publications of all sorts like to compete over the strapline slogans that they emblazon on their front-page mastheads. The Telegraph, for example, proclaims itself "Britain's best-selling quality daily", the Press and Journal is rightly proud of being "The UK's best-selling regional paper" and the Daily Star goes for the more prosaic "10p cheaper than The Sun".
(The Scotsman plays the age card with "Scotland's national newspaper since 1817", although it too is in fact officially a regional newspaper now, shifting about a third as many copies as the P&J.)
The hierarchy and semantics of such lines are moderately interesting. The most prized is, of course, "The UK's best-selling" whatever. But if you inconveniently AREN'T the best-selling, all isn't lost.
Second most prestigious is "The UK's fastest-growing". This is perfect for newer titles, because it's easy to achieve and sounds dynamic and full of momentum.
You might only be selling 4,000 copies a month, but if you've gone up from 2,000 the month before that's a 100% increase, whereas even if the market leader has increased its sales by five times as much – say from 50,000 to 60,000 – that's still only a 20% growth rate, so you can legitimately say you're "faster-growing" than them.
The booby prize, if you're getting absolutely tanked all ends up by everyone, is to fall back on subjective and unquantifiable statements which mean absolutely nothing, such as the Daily Express' boast of being "The world's greatest" newspaper.
A similar claim is to be "The world's leading" something. It's most commonly a PR puff phrase, of the sort frequently found in the pronouncements of governments, and SIU have chosen to accuse the Scottish Government of doing the same.
It seems, for the reasons we've outlined above, like a strategy with a decent chance of scoring a hit. But the First Minister's actual comment – that Scotland is a global leader in emissions reduction, not the global leader – is entirely fair and reasonable. SIU grudgingly admit that it is in fact perfectly true, with Scotland's reductions over the last 26 years in the EU top five, and double the EU average: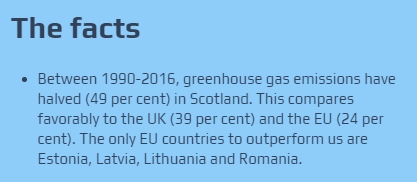 And at that point, the actual measurable facts abruptly run out.
The rest of the piece is given over to some environmentalist types bleating about carbon-reduction targets currently being set for 32 years into the future. Scotland's is "only" 90%, whereas some other nations have pledged 100%.
It should go without saying that this is empty, meaningless hogwash. You can pledge anything, knowing that there's no chance you'll be in power (or perhaps even alive) to deliver it. Any government could promise that its entire energy needs would be met by magic beans in 2050 if it wanted to, but the next one elected could throw that promise in the bin and fuel its power stations by burning toxic waste and babies if it chose to.
(A Scottish Parliament's term is still officially four years, so there are due to be SEVEN new governments in Holyrood between now and then, in goodness only knows what environmental and political circumstances.)
But remarkably, that's the end of SIU's "fact-checking". It concludes that yes, Scotland has made particularly significant progress in tackling global climate change, but then that somehow this means Scotland is NOT "leading the world", seemingly purely on the basis that Patrick Harvie's had a bit of a whinge about it.
(We're scratching our heads over what "Failure to tackle airport duty" is supposed to mean. Environmentalists don't want cuts to Air Passenger Duty, and as yet there haven't actually been any, although the SNP has said it wants to reduce it in future. We're also enjoying the dramatic sudden gear-change from SIU screaming endlessly about how rubbish Scotland's economy is to becoming born-again tree-huggers and demanding we leave 50 years of oil worth hundreds of billions of pounds in the sea.)
So in summary: the "fact check" only actually checks one fact, finds it to be true, but then announces that it's false anyway, based on stuff that might or might not happen three decades from now and the opinions of people who aren't actually in charge of anything and never will be.
Speaking as professionals: don't give up the day job, lads.