Perhaps we're just being over-sensitive, readers, but we think the Daily Record might be a little bit upset with us.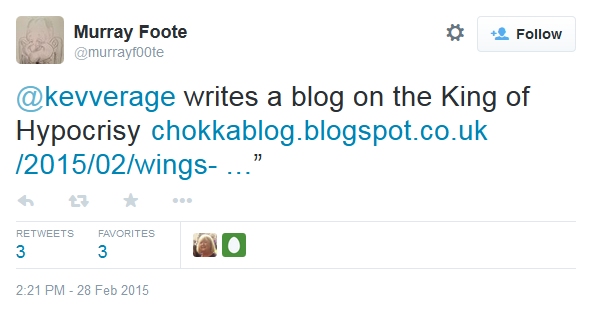 That's the editor of the semi-popular Scottish Labour fanzine, Murray Foote, pictured above this afternoon apparently issuing his own very special honours list, but it's not the crankiest thing the Record's published in the last 24 hours.
That's the FOURTH article in the paper bitterly attacking Wings Over Scotland and its readers in the past week, coincidentally since we were responsible for the Independent Press Standards Organisation forcing the Record to publish a correction after telling its readers a £20 billion lie about the Smith Commission.
(We're especially struck by the visceral language employed, all "sewage" and "buckets of bile". We haven't been insulted in quite such a, well, splashy way in a long time.)
The previous three can be read here:
"Wings Over Scotland website fuels hatred and paranoia"
"Disgraceful: Hard-working nurse Suzanne is branded a liar and an actress by cybernats after she speaks up for NHS"
"Ranting cybernat who posted hate messages about young NHS nurse is slapped down by First Minister"
The ostensible reason for the hysterically-worded series of monsterings was that we suggested in passing that a nurse who broke NHS rules by appearing on a Labour election leaflet in an NHS uniform might have been an actress, while making a much wider point about the law concerning political claims. The nurse later turned out to be an actress, something the Record appears to have forgotten to mention.
But the paper gave the game away somewhat by referencing the Smith correction in the first of its extraordinary swivel-eyed, spittle-flecked editorials. The Record got caught red-handed in a lie, and while the weasel-worded correction IPSO let it away with printing was microscopic (and the lie is, astonishingly, still present on the website), it's clearly not in a mood to forgive the humiliation.
Nevertheless, we can't let such a tissue of falsehoods pass unchallenged.
"Nicola Sturgeon has rightly come to the defence of the NHS nurse vilified by SNP supporters for daring to express her opinions about the NHS."
1. Nobody was "vilified". The worst insult the Record could find was someone making a pun on a traditional American banjo song to suggest that the nurse's NHS claims were perhaps less than entirely true.
2. "SNP supporters" is a baseless assumption/political smear. This site's comment threads do not identify readers' party allegiances, if they have any.
3. Absolutely nobody objected to the expression of opinions. They pointed out, quite correctly, that public-sector employees are not supposed to appear in uniform on political literature, because it implies that the organisation supports a particular party. Forth Valley Royal Hospital confirmed the rule in an official statement.
"First, the Wings over Scotland website shamefully and wrongly suggests Suzanne Hunter was an actress masquerading as a nurse."
4. There's nothing "shameful" about being either an actress or a nurse, and therefore nothing wrong in suggesting that a person is either. The Record's various fumings get inordinately worked up about the fact that two pictures of women used in our original article look quite dissimilar, to which we might offer Exhibit A below:
Both pictures are of the same woman, just months apart. We could easily find even more striking examples – particularly in the field of acting, where it's somewhat the point – but the Uma Thurman one above is conveniently topical. (We might also point at this weekend's worldwide controversy about whether a dress is gold-and-white or black-and-blue by way of comment on misleading visual impressions.)
5. We weren't wrong. Suzanne Hunter (nee Duncan) is both a nurse and an actress.
"Then, grudgingly accepting this isn't true, the site's followers demand that Suzanne be carpeted by her bosses. Why? Because she wore her NHS uniform in a photo."
6. We didn't "accept" that it was untrue, "grudgingly" or otherwise, because it IS true.
7. We're not responsible for our readers' views, so long as they don't break any laws. If you judged any newspaper's website by its commenters you'd paint a picture of a world inhabited solely by lunatics.
But we repeatedly urged our readers NOT to seek disciplinary action against Suzanne Hunter – because she was wronged by Scottish Labour, who failed to remove the NHS logo from her pictures and then INSISTED on loudly drawing attention to the fact that she really was a nurse.
We hold Scottish Labour (especially Dr Richard Simpson) and the Record solely responsible for any disciplinary misfortune which befalls Suzanne Hunter. We wish to see none – she's perfectly entitled to campaign for a political party, so long as she does so within the rules of her employment, and she clearly had a fair and reasonable expectation that Scottish Labour would protect her in that respect by removing her NHS insignia, as had been done in previous leaflets.
"And that's just a toe in the sewage water of what the odious cybernats (most of them men by the looks of it) have thrown at a young woman because she simply expressed her point of view.

This is nothing less than a shameful attempt to stifle free speech.

Sadly, there are plenty of keyboard cowards hiding in braveheart anonymity ready to empty buckets of bile over anyone they stumble across."
8. That's an extraordinary playing of the "misogyny" card. But make your mind up – if these people are "anonymous" how can you tell what sex they are?
9. Nobody was subjected to "buckets of bile" (well, other than this site and its readers by the Record), and nobody was criticised simply for expressing a point of view. The Record has yet to identify a single abusive post, and the complaint was specifically about the prohibited use of an NHS uniform weaponising the health service.
Suzanne Hunter's several previous appearances on leaflets – WITHOUT the NHS logo – passed without criticism, so it's clearly not her opinion that's being objected to, but the political use of the uniform. Those rules exist for a reason, and pointing them out is a perfectly legitimate comment.
"It is a debasing of political life with one aim – to dominate online activity and discourage the flow of contrary ideas."
10. A group of people expressing perfectly valid opinions on a website in no way inhibits others from doing so. You can only "dominate online activity" if the other side chooses to let you.
11. Nobody called for Suzanne Hunter (or Scottish Labour) to be silenced. The only people attempting to "discourage the flow of contrary ideas" are the hacks of the Daily Record, by reacting to perfectly calm and reasoned articles and comments with shrieking, foaming tabloid hysteria, hurling around words like "outrageous", "vile", "shameful", "disgraceful", "hatred", "sewage",  "bullying", "vicious", "nasty" and more.
We invite readers to find any such intemperate language or tone in any of our posts about the leaflet. Only one party to this argument is shouting.
"The First Minister had little option yesterday but to go on the side of reason because she knows there is nothing ordinary people loathe more than bullying."
12. The First Minister merely reiterated a position she and the SNP have expressed many times, which is that all abuse is wrong. We agree entirely with that position. She took no "side". The Daily Record is part of a massive national publishing corporation with revenue in the hundreds of millions of pounds. Wings Over Scotland is a small website run by one man. Which is capable of "bullying" the other?
"Especially men bullying a woman – which is what this largely anonymous online rabble have been doing for the last two days."
13. See (8).
"Sturgeon is savvy enough to know these vile motormouths do genuine damage to her cause. The ranters, though, are too busy spreading hate to realise it."
14. We still await evidence of a single abusive comment from this site or its readers to Suzanne Hunter. But support for the SNP has surged enormously in recent months, while the Daily Record's sales figures are on a long, steep slide, much like the poll ratings for the party it has slavishly supported for decades.
We invite readers to read our articles, read the Record's, look at the figures and ponder whose cause is being damaged by "ranters".