So there was a football match at the weekend.
At least three people were stabbed, one very seriously, in violent incidents the likes of which haven't been seen around Scottish football for years.
But it was probably just a random, unforseeable one-off, right?
Well, no, not so much.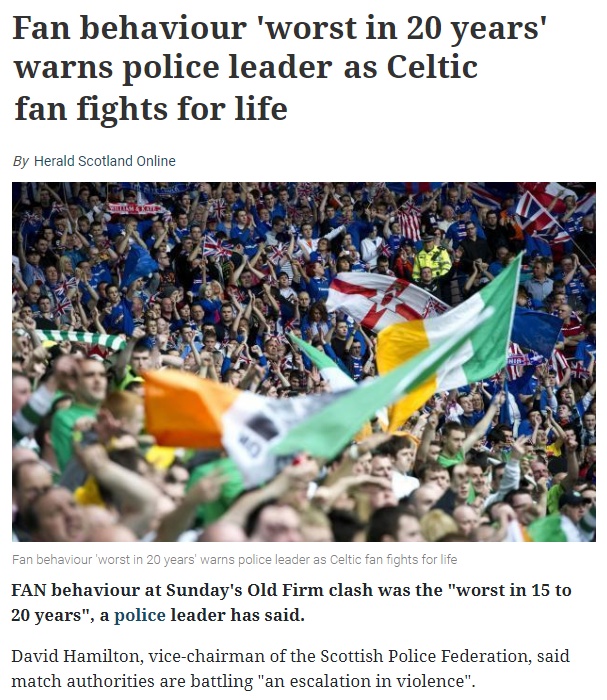 Curiously, though, the primary reason given by David Hamilton of the Scottish Police Federation (in an interview with the BBC's John Beattie on Monday) for the recent dramatic escalation in bad behaviour at football – which has also seen fans throwing bottles and coins at players and invading the pitch to attack them – didn't make it into the pages of any of the newspapers which headlined his comments.
So in case you missed it, here's what he said.
"Personally I believe the repeal of the Offensive Behaviour at Football Act has had an impact, because I think that some people feel wrongly legitimised to behave in a way that they wouldn't otherwise behave."
Who could ever have imagined, eh readers?
The papers curiously neglected David Hamilton's view because reporting it might have caused them at least a small pang of conscience over the reckless and negligent way they consistently misrepresented public opinion about the OBFA, a law the Scottish public overwhelmingly supported and believe should never have been abolished.
Not one Scottish newspaper, not even one columnist, spoke up for the views of the Scottish people during the years the Act was in place. Politicians of every opposition party ignored the views of their own voters and of football fans. James Kelly, the man chiefly responsible for repealing it, utterly failed to deliver his promised alternative anti-sectarianism plan last year and hasn't said a word about it since.
It is perhaps the least surprising occurrence in Scottish history that after the authorities sent two large groups of knuckle-dragging bigot thugs the message that sectarianism was fine again, they reacted by ramping up their hatred.
But it's an occurrence in which every opposition MSP and every member of the media, along with imbecile bigots like Labour activist Jeanette Findlay, was knowingly complicit, all driven by their own sectarian tribal hatred – in this case of the SNP.
Every one of them has blood on their hands today. We can only hope that they don't also have to answer for a funeral.