We couldn't help but raise a quizzical eyebrow at this assertion from SNP MP Pete Wishart in today's Sunday National.
It was said in the specific context of securing a second indyref in 2020, and since such a referendum has NOT in fact been secured – and looks extremely unlikely to be – we wondered which other definition of "success" might be being used to justify the claim.
Logically the only one left would be an increase in support for independence. So we checked the figures.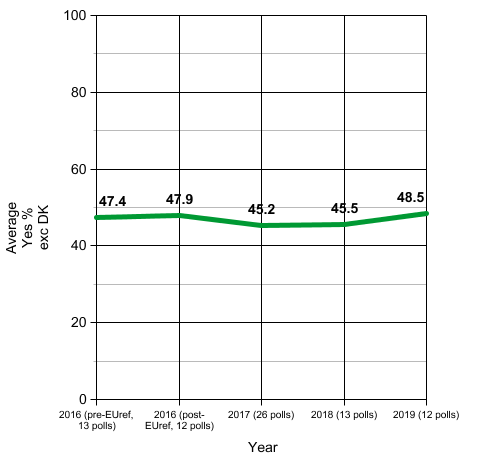 They're… not exactly spectacular.
In fact, in the three and a half years since the UK voted to leave the EU and to take Scotland with it against Scotland's clearly-expressed will, during which time the UK has seen what by widespread consensus has been the worst government and opposition of all time, support for independence has rocketed by, er… 0.6%.
Now, to be fair to Wishart, on an annual basis that IS an "all-time record high". But the standard margin of error in a 1000-sample opinion poll is 3%, and that margin covers almost the entire range in polling (45.2-48.5) over those four years.
In other words, it's not actually definitively possible to state whether support for independence has increased or decreased since June 2016 at all.
But what we CAN say is that if it's moved at all, it's been by so little that it's barely perceptible without a microscope. It seems safe to say that in the absence of an actual campaign for an actual referendum, the Scottish people have remained extremely unmoved on the subject, despite a string of events that we were repeatedly assured would be gamechangers.
It does, on the positive side, look like 2019 saw a decent 3% growth from 2018. But again, that's within the margin of error and covers up a lot of fluctuation. If we take a fixed comparison point and count only the polls from December each year, we get this: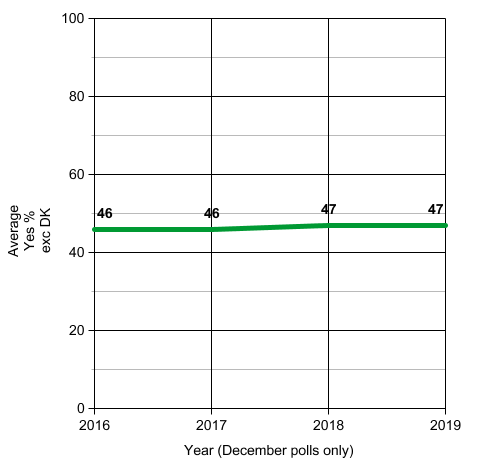 The conclusion is extremely hard to avoid: if the "strategy" is to build support for independence over time to a point where a second referendum will be politically irresistible (which in itself makes a hugely questionable political assumption), then the strategy is not working.
The figure of 60% is often used to illustrate a tipping point when the UK government will, for some unexplained reason, be forced to give in. At the current rate of progress, assuming no setbacks, we'll reach that point in around 26 years.
So, y'know, settle in for a wait, folks.