As readers who were once children will probably recall, papier-mache is a substance in which incredibly flimsy material – such as tissue paper or newspaper – is turned into something rather more hard and durable by dint of combining multiple layers of it with a simple flour-and-water solution.
What's less well-known is that the process also happens IN newspapers.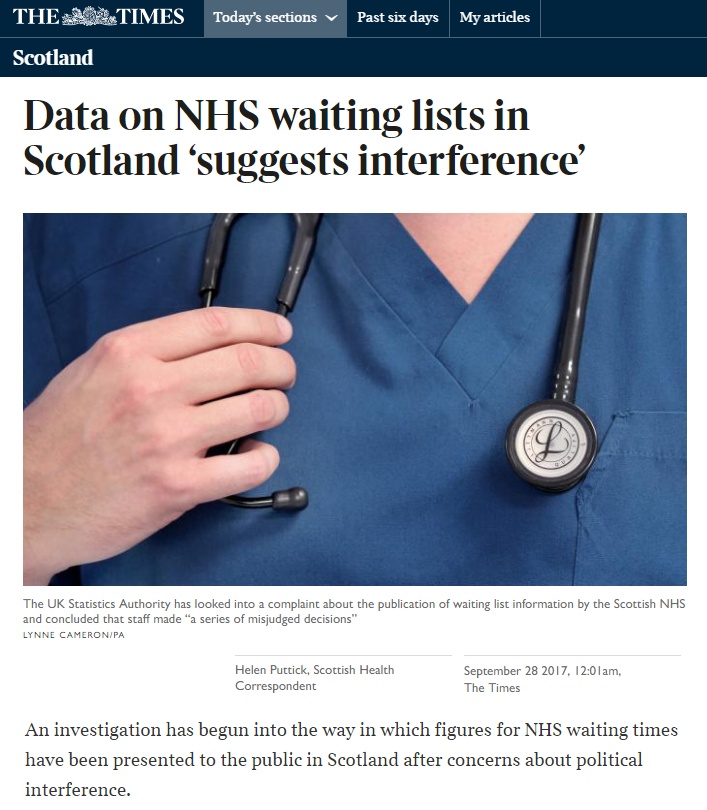 For a case study, let's look at this article in today's Times.
The unusually cagey headline offers an immediate clue into the fact that the "story" is wafer-thin from the off, and so it transpires.
ISD is nothing to do with "Holyrood" – it's part of NHS Scotland. And eight paragraphs into the piece, we find that the UK Statistics Authority had actually concluded that there HADN'T been any political interference, just that people (we're not told which people precisely) might wrongly think there had been.

Naturally, that doesn't stop Scottish Labour issuing an outraged quote:

Note the sudden shift in those two paragraphs. In the first, Smith says "if" there were to be any interference – which the UKSA has just told us there hasn't been – it should be resisted. But by the next paragraph it's magically become a fact ("this is just one example"), and then embellished by a raft of completely imaginary ones ("there may be many more").
The article concludes – and alert readers will remember that most people will have already stopped reading by this point – with a more extensive quote from the head of UKSA, in which he again makes it clear that any shortcomings of the stats are the responsibility of ISD, and absolutely nothing to do with the Scottish Government.
There's also no actual suggestion that the stats are wrong or misleading. Humpherson says that some unspecified decisions have "reduced the usefulness and accessibility of the statistics for users", but not that they conceal anything sinister.
It is, then, an incredibly weak "revelation". But the Times knows that full well, so by this point it's already tried to beef it up by making it part of a trend: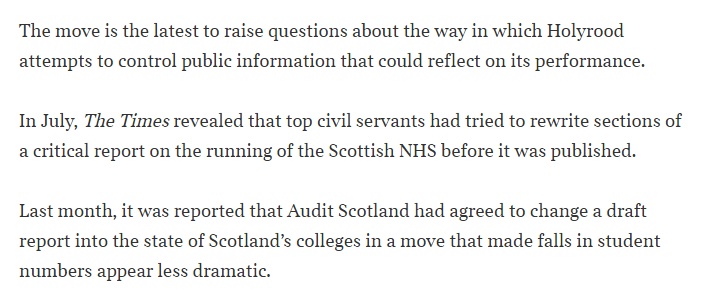 The other two stories were every bit as limp. Both of them concerned the independent statistical body Audit Scotland, and attempted to create scandals out of the normal process of consultation between the organisation and the Scottish Government, in which civil servants and ministers will check draft reports for factual errors and request corrections and clarifications where necessary.

In both cases the civil servants and ministers had made requests for alterations – as they're supposed to do – and Audit Scotland had accepted some of them and rejected others according to their validity, as it's supposed to do. (The Scottish Government has no power whatsoever to FORCE Audit Scotland to do anything.)
Each of the three articles is a feeble collection of vague innuendo hinting at some dark chicanery without ever actually identifying any. Each attempts to present transparent standard practice as shady dealing, and to groundlessly portray the diligent staff of Audit Scotland, honestly attempting to produce the most accurate reports possible, as victims of bullying by the vile SNP.
None stands up in its own right, but by glueing them all together the Times hopes to create something sturdier. In each case the lurid shock-horror quotes from Unionist politicians are the flour and water binding together the tatty scraps of, well, newspaper.
But just like papier mache, while it might look solid to a casual glance, it's not actually very hard to pull apart.