The Scottish Daily Mail almost explodes with fury over new crime statistics today: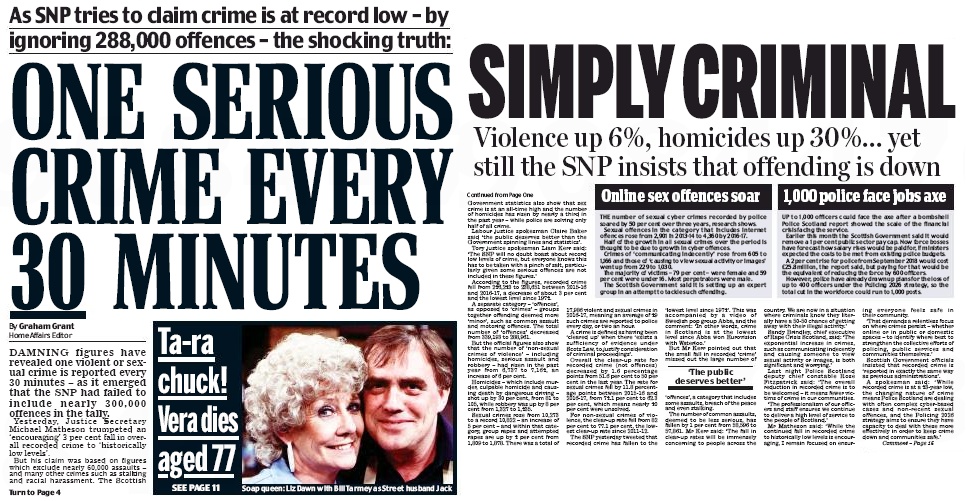 Which is weird. Because there's less crime in Scotland than there's ever been at any time in modern history. How do we know that? Because the Mail tells us so.
The paper's strapline and opening paragraph make a huge deal over the fact that the headline figures for "crimes" exclude a similar number of less serious matters which are categorised as "offences". But that's not a sudden piece of devious SNP chicanery – it's been the case since the 1930s: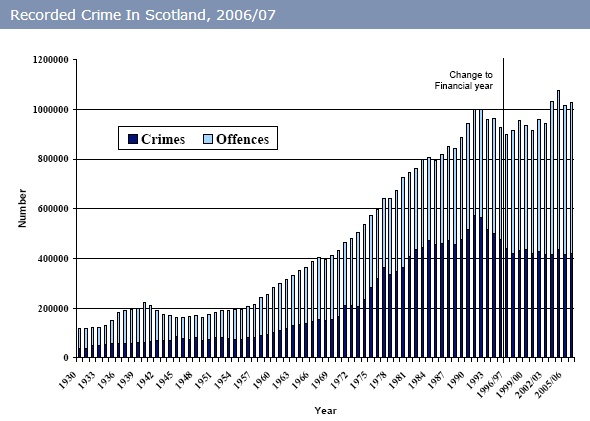 And the really strange thing is that in any event, the article acknowledges that both "crime" AND "offences" have gone down:
In fact, "offences" have declined by a frankly phenomenal 15% in just a year, on top of the 3% decrease in "crimes". It is, by any conceivable rational measure, good news, and the Mail is reduced to desperation in its attempts to spin it in a negative light by cherry-picking individual areas that have shown increases.
It then goes on to create an entirely fictional threat of job losses based on what the paper imagines might possibly happen if completely imaginary future pay rises (of an unspecified size) were to be paid for solely by cutting officer numbers.
For its final flourish, readers get an editorial leader column describing – remember – THE LOWEST CRIME FIGURES IN SCOTLAND FOR OVER 40 YEARS as "SNP's crime shame", and screaming that recording the figures in exactly the same way as they've always been recorded is "mendacious spin" and "a disgraceful outrage":
But if you combine "crime" and "offences" – as the Mail appears to want – the overall decrease is 10% in a single year (585,436 down to 527,612), not the headline 3%. By claiming crime is down 3% the SNP are in fact massively underselling the decrease.
(And since the Nats took power in 2007 the all-categories total is down by almost 50%, from 1,026,663 in 2006/07, reversing what had been a 60-year upward trend.)
Imagine what the Mail will say if crime ever actually goes up.