Almost exactly two years ago, this website suggested that it might not be the smartest idea for Labour to go along with Theresa May's call for a snap election. (Under the Fixed Term Parliaments Act, it couldn't have happened without Labour's support.)
And it occurred to us today that if they hadn't, the current government would only have a maximum of one year left to run.
And in reality that would have meant a general election this year, since governments – and certainly under-pressure ones with small majorities – don't tend to leave elections to the last possible minute. it's unlikely that the Tories would have tried to stagger on until next May, because in the light of what's happened with Brexit that would have left them contesting an election in the midst of a truly epic shambles that they might have contrived to lose even to Jeremy Corbyn.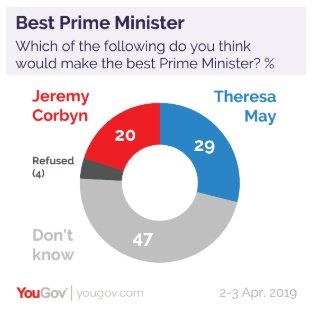 (This would have been true whether the current Article 50 extension ended in May's deal, no-deal, a second referendum, a third extension or a revocation.)
So one way or another, we'd have been looking at a decisive resolution to the situation within a matter of months. But as things stand, we're stuck with the Tories for three more years because they and the DUP would rather leave the country paralysed in chaos indefinitely than risk letting Jeremy Corbyn into Downing Street.
We said at the time that the election was a stupid and terrible idea from Theresa May's own perspective, and we were right.
(Though modesty demands we note that we weren't right in every detail – we thought the Lib Dems and SNP would do better than they did and that May would have the basic dignity to resign if she blew her majority. Boy, do WE ever look like idiots.)
We said Labour should think twice before going along with her plan and we were right about that too. They got a result that was better than most pundits expected but not good enough to actually achieve anything, and have subsequently been landed with a sizeable chunk of the blame (quite rightly) for the Brexit mess as well as giving the Tories two extra years of breathing space.
If only people listened to us, eh readers?