We stuck this short clip up on YouTube yesterday as a throwaway while watching the Labour conference in slack-jawed astonishment (a visitor from an alien planet would have concluded it was the gathering of a party that had just won a landslide victory, not lost its third general election in a row), but on reflection it deserves a proper post.
If you know anything at all about the story of how female Glasgow City Council employees have fought for equal pay, you'll probably be as outraged as we are at Baxter's bulletproof brass neck. But the video actually demonstrates what appears to be Scottish Labour's master strategy for winning back Scotland.
It goes like this:
1. CREATE THE MESS
Labour ran the council in Glasgow as an absolute majority for all but six of the last 72 years (and another 11 as a minority before that) and have bitterly fought equal pay for women every step of the way during a 12-year court struggle, the simplest basic outline of which is recounted here.
Having spent enormous amounts of public money fighting the women who'd been denied their legal entitlement – many of them low-paid carers, cleaners and the like – the council finally lost the case this year, leaving GCC stuck with a crippling liability of up to half a BILLION pounds, which the SNP inherited when they took (minority) control of the council at the elections in May.
For context, that sum represents over 40% of the council's entire annual budget of £1.2bn. The council is already £2.1bn in debt, and spends almost half of its total Council Tax receipts on servicing and repaying that debt, but the new SNP administration now has to find another £500m from somewhere to pay Labour's bill without completely destroying public services in Scotland's biggest city.
2. DEMAND SOMEONE ELSE CLEARS UP YOUR MESS INSTANTLY
As you can see above, Labour's immediate reaction on being kicked out by the voters is to furiously rage that the SNP – in power for just four months – haven't already dealt with Labour's toxic legacy, like a baby screaming because its dirty nappy hasn't been changed seconds after it filled it.
(Just like when Labour demands that the SNP hike income tax, and reverse PFI contracts, and renationalise the railways, and all the other things Labour didn't do during the 13 years of its last government, when it held all the levers of power at Westminster AND Holyrood AND council level.)
3. WHEN THEY DO, TRY TO TAKE THE CREDIT
Alert viewers will recognise the payoff from previous examples like the mitigation of the bedroom tax, the retention of public-sector ferry services at CalMac and the end of the public-sector pay freeze, and more that we could spend all day listing – when the SNP do the thing they've always said they were going to do, often against bitter opposition from Labour at the time (eg the second Forth crossing), Labour trumpet that it only happened because they forced the SNP's hand.
(Many outside observers have pointed out that Labour's recent revival in the UK stemmed from a manifesto promising a number of policies that the SNP have already implemented in Scotland.)
This simple three-step strategy sounds like political genius, an assessment only slightly hampered by the inconvenient fact that Labour have been using it for years now and have plummeted from the all-conquering party of power in Scotland to a third-placed irrelevance.
Speaking of third-placed irrelevances, Johanna Baxter herself was a failed candidate for Cunninghame North (an area that was rock-solid Labour turf from the mid-1980s right into the 2000s) at the 2016 Holyrood election, where she managed to lose almost 30% of the Labour vote – even after the crushing humiliation of 2011 – and slip behind epically vacant Tory meat-vehicle Jamie Greene.
She was the person who tweeted a widely-mocked photograph from the conference at the weekend showing the world's most recently-unwrapped Saltire, huffily proclaiming "It's our flag too":
And that would be fine, except that she's the Chair of her local Labour branch in North Ayrshire, where Labour run the council in cahoots with the Tories and recently teamed up with them to vote to remove the Saltire from the council building.
It's typical of Scottish Labour's contempt for the electorate – built up over decades of unchallenged dominance – that its hypocrisy remains so brainlessly transparent. There have literally only been weeks between Baxter's colleagues in North Ayrshire dumping the Saltire and her attempting to claim it for Labour, and only a few more between the final court judgement against (Labour) Glasgow City Council and Baxter howling in faux-tearful outrage to conference that the SNP haven't fixed it all yet.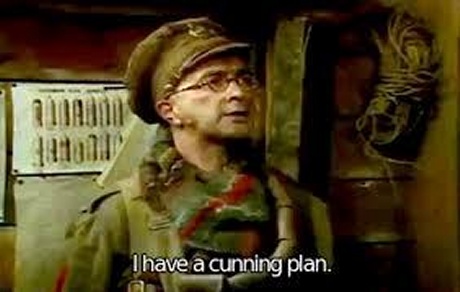 The party doggedly keeps acting as if voters have the memory of goldfish, no matter how steadfastly the voters refuse to fall for it. When it comes to self-awareness, let alone cunning, the hapless Baldrick looks like a Nobel Prize winner by comparison.