This is the editorial in today's Scottish edition of The Times:
It seems to be an increasingly popular viewpoint in the country's media.
This was Daily Record political editor Torcuil Crichton on Thursday:
And this was Times columnist Kenny Farquharson the day before:
It's not his first time banging this drum, either. (We assume he meant AK47.)
In fact the clickbait punditariat has been trying to make it a thing for years.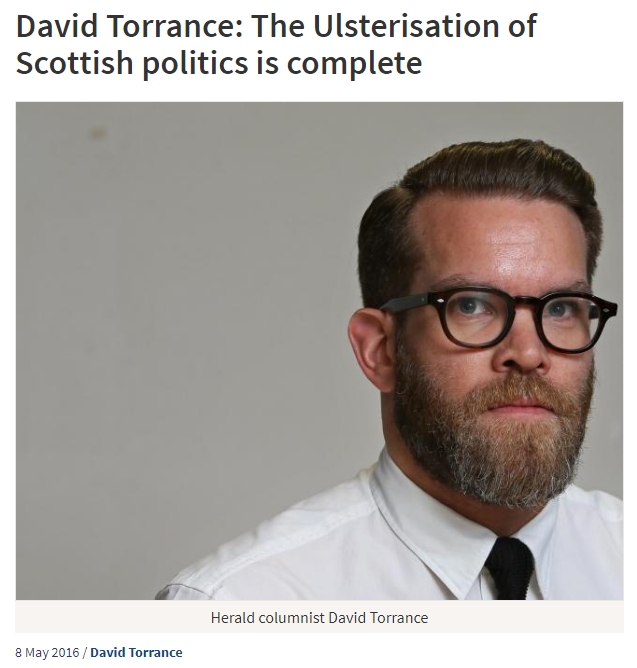 And it's hard to misinterpret those messages. What they're saying is "it's fair that Northern Ireland gets better treatment, because its people slaughtered thousands of each other in terrorist atrocities in the 1970s and 1980s. Scottish nationalists haven't murdered anyone, so of course it's right that they get treated like dirt when there are negotiations to be done, so shut up, whining Nats".
You can't reasonably read that any other way than as a rebuke to the Yes movement for not killing people. We can only surmise that Kenny and Torcuil and the rest secretly wish they had a real independence struggle to report on, a proper civil war with blood and guts and lots of opportunities to win awards. Mumping and griping that trains are sometimes a bit late doesn't get you a Pulitzer Prize.
Don't get us wrong. We're bored too – Scottish politics is a wretchedly tiresome thing to be writing about at the moment, and they've had to do it much longer than us. And God alone knows we're angry, filled with barely-coherent rage at the cretins in charge of the UK, their snivelling apologists in the press and the cringing Uncle Tams in the opinion pages still pumping out doom-laden mantras about how independence would be even worse.
But we're not going to take up guns and bombs and start blowing up innocent people in the name of Scottish self-determination, and we fervently hope nobody else does either, no matter how much tuppenny-ha'penny hacks try to goad them into it in order to feed their pathetic fantasies of being the next Kate Adie or John Simpson, wearing their most solemn faces as they file reports from a blood-soaked street in Kilmarnock or a shattered pub in Aviemore.