The debate about whether Scotland could survive and flourish outside the Union is uncannily similar to the one that filled the media a year ago about whether Scottish football could live without Rangers. (And which by a strange and almost inexplicable coincidence tends to feature many of the same people on the respective sides.)
As the events of the spring and summer of 2012 unfolded, even the game's own governing body insisted that separating the rest of the SPL from the Union Jack-loving Ibrox club would reap a disastrous whirlwind of destruction, with businesses (sponsors) fleeing in terror and clubs becoming impoverished without the generous subsidy of thousands of visiting Rangers fans.
In the end, despite the most strenuous efforts of the SFA, SPL and SFL to override the wishes of their customers with a campaign of relentless and increasingly-hysterical fearmongering, the new "Rangers" was denied both entry to the SPL and a "leapfrog" into SFL 1, and joined Scottish football at the lowest professional level.
So how did post-apocalypse life turn out in the people's game?
Firstly, of course, the terrifying scare stories about commercial abandonment didn't come to fruition (just like we told you they wouldn't). Sky and ESPN signed up for only slightly less money than they'd been due to under a previous draft contract which had included Old Firm games, with a much-needed share of the cash going to the SFL. Scottish football as a whole lost almost nothing. But what of the SPL?
It's surprisingly difficult to get anyone to agree on attendance figures for football clubs, but in order to compare apples with apples we've taken our figures from the official SPL website. Above is the last season of Rangers FC competing in the SPL. Now let's look at the bleak, barren ruins of the division without Ally McCoist's men and their army of ever-amiable travelling supporters.
Hang on, there must be some mistake.
Celtic were obviously the club most likely to suffer from the absence of their arch-rivals. With little realistic doubt that the Parkhead side would win the league and no head-to-head clashes with their Govan chums, league attendances were bound to suffer, particularly with fans also having the financial pressure of Champions League matches to accommodate. In the event, a drop of 3,987 per game will barely make a dent in coffers swollen by a vast cash bonanza from reaching the CL knockout stages.
For the sake of argument in this feature, we'll assume very roughly that the average fan through the turnstiles is worth £25 to a club, in ticket price and anything they can be sold inside the ground, from programmes to pies and Cokes. Applying that figure, Celtic lost around £1.9m from lower league attendances, but gained ten times as much from the Champions League run. With no competition from Rangers for the SPL title and only a single CL place available from next season, the absence of the Ibrox side will likely continue to represent a sizeable net financial gain for Celtic for the forseeable future, even if they can't repeat this season's European heroics.
What, then, of everyone else? In a moment we'll list the rise or fall in the rest of the league's attendances, but first we need to point out a couple of things.
Firstly, obviously the non-Old Firm teams will have lost up to 75% of their big-money home games against the Ugly Sisters. Aberdeen, for example, had three matches at Pittodrie against Rangers and Celtic in 2011/12 but only one this season – a drop of 67% and a notional total loss of around 9000 tickets sold, or just under 500 per home game if spread across the entire season.
Secondly and less obviously, clubs also lost out by being on TV more. Sky and ESPN naturally tended to concentrate on Rangers and Celtic games, but they can't just put Celtic on every single week to compensate, so other clubs were live on telly more often, damaging crowds.
Here, then, are the figures for clubs which were in the league in both seasons:
HEARTS: down 218
HIBERNIAN: up 580
ABERDEEN: up 314
DUNDEE UTD: up 65
MOTHERWELL: down 584
KILMARNOCK: down 890
ST MIRREN: down 104
ST JOHNSTONE: down 458
INVERNESS CT: up 15
Additionally, Dunfermline (4799) were relegated in 2011/12, with Dundee (5943) and Ross County (4430) joining the division. Let's average the two promoted clubs at 5187, which gives us a notional gain of 388.
What all that means is that excluding the Old Firm, the SPL lost just 892 spectators net a week (or 178 per game) as a result of the absence of Rangers – a figure almost completely accounted for by the mass desertion of Kilmarnock fans.
(Whose 2011/12 average, it should be noted in fairness, was considerably distorted by Celtic's 2012 title-winning party on April 7th, which saw almost 16,000 cram into Rugby Park – that's 10,000 more than for this season's comparable fixture against Neil Lennon's side. Factor in the loss of Rangers games too and Killie's underlying, like-for-like fall is closer to 155 than the 890 of the bare stats.)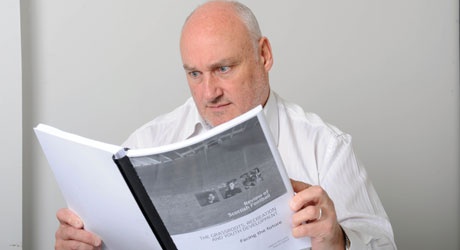 Of course, devotees of succulent lamb will be screaming that you can't just "exclude" the Old Firm. But we've already noted that Celtic gain financially overall because it's much easier for them to qualify for the vast jackpots of the Champions League, and the fact is that most of the "diddy teams" have held onto most of their crowds – or even increased them – despite not hosting Rangers, and will also benefit from extra cash because they've finished a place higher up the league than they would have done with Rangers still in it.
Let's take Hearts by way of example. Those lost 208 fans will have cost them roughly £99,000 in total over 19 home games. But finishing one place higher will recoup at least £85,000 straight away, and the rest will be taken care of many times over by the sellout crowd and TV rights for the Europa League tie with Liverpool. The club is of course still in a massive financial hole, but not because of the absence of Rangers.
And said absence at least gives the Tynecastle side a better chance of another Europa League spot next season. In 2012/13 the beneficiaries of that particular opportunity were Motherwell, who picked up two bonus home ties when Rangers went into liquidation and were ejected from European competition. The Fir Par club's unsuccessful ties against Panathinaikos and Levante brought 15,321 fans through the turnstiles, which effortlessly eclipsed the fall in the side's pathetic home crowds.
Divided across 19 SPL games, those "bonus" matches meant Motherwell's average home gate in effect increased by 222 rather than falling by 584, as a direct result of the absence of Rangers. Add the TV revenues and the club is, like Celtic, a substantial net gainer from "Armageddon".
(And that's before you factor in the huge additional boost of almost £1 million that Motherwell's bank balance will get from finishing second in the SPL rather than 3rd.)
Similarly, St Johnstone may have lost roughly £218,000 from their steep fall in attendances, but they'll play in the Europa League next season as a direct result of Rangers no longer being in the SPL. In 2012 their brief jaunt in the same competition brought 6,023 to McDiarmid Park to see the draw with Eskisehirspor, which would have instantly recovered £151,000 of those losses (at our £25 figure), before TV and participation money was factored in. Add the extra SPL prize money and it seems safe to say that the Saintees will also benefit overall from a Rangers-free SPL.
What we've learned so far, then, is that four SPL clubs managed to INCREASE their attendances despite the loss of Rangers fans, and three others were financially better off despite losing some fans at their home games. Of the others, most of Kilmarnock's losses were accounted for by a single freak event, and St Mirren's (104) entirely by losing Rangers fans (who boosted their average by 117 in 2011/12).
And in all this we haven't factored in the effect on SFL 3, where everyone enjoyed two sell-out games against The New Young Rangers, often multiplying their typical crowds by ten on top of the TV money from the new Sky/ESPN deal and landing clubs run on shoestring budgets with a windfall that'll keep them going for years.
It's only possible to draw one rational conclusion from the evidence – "Armageddon" is in fact the best thing that's happened to Scottish football for decades. Somehow, just about everyone seems to have come out a winner. Celtic are richer, most other SPL clubs are richer, and SFL clubs are richer.
(And of course, even the new Rangers is far richer than the old one was, having walked away from tens of millions of pounds of debt and a whole heap of wage bills and then somehow persuaded fans and investors to cough up another £20m, no matter how much many of them might be regretting that particular decision now.)
We're not saying that Scottish independence will definitely work out the exact same way, of course. We're just saying that perhaps it's worth bearing in mind that people in positions of authority don't always tell you the truth.