There are three separate articles in today's Sunday Times on the same subject, all containing the same information, of which the below is the most concise.
So let's recap the events, shall we?
1. In March, the Scottish Government signed a "memorandum of understanding" with some Chinese companies to discuss potential investment by the companies in Scotland, possibly worth up to £10bn. A press release was issued by one of the companies and the apparent good-news story was covered – reluctantly and (natch) slightly inaccurately – in the Scottish press.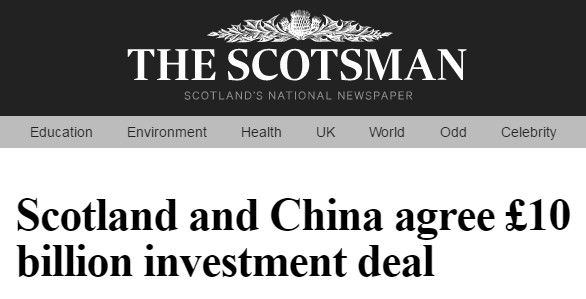 2. In April the Unionist parties and the rest of the media noticed the agreement and whipped up a storm of shrill fury about the "secrecy" involved and the vague unsuitability of one of the Chinese firms.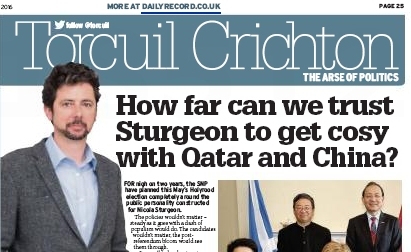 The outrage went on for days, weeks and months, with all sorts of different reasons given as to why Scots should be scandalised that their government was attempting to attract foreign investment and jobs. The Times' reporter/columnist (it's so hard to tell these days) Michael Glackin was prominent in the fury.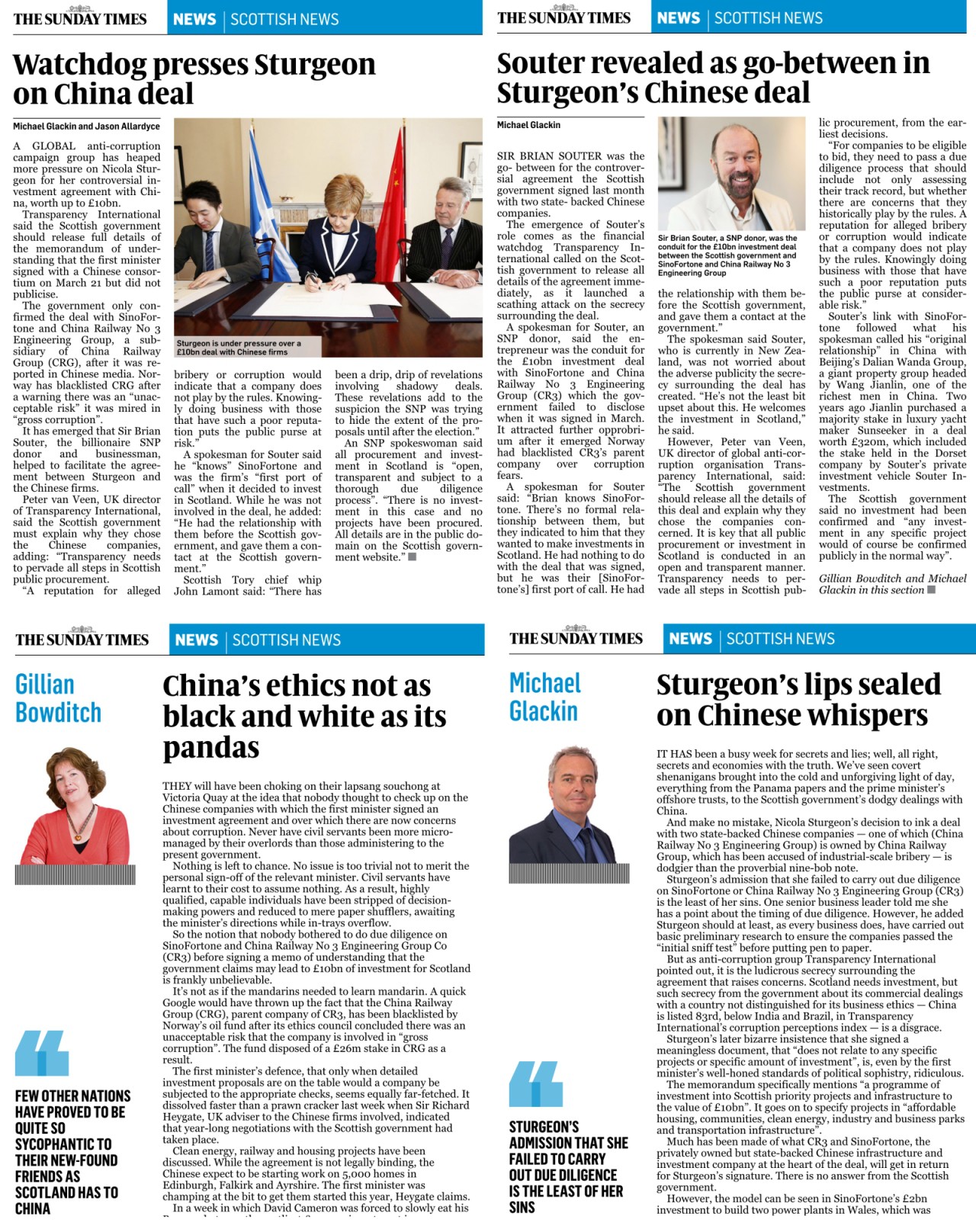 3. It's now been revealed that the "political fallout" – that is, the reaction from the media and the opposition parties – has in fact scuppered the deal, with the Chinese understandably not wanting to be caught up in the toxic crossfire of such extraordinary hostility towards the SNP.

4. The people responsible for losing Scotland up to £10bn are now howling at the Scottish Government over the deal's collapse, and the fact that it didn't shout about that collapse from the rooftops, even though there was no actual "deal" to collapse in the first place. The Chinese had merely agreed to discuss one, then ran away in horror as Labour, the Tories and the Times descended upon them like screeching harpies from Hades.
Glackin, having almost certainly done more than any other individual to sink the agreement and wreak serious harm on Scotland's economy, then had the brass neck to pen a mind-bogglingly enraged piece about the SNP's ineptitude.
It concludes with paragraphs which plainly acknowledge that the chief culprit in the "debacle" was Glackin himself (along with his hack colleagues and opposition MSPs), yet still summons the chutzpah to thunder that it "marks a new nadir in [the SNP's] abysmal decade in power", and is "a national disgrace".

Those two comments are, of course, probably true, just not in the way that Michael Glackin appears to think. It's been clear for a long time that the opposition parties and the Unionist media are more than happy to damage Scotland in their neverending quest to attack the SNP. It's a little surprising to see them this angry on one of the few occasions when it's actually worked.