The Scottish press and opposition's incandescent and somewhat vague fury at the Scottish Government working to bring billions of pounds in investment to Scotland has continued undiminished in this weekend's newspapers. Scottish Labour in particular are getting themselves very worked up about today's Sunday Times.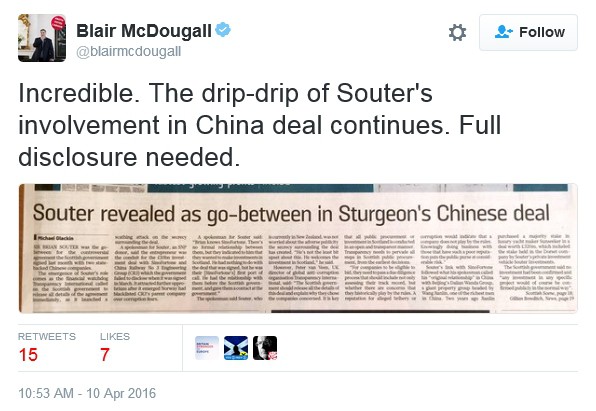 "Incredible"? Sounds exciting. Let's find out more.
Here's the key passage from the article. It's buried some way down the page:

Oh. So what McDougall calls the "incredible" detail of "Souter's involvement" in the agreement – according to the exact article McDougall references – is that he had no involvment whatsoever in it. He passed on a phone number to someone that could have been found by Googling, the end.
Scottish Labour's press office hyped up the "revelation" one louder: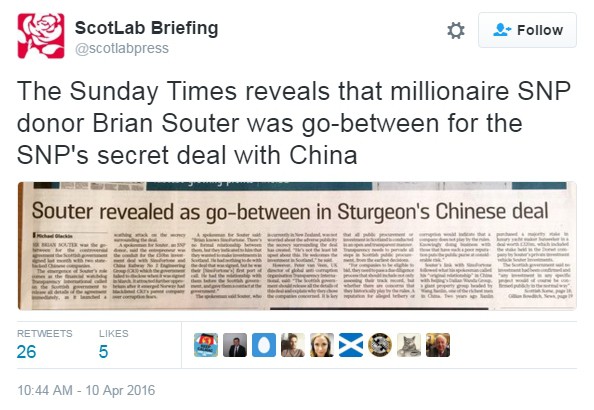 That's not bad, except that Souter wasn't the go-between, there's been no deal and it wasn't a secret. It's true in the same sense that if someone asked us what Kezia Dugdale's website address was and we told them, we'd be the "go-between" in any subsequent discussions she had with them.
But the Sunday Times is so desperate to inflate what it admits itself is an entirely fabricated claim that it reports it in no fewer than FOUR separate articles: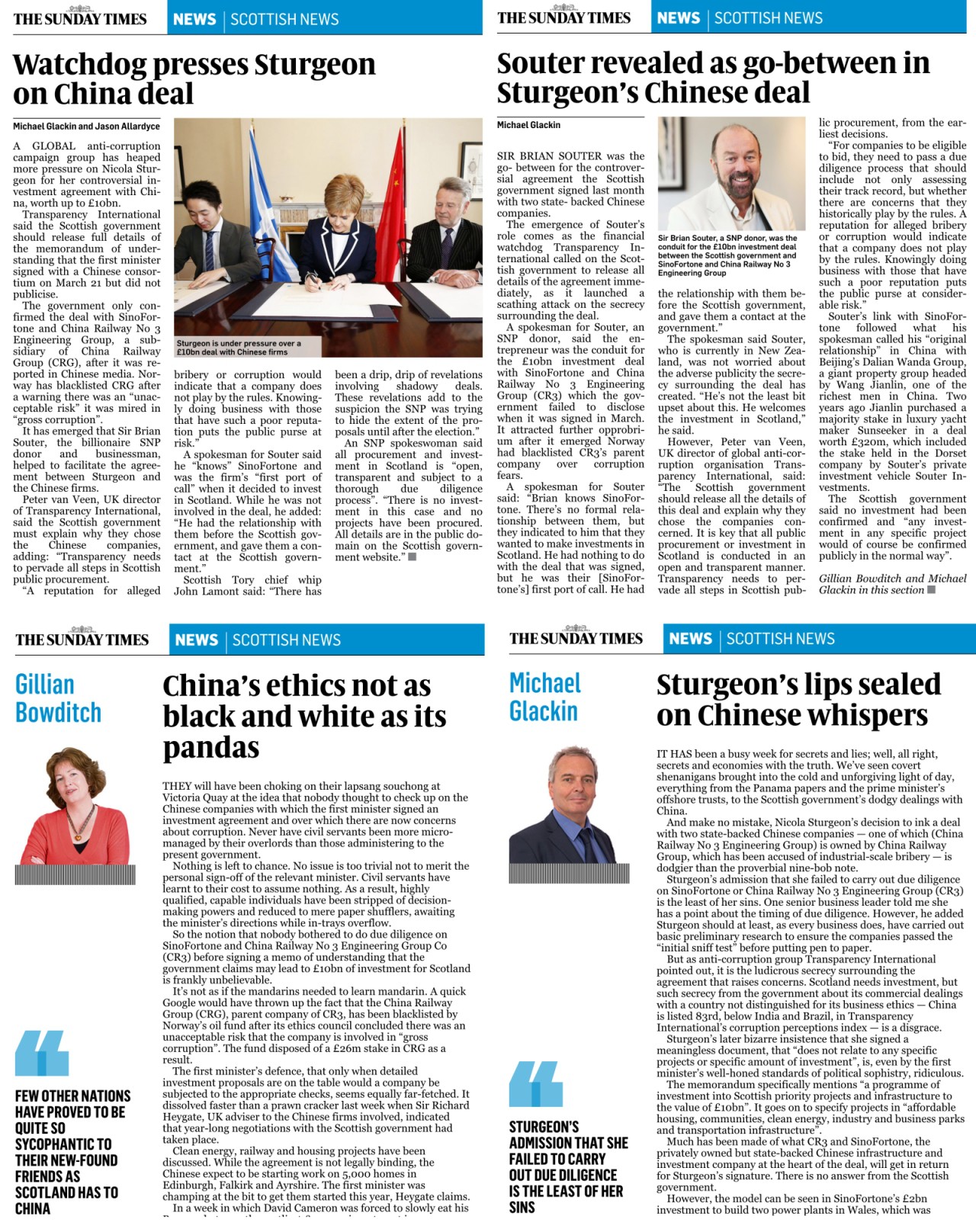 That's four times as many as it devotes to the news that half of Edinburgh's schools have been closed down for safety reasons after being built – rather shoddily, it appears – under PFI deals conceived and signed by Labour. The single piece on the subject studiously avoids mentioning the party at all, except at the very end in a quote from Green candidate Andy Wightman which we've highlighted below.
But the best line on the China story, undoubtedly, is from the ST's reliably brainless columnist Gillian Bowditch, who's rarely found wanting when "SNP BAD!" is called for:
"It didn't help that the arrangement only came to light a week after the memorandum of understanding (MOU) was signed when SinoFortone mentioned it on its website alongside a quote from Brian Souter, businessman and SNP donor, who played midwife to the agreement."
Now, we must admit that we don't keep closely up to date with the finer points of hospital procedure, but if a midwife's duties these days involve simply giving pregnant women the phone number of a doctor and then buggering off for the day, we suspect they're being paid too much.