We've often said on Wings Over Scotland that we really don't mind if journalists are biased. Everyone is biased, including us – we'd just rather people stopped pretending to be impartial when they weren't. But what we do really hate about the Scottish media is just how astonishingly bad at its job it is.
A particularly striking example arose recently.
Pretty much every newspaper and broadcaster in the country carried the sad story of former Labour MP Paul Sweeney's fall from besuited lawmaker to skint benefits claimant. And yet not a single one of them asked the question that literally every single reader of the story would have been shouting at their screen.
Sweeney was an MP from June 2017 to December 2019 – two and a half years. When he was elected the basic salary for an ordinary member had just gone up to £76,011. The following year it went up to £77,379 and from 1 April 2019 it went up to £79,468.
On being defeated in the December election Sweeney also received a generous redundancy package, the average being around £18,000.
What that means is that in just 30 months, Paul Sweeney was paid a grand total of around £210,000 by the taxpayer as a basic wage. Unlike most employees, his travel to work and London accommodation expenses were also picked up by Joe Public, and he enjoyed the benefits of heavily subsidised workplace restaurants and bars.
According to the income tax calculator on MoneySavingExpert.com, he'd have paid a total of 33% of that salary in tax and National Insurance.
Which means that including the redundancy package Sweeney would have trousered just over £140,000 in disposable income during his time as an MP, which is actually around £4,600 a month.
(According to the same website the National Living Wage, the amount set by MPs for everyone else to live on, is £1,251 a month after deductions, so Sweeney was pocketing almost four times as much as a typical worker.)
The most money you're allowed to have in the bank and still be eligible for Universal Credit is £16,000. That means Sweeney must have less than that much left, so he's spent at least £124,000 in those two and a half years – all while working long hours as an MP and jetting constantly between London and Glasgow. Quite frankly we're kinda impressed that a committed socialist found the time to blow so much dough.
(All this assumes he started off broke. His previous job was in fact in management with BAE Systems, who aren't known for paying poverty wages.)
And yet not one single solitary Scottish journalist – people who raced to Craig Murray's house to see how fancy it was when he dared solicit donations to fight his prosecution for contempt of court – apparently thought to ask:
"Hey Paul, really sad that you're on the dole now, but did you really blow 124 grand while you were an MP? Didn't it occur to you to put a few quid away for a rainy day, given how precarious an MP's job can be?"
But that's not even what we really wanted to talk about.
Today's Times carries a story about SNP finances – which apparently took two people to write – which is such an atrocious piece of mendacious content-free fluff that we suspect it actually came direct from SNP HQ. Maybe someone was owed a favour.
Audaciously, it attempts to portray the complete drying-up of sizeable donations to the party over the last three years as a positive.
But it's hard to know where to start with the complete cobblers in the above paragraph. The supposed "December 2019" membership figure of 125,482 is in itself a slightly questionable number ("based on its annual accounts") from a House Of Commons Library briefing paper, but more to the point is from a year earlier:

And as previously documented on this site, SNP membership income, as recorded in the party's annual accounts, has in fact been in steady decline since 2015, and is now £500,000 (almost 20%) lower than its peak that year.
(Quick links: 2015 accounts, 2016, 2017, 2018.)
The party, which always liked to regularly trumpet its soaring membership figures, hasn't released any new official numbers in the best part of two years, which suggests that the direction of travel may not be upwards.
Meanwhile, costs have skyrocketed. Two unscheduled UK general elections in 2017 (£1.6m) and 2019 (no figures available yet), plus the costs of the EU referendum, have taken big bites out of the bank balance.
(Even at the budget-price £91,000 they spent fighting Brexit – less than the £100,000 that was poured into an unsuccessful and arithmetically pointless attempt to capture a single Holyrood seat in Shetland. The Lib Dems easily held on to win by a margin of almost 16 points.)
The Times piece, however, breezily quotes an unnamed party source who asserts that not only can the declining membership income endlessly fill that hole, but can also build up reserves, and that past donors will dig deep into their pockets again should there ever be another indyref campaign on top of the usual electioneering.
But hold on a minute. We know that the SNP has already held not one but TWO indyref fundraising drives – supposedly to be ringfenced for a referendum campaign and NOT spent on normal party business, so they'd already be available to spend at a moment's notice in the highly unlikely event of an indyref happening.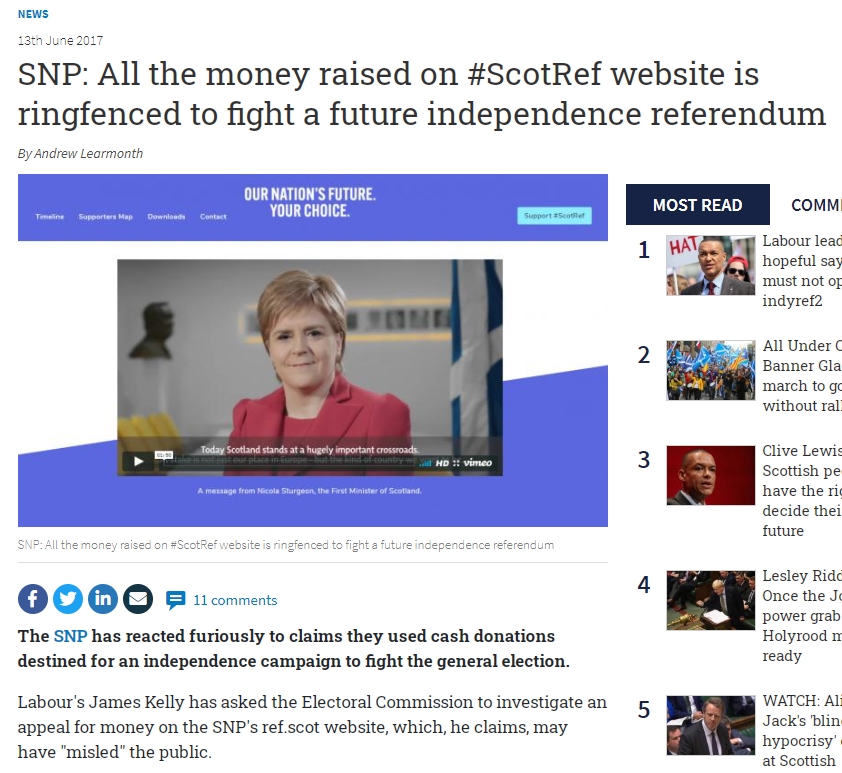 And yet that money has vanished into the ether. The first campaign in 2017 raised over £480,000 but the party's total bank balance at the end of 2018 was just £411K.
A second indyref fundraiser launched just over a year ago – supposedly once again ringfenced, this time for the "specific project" of producing and distributing a book for a future referendum called "An Independent Scotland: Household Guide" – has never published any figures for how much money it's taken in.
That could of course be for one of many reasons: because the total is disappointing, or because the party's keeping it a secret for a big triumphant reveal, or because it simply doesn't want to answer any awkward questions about where all the money's gone when it publishes its 2019 accounts in August.
(Which from that 2018 starting balance of £411,000 will have had to be raided for the European elections and the general election, likely to be somewhere in the region of £2m combined. And a Holyrood election, which is usually the SNP's biggest spending ticket of all  – 2016's cost almost £1.5m – looms on the horizon less than a year away.)
Luckily, thanks to the incurious incompetence of a Scottish media which has recently turned into Nicola Sturgeon's most devoted bodyguard, awkward questions don't seem to be much of a danger.