After running a minor post about poll results this morning to pass the time between Brexit fiascos, we got a bit engrossed – as we're wont to do now and again – in some stats. Because the Labour Party in Scotland has been in a seemingly inexorable slide into irrelevance for a good few years now, and seems completely unable to find itself  a supremo capable of stopping the rot.
But with our customary diligence, we've discovered their secret star player.
Because somewhat to our surprise, it turns out that the most successful Scottish Labour leader of the past 20 years is… Alex Rowley.
It all started when out of sheer boredom we decided to make a graph of Labour's polling figures (we measured by the Holyrood constituency vote, because it's the truest representation of opinion and had the most data available, but the Westminster graph was pretty much the same) over the last few leaders: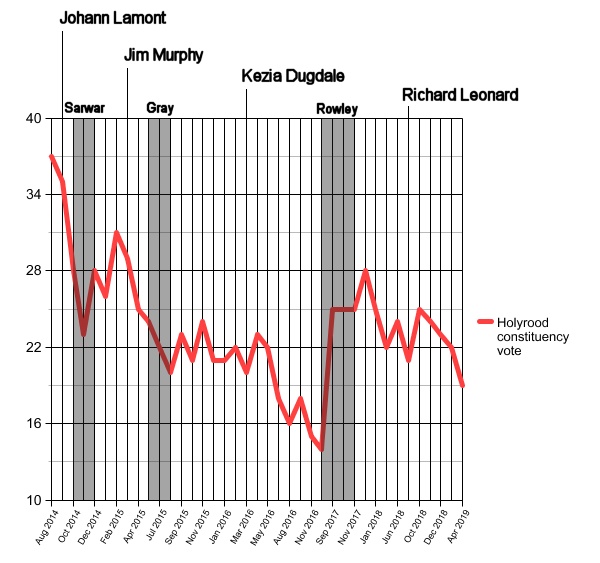 (Methodology: the highest rating in each month in which there was at least one poll.)
And we immediately noticed something striking – the biggest single increase in the Scottish Labour vote in the last half-decade came when the party didn't have a proper official leader at all.
Rowley took over as interim caretaker for three months after the resignation of Kezia Dugdale in August 2017, and during his brief term Scottish Labour shot up from 14% to 25% – a staggering leap of 11 points that hasn't been bettered in recorded history.
(What Scotland Thinks only lists polling back to 2007).
Which was kinda weird, because it wasn't a great time for him.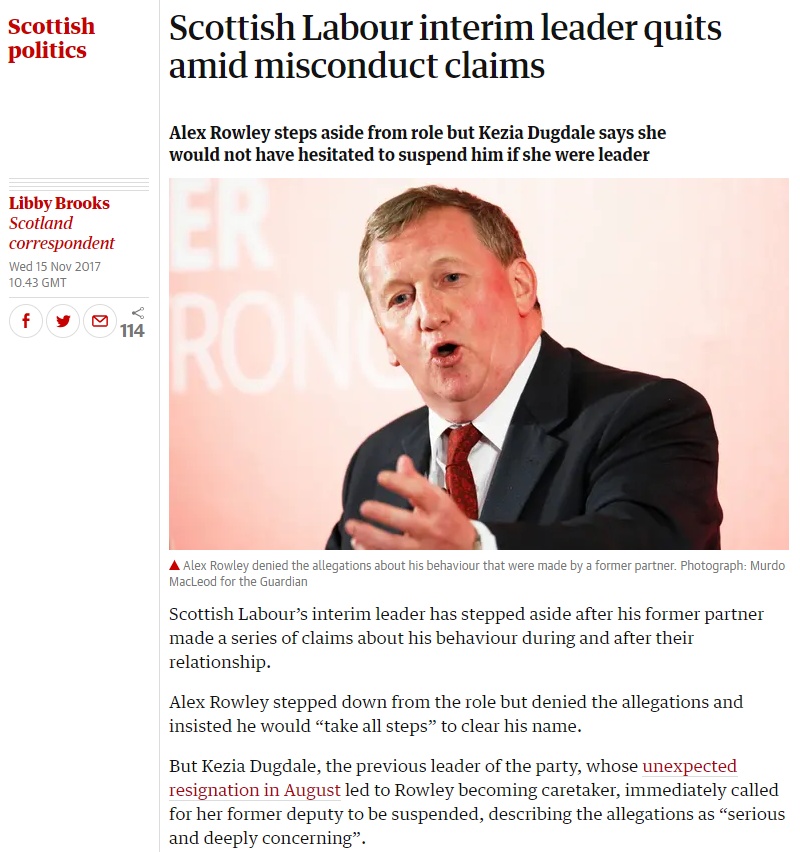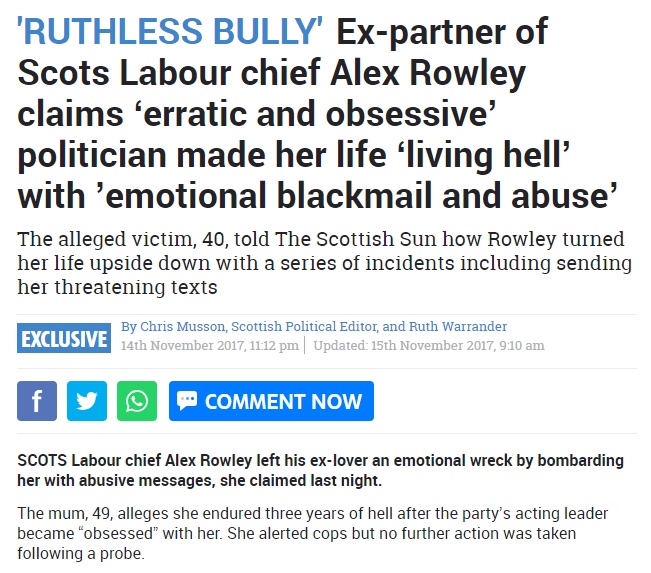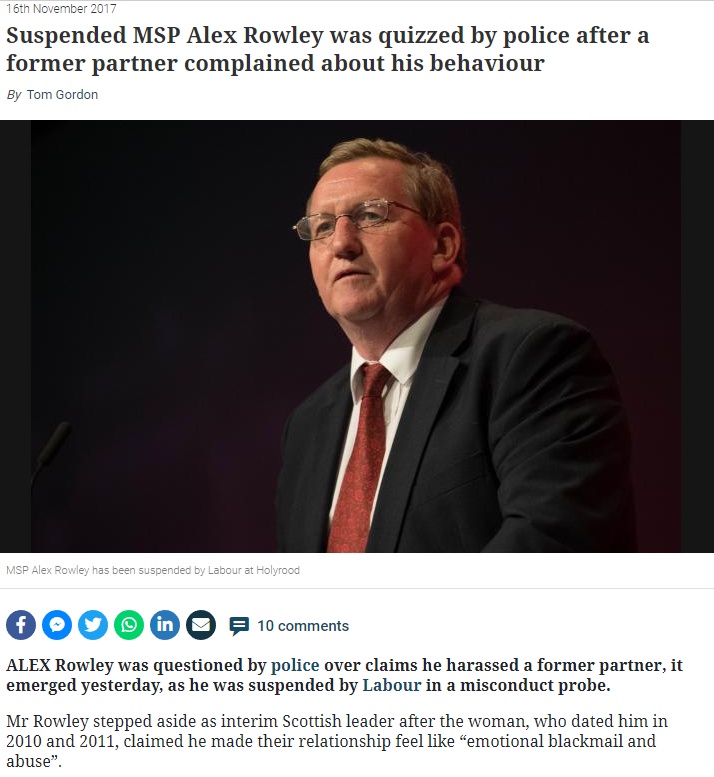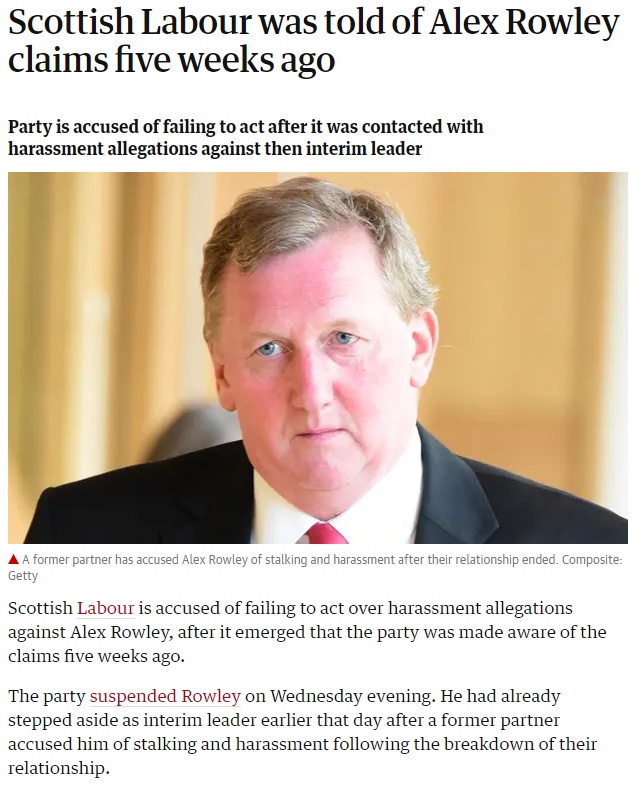 The investigation into Rowley's alleged actions was controversially dropped by Labour after the woman who'd made the accusations complained about the nature of the party's disciplinary process, but he resigned from the interim leader post anyway for the last week before Richard Leonard beat Anas Sarwar to become the current leader.
Nevertheless, in polling terms he remains the branch office's most successful occupant of the role in the entire devolution era. To fill in the blanks before 2007 we measured election results rather than polls, and came up with the following table:
1. ALEX ROWLEY (Aug-Nov 2017, interim)
Inherited rating 14%, departing rating 25% – NET GAIN 11
2. IAIN GRAY (Sep 2008-May 2011)
Inherited 26%, departing 29% – NET GAIN 3
3. JOHANN LAMONT (Dec 2011-Oct 2014)
Inherited 26%, departing 28% – NET GAIN 2
4. ANAS SARWAR (Oct-Dec 2014, interim)
Inherited 28%, departing 28% – NEUTRAL

5. IAIN GRAY (May-Aug 2015, interim)
Inherited 24%, departing 21% – NET LOSS 3
6. JIM MURPHY (Dec 2014-May 2015)
Inherited 28%, departing 24% – NET LOSS 4

7. RICHARD LEONARD (Nov 2017-present)
Inherited 25%, departing 19% – NET LOSS 6
8. WENDY ALEXANDER (Aug 2007-Jun 2008)
Inherited 32%, departing 25% – NET LOSS 7
9. JACK McCONNELL (Aug 2001-Aug 2007)
Inherited 39%, departing 32% – NET LOSS 7
10. KEZIA DUGDALE (Aug 2015-Aug 2017)
Inherited 23%, departing 14% – NET LOSS 9
The good news for Rowley, of course, is that with no finding of guilt against his name he's now very much back in the fold and in the frame as a respectable front-bencher and shadow cabinet member: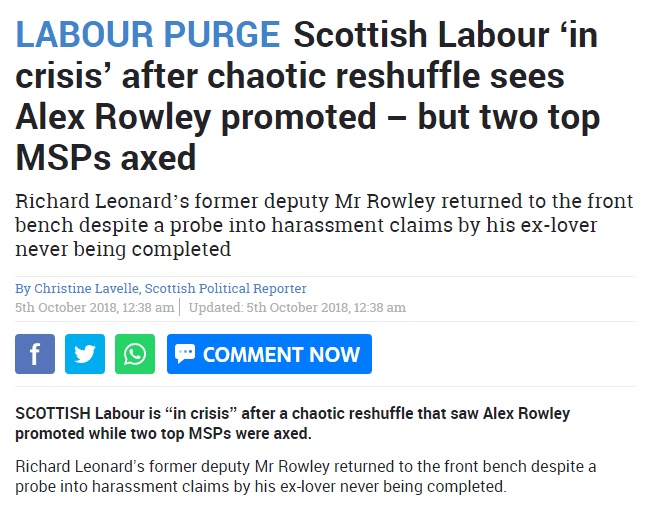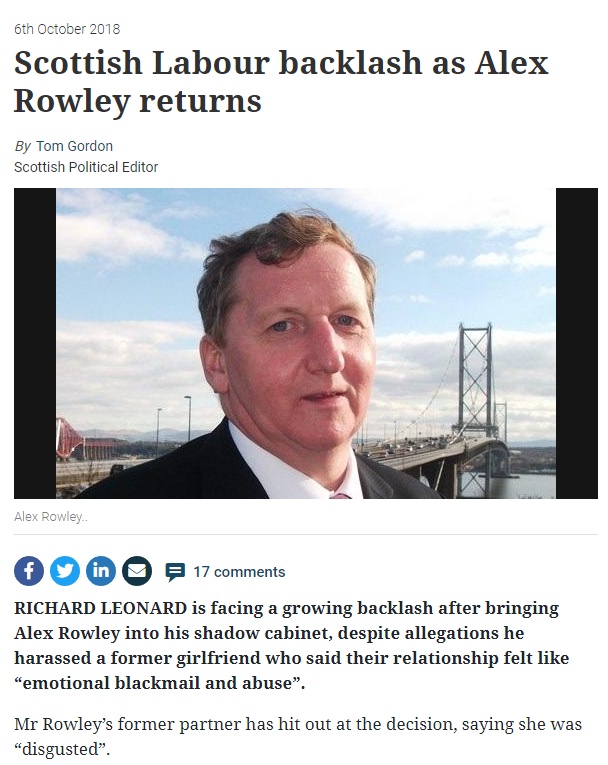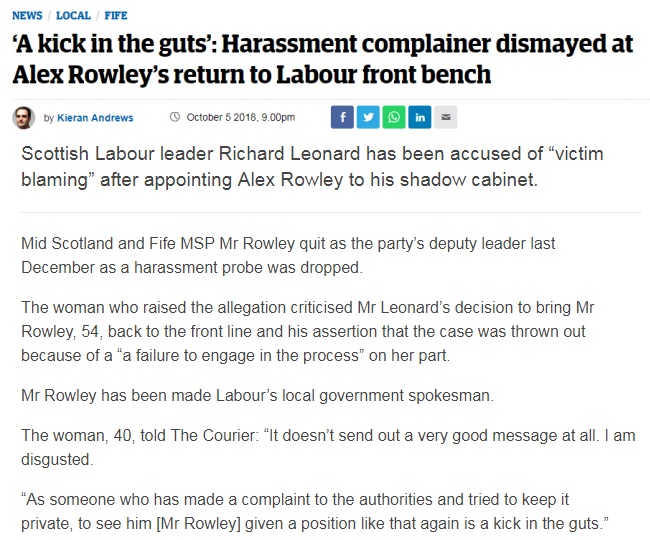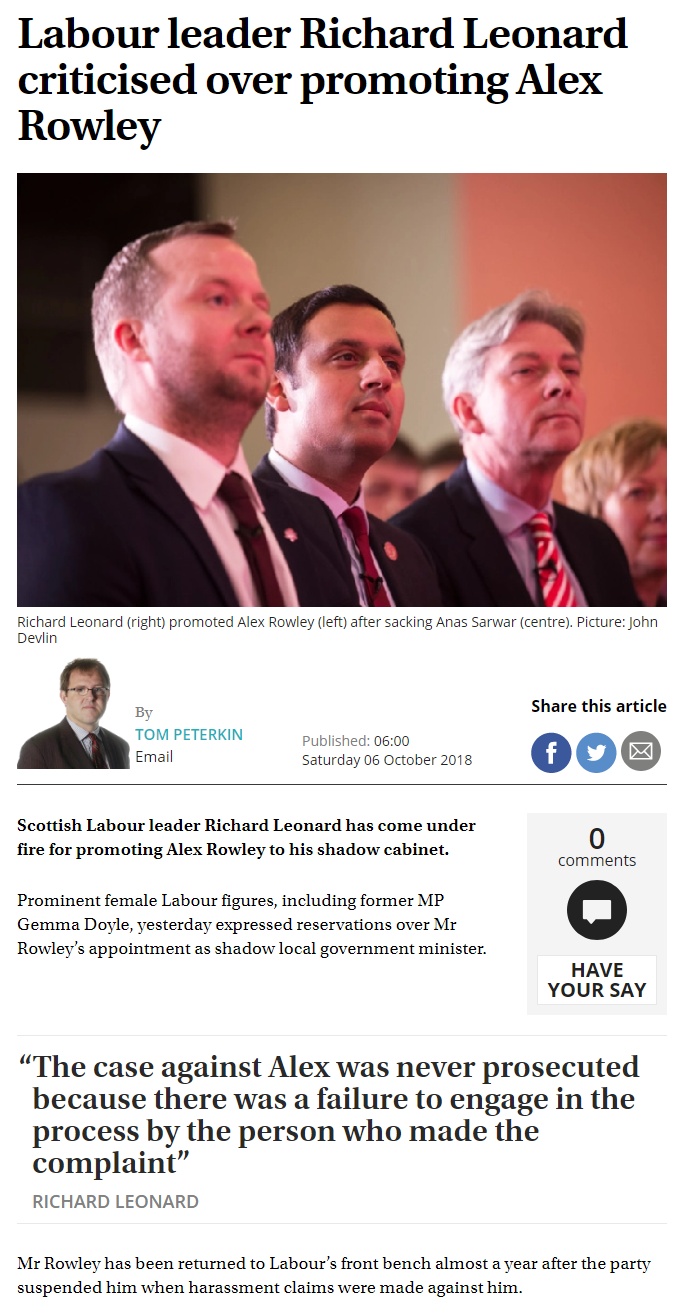 So if Scottish Labour want to revive their fortunes when they finally give up on trying to get anyone to notice who their current leader is, they know they've got someone with a great track record waiting in the wings to take the wheel.
And if you think that's a bit far-fetched, folks, look at the options.