The people (of England) have spoken, and their elected representatives are freaking out all over the shop.
Several senior Labour and Liberal Democrat MPs have openly called for the result of a democratic referendum to be overturned by Parliament against the wishes of voters. The Prime Minister has quit, the Chancellor is expected to follow on Monday, and half of the Labour shadow cabinet is apparently doing it as we speak, after Jeremy Corbyn fired Hilary Benn for planning a coup.
(Apparently including Ian Murray, the shadow Scottish Secretary who's also the only Scottish Labour MP at Westminster, putting the party in the farcical position of having to find itself a spokesman on Scottish affairs who either sits in an English or Welsh seat or is an unelected lord.)
Labour MPs are also demanding Corbyn's head, in essence for the crime of his being hugely popular with the party's membership for reflecting the old-fashioned left-wing ideology and views that they actually believe in, rather than the "moderate" neo-Tory position of Blairite parliamentarians. Corbyn shows no sign of going.
Two opinion polls, meanwhile, suggest that support for independence has taken the lead in Scotland, where Nicola Sturgeon is quietly and calmly making arrangements with senior European officials to hold discussions about ways to keep Scotland in the EU – with the backing of Willie Rennie just in case any of the talks take place on a bouncy castle or a slide.
(The Daily Telegraph, which we must assume has been chatting to Alistair Carmichael again, is reporting that Sturgeon has joined the Tories and turned gay.)
It's been suggested that the Scottish Parliament could in fact block any attempt by the UK to leave (though it seems unlikely). Britain faces a future without Milky Way Magic Stars. UK politics, to put it mildly, is in chaos.  So what the hell's going on?
————————————————————————————————-
1. THE UK MAY NOT ACTUALLY LEAVE THE EU
First principles: it's far too early to discount the possibility that the referendum result WILL be overturned. Referendums are not legally binding, and there are several routes by which Parliament may simply choose not to heed this one.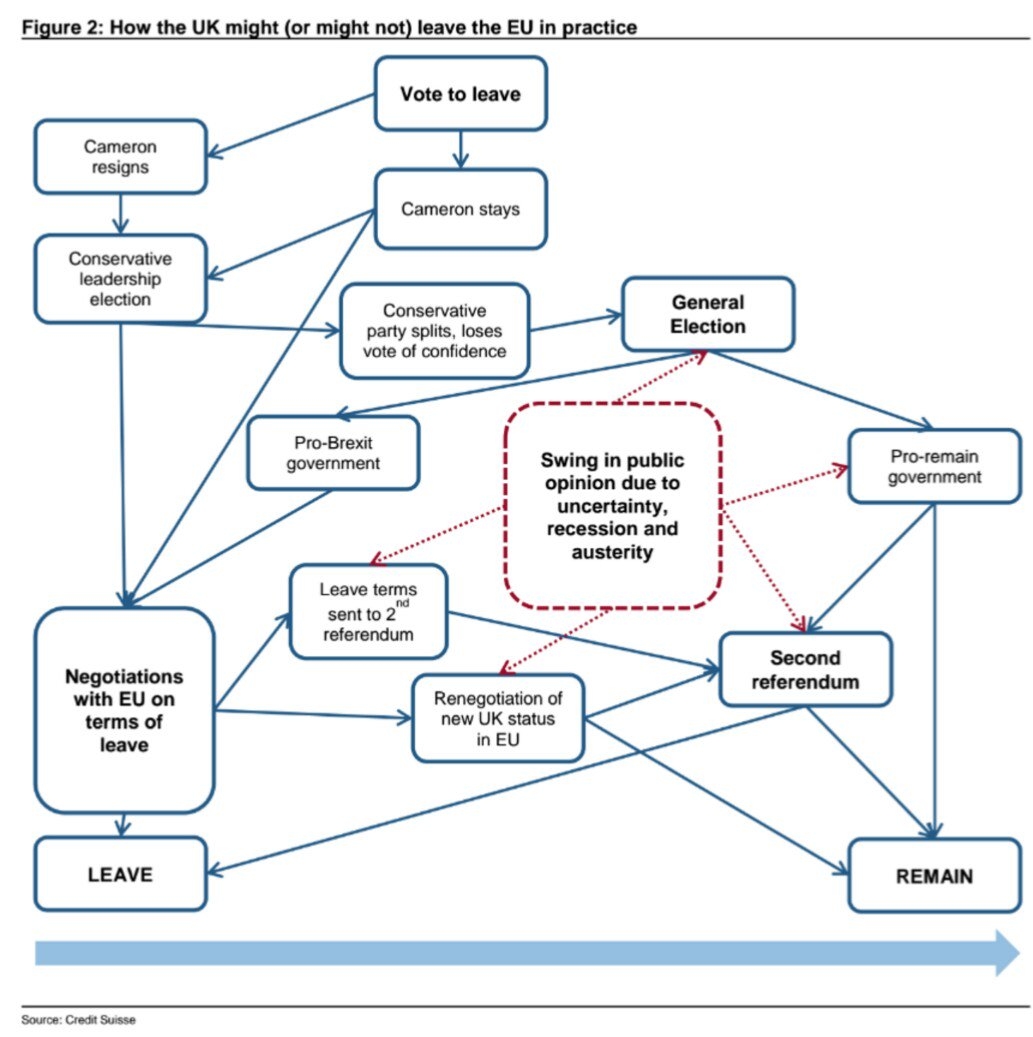 (We invite readers in passing to imagine the reaction in the media if Alex Salmond had responded to the indyref result by proposing that the Scottish Parliament simply ignore the result and declare independence anyway.)
There are numerous precedents in recent European history for awkward referendum outcomes either being ignored or simply resulting in more referendums being held until the desired result was achieved.
However, the EU itself seems to be in no mood for any faffing around this time. Having been told the UK wants a divorce, it's not keen to have the UK hanging around the house for months and years getting in the way. It wants a clean break as soon as possible, and it's prepared to take action to hurry it along.
Frankly, anyone who says they know how this will turn out is an idiot and/or a liar. We don't even have a clue which UK Prime Minister will be conducting the negotiations, and that's a somewhat important factor.
————————————————————————————————-
2. SCOTLAND HAS CHANGED, AND CHANGED UTTERLY
It now seems to be all but universally accepted that there will now be a second referendum on Scottish independence. We're not sure how it could legitimately be avoided, but see point (1) – at this point pretty much anything is possible.
What we can say for sure is that if there is another indyref, it will bear very little resemblance to the first one. Politicians, pundits, activists and public figures who were – let's be polite about this – very firmly on the Unionist side in 2014 have either openly come out in support of independence or rowed away very fast from their previous position to give themselves some wiggle room.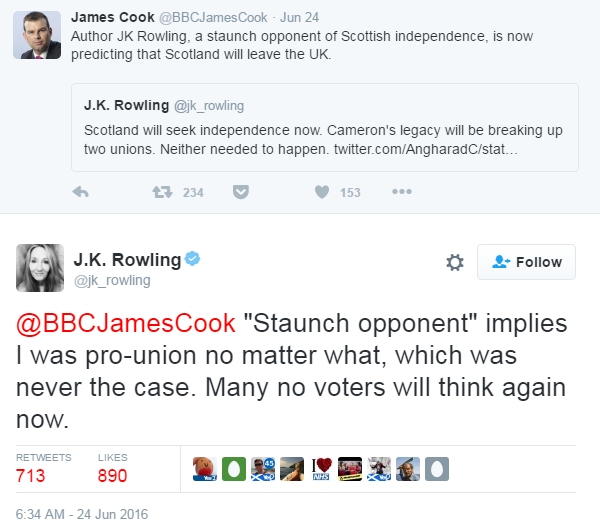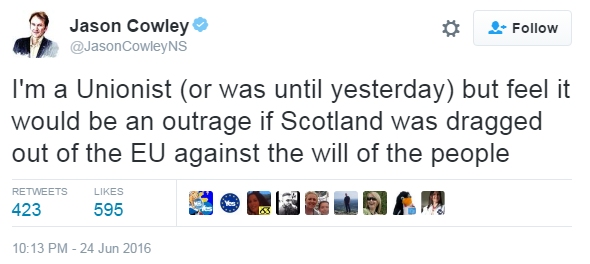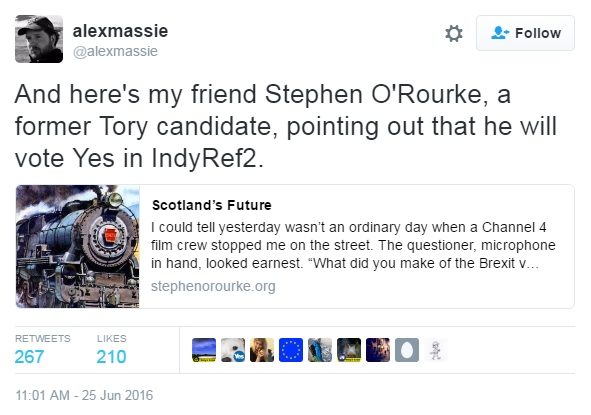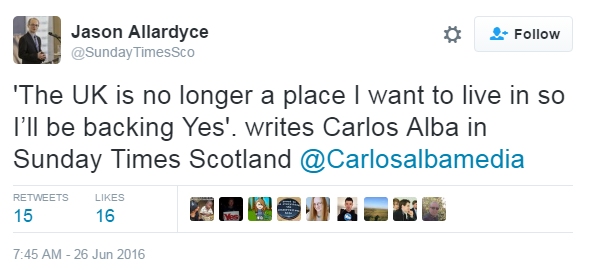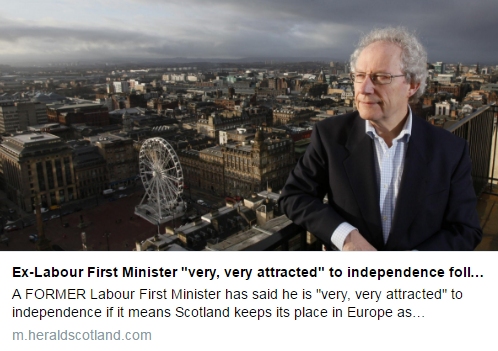 The Scottish media, at the very least, will be split in the event of a second indyref. The shattered mess of Scottish Labour will be in no position to mount a major No campaign. Big business will be fighting for office space in Edinburgh, not threatening to leave. The EU itself will be bending over backwards to facilitate Scotland's unbroken membership.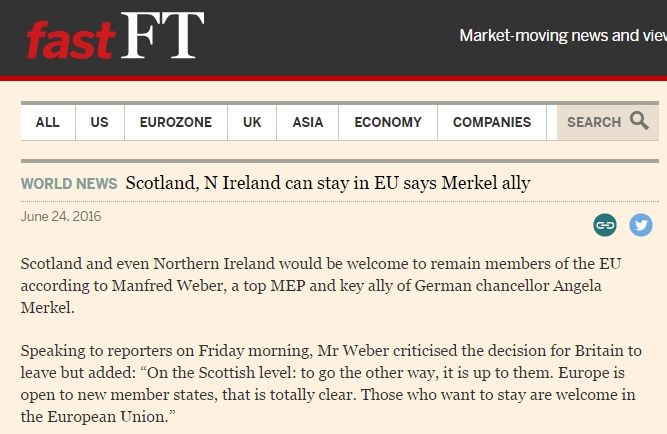 The Yes campaign would only need a swing of 6% on the 2014 result to win. The circumstances of a second vote would be enormously more advantageous. The grounds for optimism are clear.
————————————————————————————————-
3. NOBODY KNOWS ANYTHING
None of that is to say the outcome of any second indyref would be a foregone conclusion. Around a third of SNP supporters voted Leave, and while we suspect that for most of them an independent Scotland inside the EU would still trump one that was outside the EU but in the UK, it can't be taken for granted.
(The arithmetic of transposing the Remain vote to a Yes one is madly complicated, even beyond the above. For example, the 62% of Scots who voted Remain doesn't include the young people and EU citizens who were excluded from the EU referendum by the UK government, but would be able to vote in a second indyref.)
An independent Scotland inside the EU bordering a UK that wasn't is undoubtedly a fairly complicated prospect. We can't say with any certainty what the economic situation would be, because it would depend in significant part on at least two separate sets of negotiations – those between the rUK and the EU, and those between Scotland and the rUK.
We can't rule out legal wrangling over a second indyref happening at all, although today's Sunday Times suggests that the UK government wouldn't obstruct one.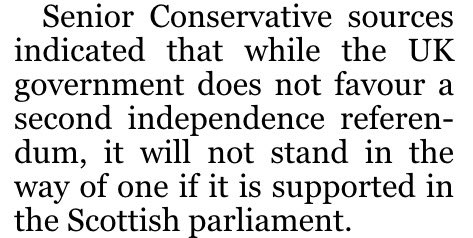 And nobody has a clue whether there would be a hard border, with checkpoints at Gretna and Berwick. (Our view is that there wouldn't, for some compelling practical reasons, but that clearly can't be guaranteed.)
————————————————————————————————-
4. JOURNALISTS ARE STILL IDIOTS AND LIARS
Mindbogglingly, on the BBC News channel yesterday its reporter Gavin Esler blithely asserted that there had been no prospect of a hard border in the last referendum, which will have come as a surprise to anyone with a functioning memory.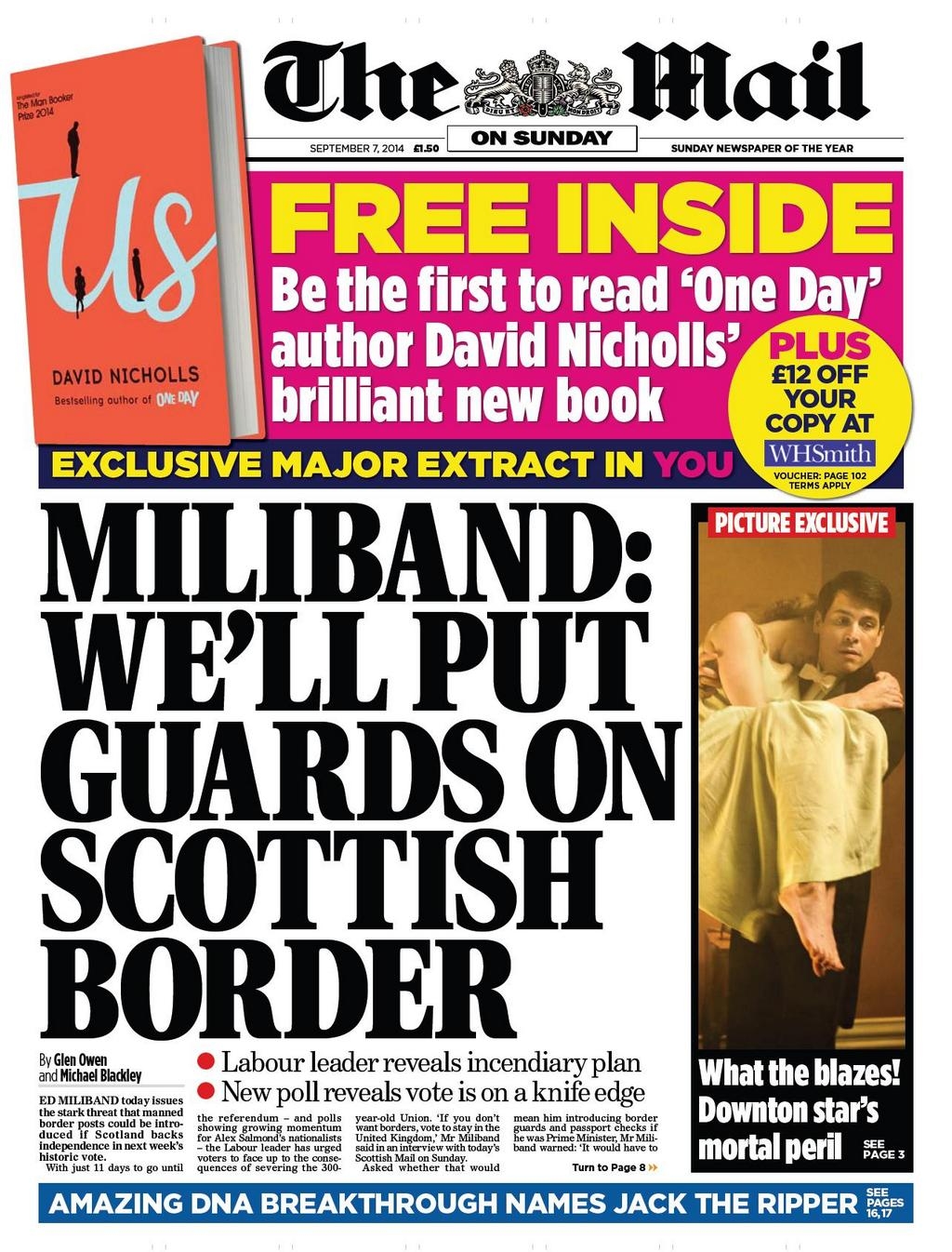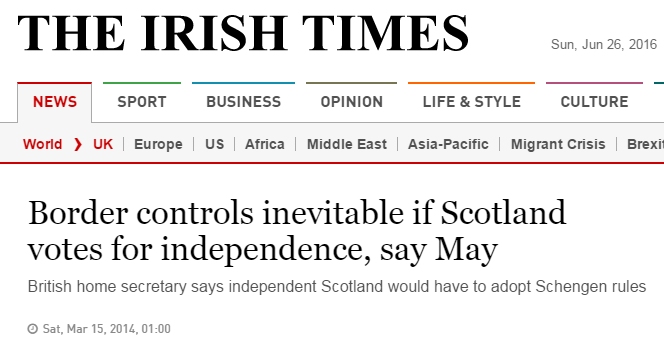 Yet mindbogglingly clueless UK and Scottish political hacks have also been churning out all the same old stories about an independent Scotland being forced to join the Euro, despite that categorical, empirical falsehood having been comprehensively and utterly debunked in multiple different ways in 2014.
We'll say this again, because it clearly didn't penetrate the first couple of thousand times: no EU member can ever be forced to join the Euro. To join it you first have to participate in the ERM2 exchange-rate mechanism for a minimum of two years, and participation in ERM2 is entirely voluntary.
All EU member states without an opt-out have to commit IN THEORY to joining the Eurozone, but in practice that commitment is utterly meaningless, because there's an indefinite time limit on it. (And if – as currently seems to be one plausible outcome – Scotland simply took over the UK's membership when the rest of the country left, it would inherit the opt-out anyway.)
If another indyref is coming, everyone should prepare for another avalanche of idiocy from the UK's broadcasters and reporters, whichever sides everyone ends up on.
————————————————————————————————-
5. POLLS STILL MATTER
The EU referendum result produced the entirely predictable howling in the press that the pollsters "got it wrong" again, displaying a spectacular misunderstanding of how basic probability works.
A poll saying "Outcome X is 52% likely" is NOT saying that Outcome X is definitely going to happen. What it's actually saying is "We haven't got a clue what's going to happen. You'd be as well tossing a coin."
52-48 (which was the final poll-of-polls on the EU referendum) is in fact a statistical tie. Within the margin of error it amounts to 50-50, ie both outcomes being equally probable. Anyone who interprets it as a firm indication of a win shouldn't be allowed to go out to the ice-cream van with a £5 note, let alone attempt to inform the nation about serious issues.
Polls are of course in any event snapshots, not predictions, as pollsters wearily try to remind everyone at every opportunity. They don't take account of people changing their minds, as humans are wont to do, and they can't perfectly extrapolate the views of 1000 people onto 35 million. They're rough guides, and as rough guides they were as accurate as could ever be expected. They said it would be very close, and it was.
So if anyone tells you that polls are bunk because they didn't precisely predict the outcomes of the EU vote or the 2015 and 2016 elections, give them a good hard slap round the face. They're not supposed to, they never can, and anyone interpreting them that way is an absolute imbecile.
————————————————————————————————-
6. TIMING IS EVERYTHING
And what that means is that polling will have a huge impact on whether and when a second indyref takes place.
Strategic logic dictates that Nicola Sturgeon should strike while the iron is hot – the time to attack is when your foe is in disarray, and the Unionist establishment hasn't been in this much disarray for decades, if not centuries. But strategic logic will count for nothing if the polls aren't showing a strong and consistent lead for Yes.
The independence movement needs to keep its head while all around are losing theirs. Fortunately it appears to be under the leadership of someone very much aware of that. It may not be far off, but the time has not yet come to raise the spears.