The Daily Record today carries a piece by Scottish Labour MPs Ian Murray and Martin Whitfield (no, us either) bitterly attacking their leadership over the Euro election results.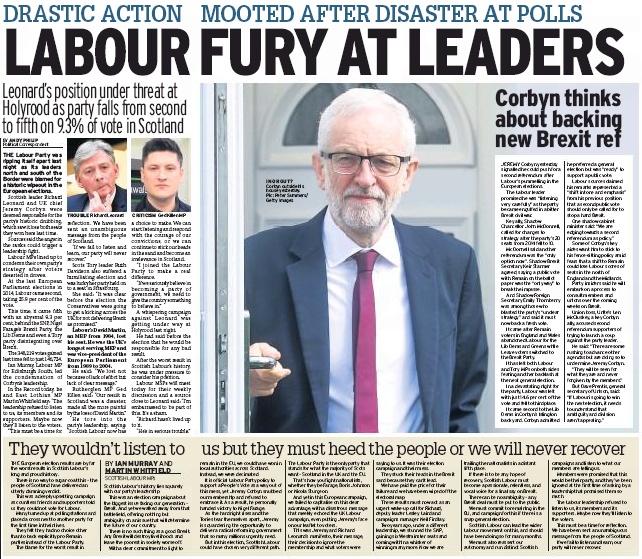 The two men complain that Jeremy Corbyn and Richard Leonard won't listen to them, and insist that the party must "heed the people" if it ever wants to wield power again.
So it's a bit ironic that they won't take their own advice.
Because the key passage of the column is this: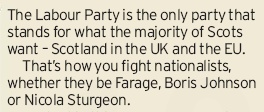 And that proves that Murray and Whitfield haven't listened to a damn thing in the past five years. Because being in both the EU and the UK is NOT what "the majority of Scots want". It's not even close to a majority, and what's more it's not even the most popular combination of those two things.
(The claim is also demonstrably bollocks in other ways, as the Lib Dems and at least the Scottish Tories stand for those things too, but that's by the by. As is the fact that that second paragraph openly admits that Scotland now has a binary choice between two nationalisms, and Labour apparently wants us to have the ugly xenophobic English/British one rather than the civic and inclusive Scottish variety.)
We know this because we've been polling on that question since 2015, and not once has being in both the EU and the UK topped the vote. Here's the most recent:
Murray and Whitfield's choice is the second most popular, with just three in 10 Scots opting for it when given all four possible combinations of EU and UK membership to choose from. The most preferred – as it has been every single time we've polled it – is independence in the EU.
This was 2017:
This was 2016, three months after the EU referendum:
And this was 2015:
Every single time, independence in the EU has beaten EU within the UK, although it's nearly always been very close – the averages over the four polls are 32 vs 29, which in a head-to-head would ironically translate to a 55-45 win for independence.
But the option that Murray and Whitfield claim as the "majority" view has NEVER been supported by more than 31%, and has NEVER been the most popular choice, and they're never going to get anywhere until they bite the bullet and face up to that fact.
The constitution is complicated. However much Labour might wish it otherwise, those who want to stay in the UK are also vastly more likely to want out of Europe than Yes supporters, and everybody knows that. (No voters are still majority Remain, but by a margin of just 19 points compared to a colossal 42 points for Yes voters.) Conflating support for the UK with support for the EU is simply a lie.
Now, we don't expect Scottish Labour to suddenly become converts to the cause of independence. But when you've just scored 9% in a national election, the first step to winning back even an atom of public trust is to at least stop brazenly lying to people, and perhaps also to yourself.
For five years now it's been obvious that Scotland faced a choice between two unions. The option to stay in both no longer exists. We on the Yes side have embraced that fact for a long time and we made our decision. Sooner or later, Scottish Labour will have to stop stamping its feet and screaming with its fingers in its ears and its eyes closed and do the same.
Because otherwise, when it finally opens them again there'll be nothing there.