[We've got something special for those of you who can't make it to the march in Edinburgh today (or are reading en route). Julie McDowall pens the Herald's brilliant online dating blog, but there's a lot more to her writing than that.]
There is a groove on my skull. I can run my fingertip along it.
On your first day in a call centre they present you with a headset. You might chuckle when you first wear it, pretending to be Madonna or a helicopter pilot. But the chuckles die at the end of the shift when you lift the metal band and ruffle your hair, feeling the dent on your head.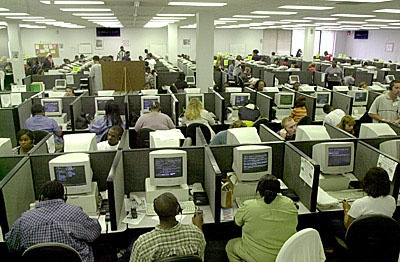 And it can hurt, so you start to unclamp the contraption between calls and hang it round your neck, but a manager is soon gesturing wildly at you with the 'hood up' signal. Get that metal band clamped back onto your head. You may not remove it.
After a few years, a permanent line is engraved on your skull. You are branded.
Other ridiculous rules abound in the demeaning world of the call centre. You may only take impossibly short toilet breaks, and these are measured with humiliating accuracy. It seems the manager is keen to encourage those who skip to the toilet without washing their hands, but what of those who wish to wash and dry their paws, and then perhaps stop to say a pleasant hello to someone in the corridor? What of these who desire a drink of water?
What of these civilised people? They'll be made to explain what they are doing in the toilet that takes so long. Don't they know that skipping  the cumbersome hand washing stage would save the company 19 seconds. And must you stop to dry your hands? Can't you just swish them about as you return to your desk? That would have you back, clamped and ready, within 3.8 minutes.
Neither may you stand up. Some people, when engaged in a difficult or abusive call, naturally stand as it helps them project their voice and sound more confident. Others are simply standing to stretch their back, but standing is forbidden and will provoke flapping and frowning from your manager.
What's more, white paper is banned! White paper, which has been used for centuries, is now a security risk. If you must write something, it must be scratched onto red paper – a dark, crimson paper which makes the writing all but imperceptible. Yes, the etching of inky marks onto white paper is now a disciplinary offence.
But why, you rage? Why can't I be allowed time to dry my hands? Why can't I stop and say a civilised 'how are you' to a colleague? Why can't I stand up to stretch? Why is white paper illegal?
They won't tell you, because there must be distance. The little folk may not ask how or why. This forest of rules has sprung up to keep you small, restricted, infantilised and insulted. To keep you in your place.
The company I refer to above grew massively while I was with them. They started life as a small employer who were non-profit and heavily involved in local charities and community projects. They had the word 'Scotland' in their name but decided to chop that off incase it made them look small…
Once they had a new, corporate, un-Scottish sobriquet, they were taken over by a bigger company who kindly bestowed their name and patronage upon the wee Scottish folk. This company were duly swallowed up by a colossal global organisation. So, the original company's values of non-profit, local recruitment, charity and community work was annihiliated. The global company imposed their one value, which was profit and profit alone.
And so our little branch of this corporate monster began to decay as it had lost its original purpose. When you don't exercise you grow fat and that's what happened here: there was no longer a need for the goodwill of the community or a mention in the local paper, so the charitable side dried up and our company gladly effaced itself in the gargantuan capitalist folds of its new master. It no longer had a purpose other than producing pounds. Its identity evaporated.
Nature abhors a vacuum and so, it seems, does a call centre and so it rushed to fill the whistling gap with layers of idiotic rules and that ubiquotous scourge of common sense, the middle manager. More and more posts sprang up to reinforce the new regime:  an influx of new team leaders, supervisors, lead advisors, a parcel of rogues, all of them, with fancy acronyms you can't question. People you see once then never again. All purpose and identity sold and gone.
The UK in its present form is such a massive, gross organisation: it has no role anymore, so grows groggy and ineffective under the weight of its own self-importance and redundant history. And Britain's history, like it or not, was proud! We ventured all over the globe, the sun never setting on us, leading the fight against Nazis, forming the NHS and the Welfare State, slaying the five giants.
I would truly be proud to be British – yes, I would lovingly wrap myself in the Union Flag – if it was 1945.
But our Empire is gone. Our enemies are now our trading partners and our holiday destinations. Our magnificent NHS is assaulted daily, whilst Need and Want come slinking back thanks to the despicable Atos.
We have no purpose now. We are not claiming to civilise the globe. We are not defeating fascism. We don't protect our NHS. We don't defend the poor, sick and unemployed. With no new purpose to replace what we've lost, we grow groggy and ineffective and redundant.
So, the tiny employee is trapped in the machine and told when they may sit, stand and go to the toilet. They are ground by the massive organisation who humiliate and belittle them. Layers of gross incompetence sprout and froth whilst underneath it all is the individual encased in a nightmarish Russian doll.
A vote for independence is our chance to smash our way out of the doll.