In March this year, Wings Over Scotland ran a breathtakingly successful fundraiser. We asked for £50,000 in a month and achieved it in eight hours, going on to raise over £110,000 in total, despite the bitterness and cynicism of the mainstream media.
The money has been used for various projects – we've already spent many thousands of pounds on site running costs, conducting opinion polls, taking out adverts and distributing hundreds of thousands of leaflets and posters and postcards and badges.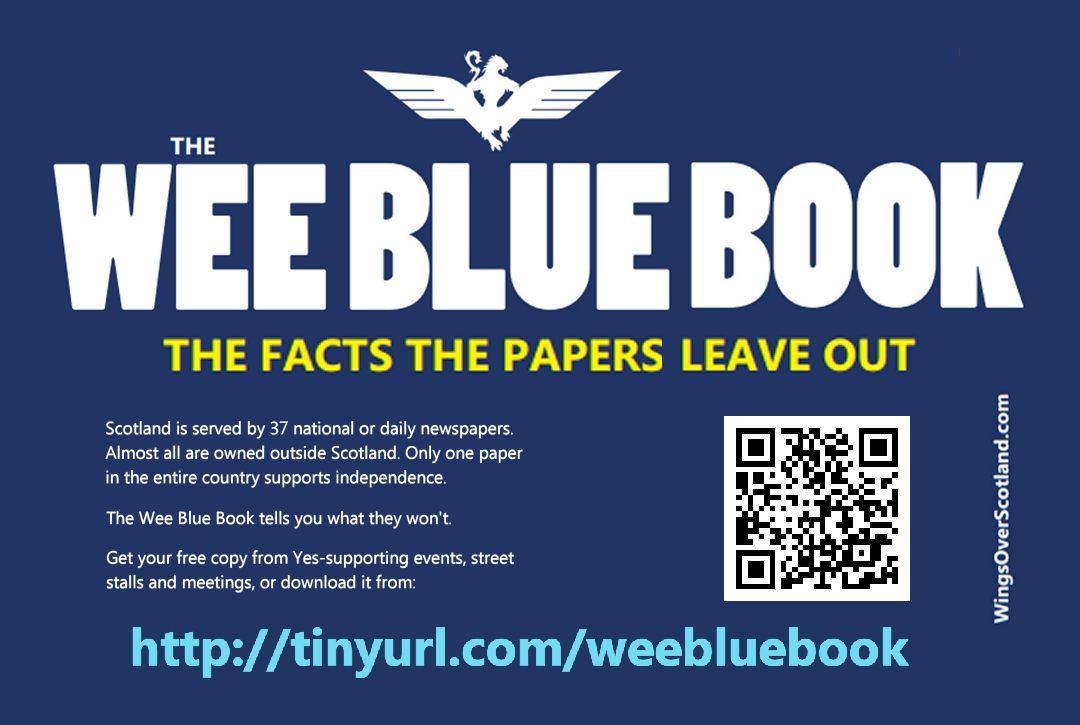 Click here to go to fundraising site.
But the main thing we wanted to fund was The Wee Blue Book – a pocket-sized guide to independence, fully-sourced and referenced and covering every important aspect of the debate, but which can be read in about an hour. We budgeted £15,000 for it, with the intention of producing perhaps 20,000 copies. But we've got four million voters to reach, and we need to scale that up a bit.
The digital edition of the book is already available, and it's been an astonishingly big success – almost 250,000 copies have already been downloaded in just four days, and the critical response has been extremely positive.
But to really get the word out we have to print physical copies on paper for all the people who don't use the internet or wouldn't come to a politics website. Since the book came out we've been absolutely swamped by demand. So we want to make and distribute at least 10 times as many copies as our original plan – that's 200,000.
Fortunately we've got a very good deal on printing costs, so that won't cost 10 times as much money, but it'll take more than we've got left in the kitty, so we're asking you to dip into your pockets one last time to help us top up the coffers.
That's about it, really. You're busy people. You get the idea.