The Daily Record's conscience is evidently still bothering it.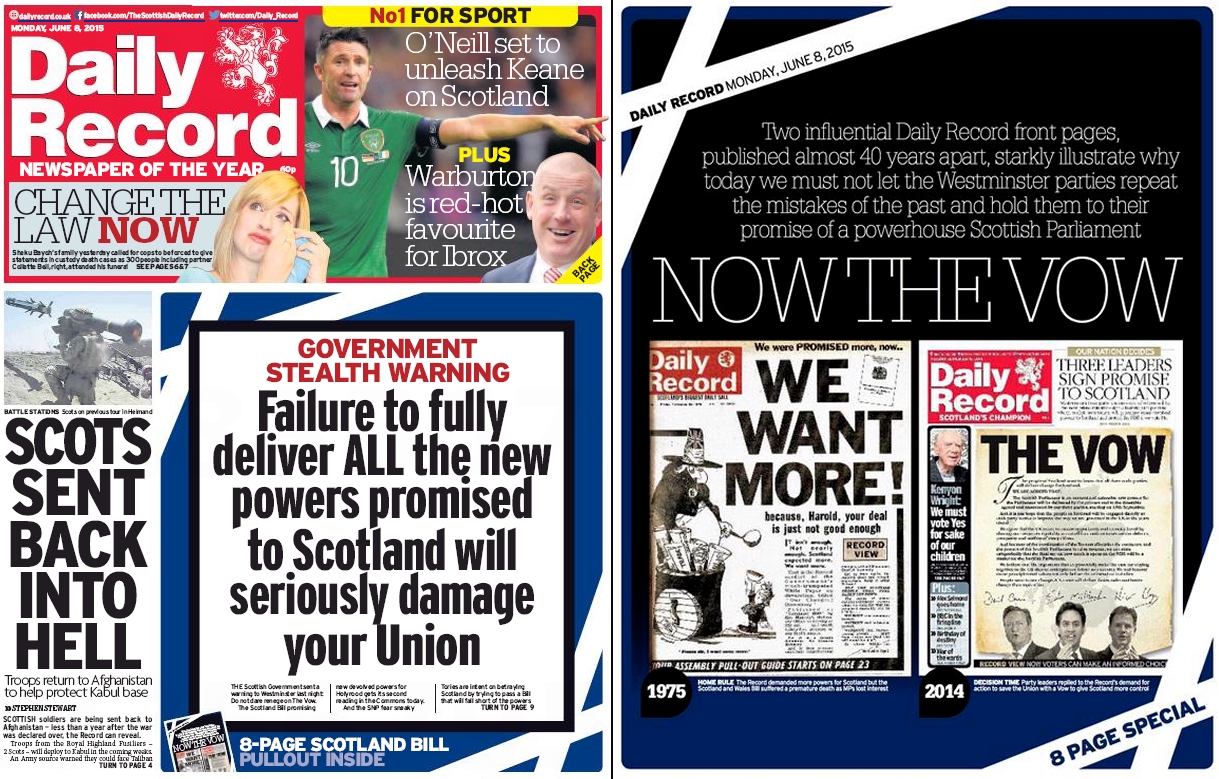 Having sold Scotland a pup back in September, the paper has spent much of the time since then frantically trying to present itself as the doughty and fearless champion of home rule. But it's hard to see what it's getting itself so worked up about.
The Record seemed to get nervous almost immediately after the No vote, with not one but two front covers demanding that the thing the paper had told us was a solemn and binding commitment from all three UK party leaders not be abandoned.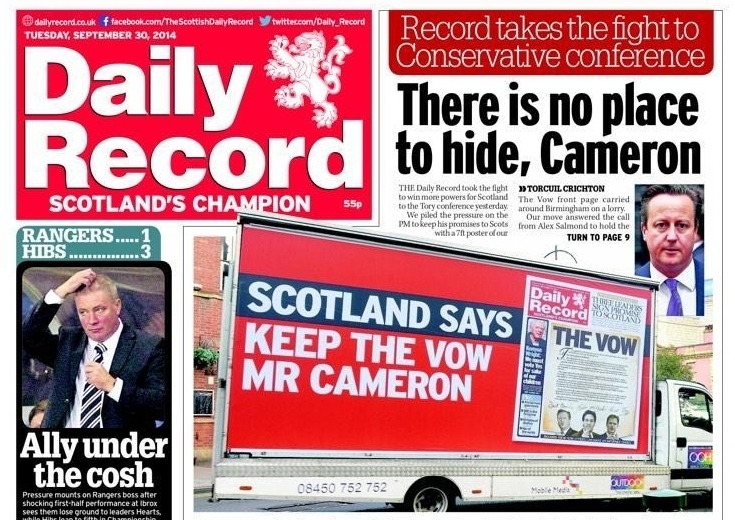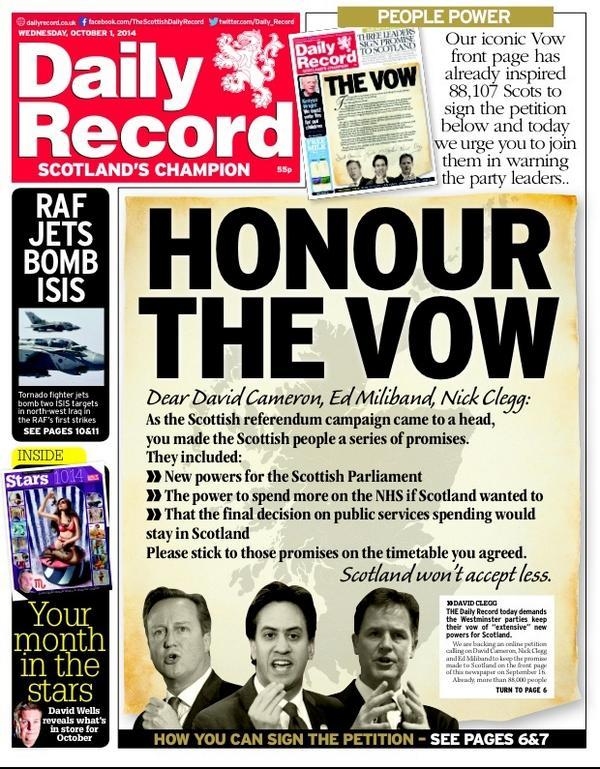 Today's edition has a front cover and a whole eight-page supplement once again demanding that "The Vow" be upheld. Which is weird in itself, as the paper told us more than six months ago that it had already been delivered.
Indeed, the Record back in November last year insisted that it had been delivered in quite spectacular fashion, with not only major tax and welfare powers but also Holyrood's budget being "nearly doubled".
Of course, after a complaint to the press watchdog by this site, that claim was acknowledged to be a lie, and several months later the Record quietly printed a microscopic "correction" on page 2 (accompanied, quite coincidentally, by several pages of vicious smears against this site over several days).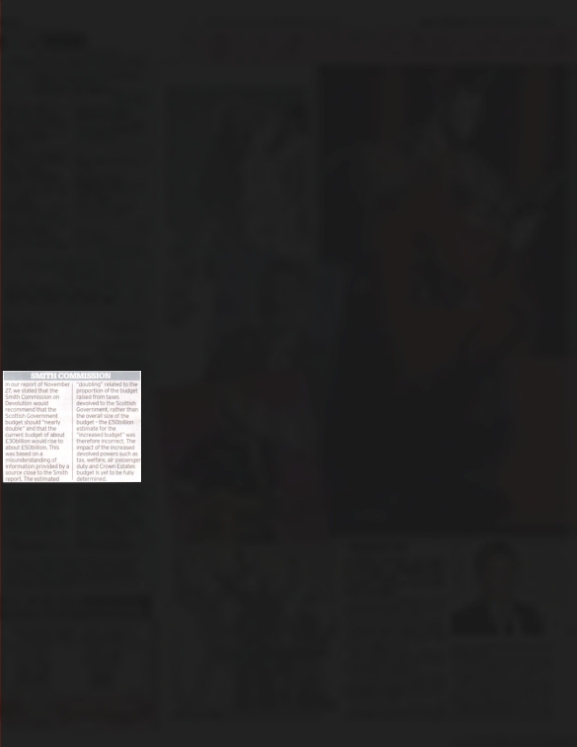 It then tried frantically to build up Gordon Brown's desperate face-saving attempt "Vow Plus" when it realised Scots actually expected something worthwhile to arrive: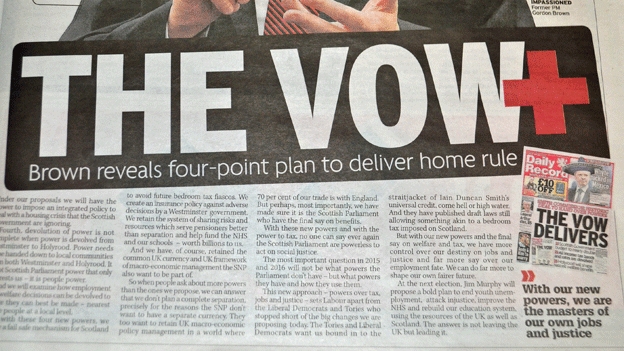 And now we're back to demands for The Vow to be upheld again. In a confused lead article by Torcuil Crichton liberally strewn with Nat-bashing (alert readers may feel those last four words are superfluous), the Record notes:
We're not entirely sure how this alarming potential state of affairs can have come about, because last year the Record told us The Vow was "water-tight".
But assuming it's a real danger, what might Mr Cameron actually be "reneging" on? Clearly we need to look closely at the text of the solemn and binding agreement:
"The people of Scotland want to know that all three main parties will deliver change for Scotland.

We are agreed that:

The Scottish Parliament is permanent and extensive new powers for the Parliament will be delivered by the process and to the timetable agreed and announced by our three parties, starting on 19th September."
We already know, from none other than Lord Smith, that the pledge of permanence is meaningless, because no UK government can bind the hands of its successor, but as the Scottish Parliament hasn't actually BEEN disbanded we'll let that one slide.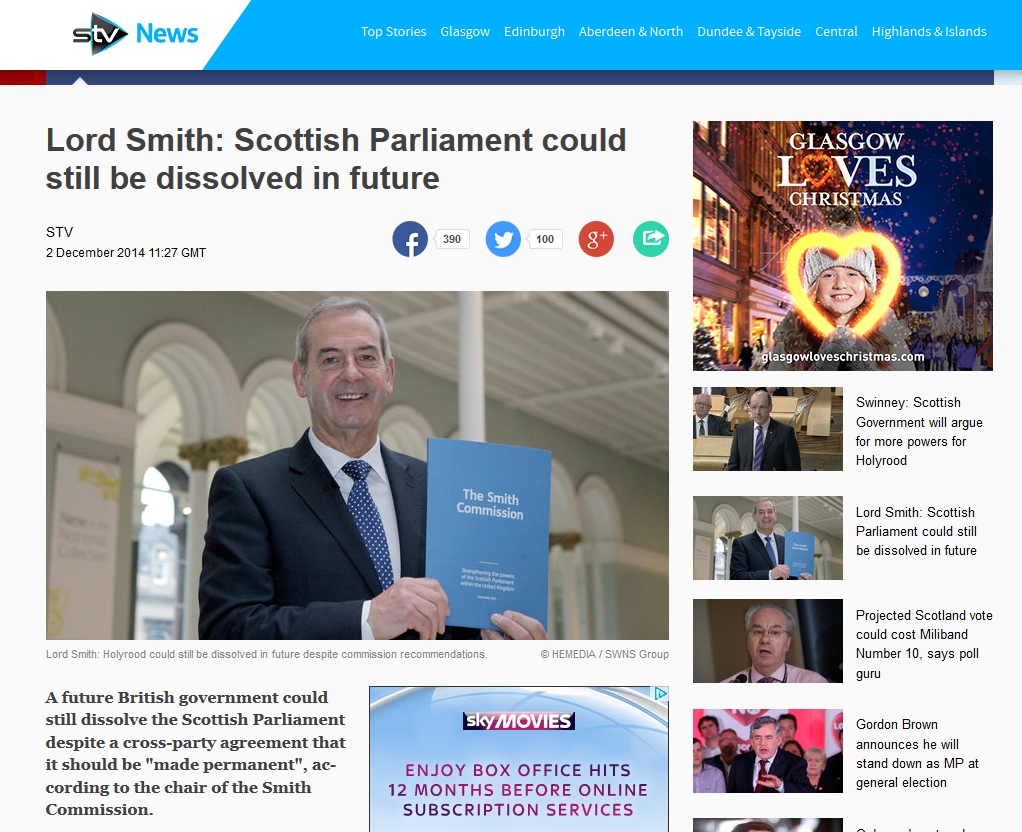 And "extensive new powers" is a vague phrase open to pretty much infinite degrees of interpretation, so nobody can really contest that one.
"And it is our hope that the people of Scotland will be engaged directly as each party works to improve the way we are governed in the UK in the years ahead.

We agree that the UK exists to ensure opportunity and security for all by sharing our resources equitably across all four nations to secure the defence, prosperity and welfare of every citizen."
No actual promises there that anyone could renege on.
"And because of the continuation of the Barnett allocation for resources, and the powers of the Scottish Parliament to raise revenue, we can state categorically that the final say on how much is spent on the NHS will be a matter for the Scottish Parliament."
As the Scottish NHS has always been independent and health spending is devolved, that'll always be true for as long as the Scottish Parliament exists, so it can't be reneged on either.
"We believe that the arguments that so powerfully make the case for staying together in the UK should underpin our future as a country. We will honour those principles and values not only before the referendum but after."
That doesn't mean anything, so you can't renege on it.
"People want to see change. A No vote will deliver faster, safer and better change than separation."
Well, we suppose "faster, safer and better" depends on your perspective. Faster, safer and better for who? More to the point, since independence hasn't happened, there's no way of measuring how fast, safe or good its changes would have been, and therefore it can never be disproved that the Scotland Bill will be faster, safer or better. So again, Mr Cameron can't ever be held to have "reneged" on his words.
We hope we've helped set the Daily Record's mind at rest. There is no danger of "The Vow" being reneged upon, because – as we pointed out extensively at the time – it was a completely meaningless piece of empty puffery in the first place.
It might be helpful, though, if the Record could make up its mind once and for all about whether it's been delivered or not.