So, the good news today is that independence polling is finally back to where it was almost exactly four years ago – 26 June 2016, to be precise. Although we couldn't help notice that The National's front-page splash on the latest (re)surge was taking second billing in its readership stats to a day-old story about the First Minister's haircut.
Now, as we noted earlier this month, that might just be down to people getting weary of false dawns. But it might also indicate that a measure of realism is belatedly beginning to dawn on the Yes movement about the lack of connection between nice poll numbers and actually securing another referendum.
Westminster fixture Pete Wishart MP was quick with his usual insistence that growing support in polls will somehow magically translate to the UK government giving in.
When challenged about the subject on Twitter by people quite reasonably pointing out that the "Just say No" tactic seems to have been working pretty well for the Tories since 2016, Wishart never actually explains how this supposedly "coming" referendum will transpire, other than a sudden and rather uncharacteristic outbreak of morality on Boris Johnson's part. (Usually he just blocks them.)
But try as we might, we cannot think of a single reason why Johnson would – or indeed, from his perspective, should – do such a thing. And to try to understand that, we asked a couple of questions of our own in the same poll.
We already know that hardly anyone believes Wishart's view that next year's Holyrood election will provoke a U-turn from London, no matter the outcome.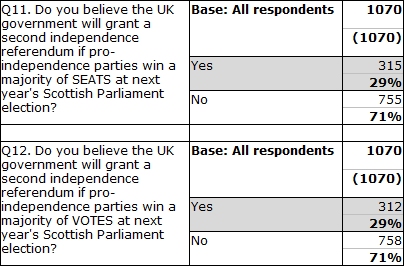 That's worrying because it suggests there's NO democratic route available to Scottish voters to bring about another indyref. And in our last poll, just a few weeks ago, we discovered a finding that seemed to back that up, contradicting numerous previous polls that suggested people thought it should be for the Scottish Parliament to decide.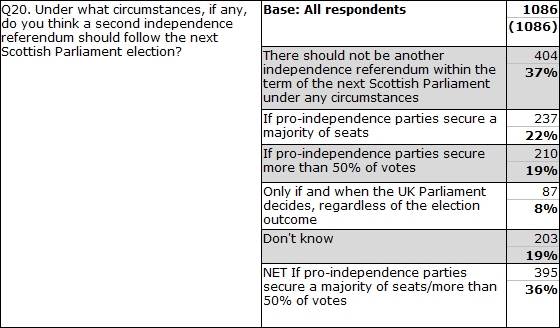 Only 36% of respondents apparently believing there should be a democratic route to another vote, with 45% against, disturbed us, so we asked the old question again:

Well, that's confusing. Once again, if asked directly whose decision a second indyref should be, a hefty 24-point majority of Scots (the same as the Remain vote in the Brexit referendum) think it should be up to Holyrood. Yet we also know that they don't think a majority of seats OR a majority of votes in that Parliament should be enough for it to actually happen.
So in an attempt to dig deeper into this apparent paradox, we decided to do something we hadn't done before – probe a little deeper into that 38% who don't want Scottish decisions to be taken in or by Scotland. What's actually going on in their minds?
The results were eye-opening.
Now, our bias might have been showing a little bit in the wording of those options, but we can't think how else to express the bizarre desire to have another country run your affairs for you. (We did ask a few neutral people if they could think of an option we'd missed out, but nobody came up with anything. The one that's closest to a democratic answer is the second-last one, which got just 5%.)
Nevertheless, the outcome was overwhelming – almost 70% of people who wanted to leave the decision at Westminster were willing to openly and explicitly admit that it was because they wanted democracy to be over with forever so far as Scotland's constitutional question was concerned.
And we did quite deliberately phrase that option very bluntly and starkly – "no matter what Scotland votes for or what future circumstances might be". Russian invasion? Zombie plague? Asteroid strike? A full-on military coup led by Nigel Farage and Tommy Robinson? Nope – for the vast majority of Unionists, NOTHING can ever be permitted to give Scotland a second shot at choosing independence. No matter what.
And that's the mindset we have to address when considering what Boris Johnson, or any other Prime Minister, might do when faced with a consistent Yes poll lead.
The group of people Johnson is chiefly beholden to is Tory voters. Tories in Scotland have risen to a firmly consolidated second place by dint of taking an ultra-hardline stance on independence (to the extent of basically having no other policies at all) while Labour have flapped and vacillated. In so far as they have anything meaningful to lose, backing down on it would be suicidal to the party's electoral prospects north of the border, and do it no favours in England either.
Simply, clearly, obviously, Johnson has everything to lose and nothing to gain from conceding another referendum in Scotland. Refusal strengthens his own and his party's position, it doesn't weaken it. Nobody that matters to him is going to be the least bit offended that it's "undemocratic". Indeed, the exact opposite is true.
Labour are signalling their own intention to go even more super-ultra-Unionist in an attempt to win back the votes they've lost to the Tories – apparently having given up on the far larger number they've lost to the SNP, because the one thing we must always keep in mind when discussing these matters is that Scottish Labour are absolutely mindbogglingly, almost inconceivably stupid and hate-blinded. Any retreat by Johnson would simply throw Labour a lifebelt and turn his own supporters against him.
(Tory voters were the most vehement on both questions, and spectacularly so on the matter of which Parliament should have the decision. Strikingly, nearly 60% of Labour voters wanted it to be up to Holyrood, compared to just 12% of Tories.)
But nobody should be fainting with surprise at this development. Unionist politicians on all sides have been saying it increasingly openly for some time. Ian Murray perhaps put it most explicitly this January:
But he was only echoing a position Unionist leaders have been making clear to anyone who'd actually listen for years.
The conclusion has long been inescapable: Unionists do not believe democracy applies to the Scottish constitution. The idea that a string of opinion polls showing that the exact outcome they most fear would come about will change their minds has never been more farcical.
It's beginning to look like a majority of Scots really do want independence. But turning that into actual independence is no small matter. What we can say with something close to absolute certainty, from these and all other polls, is that Plan A will never work. Anyone telling you it will is lying to you, and taking you for a fool.