On the face of it, this finding from our latest Panelbase poll isn't very surprising: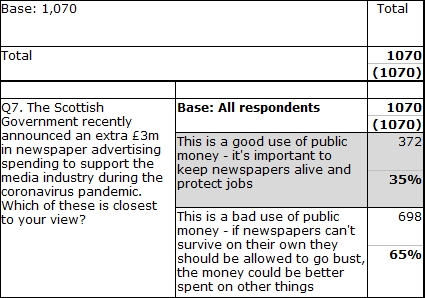 But then again, maybe it is.
Because we bet you wouldn't have predicted this breakdown of the numbers: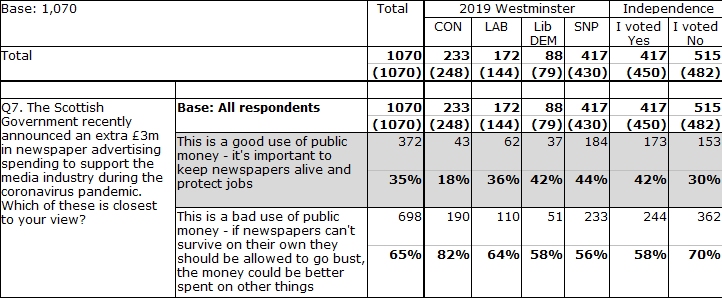 Because by a notable margin, it's SNP voters and Yes voters who most want to use public money to bail out the very same newspapers who uniformly spend all their time bitterly attacking the SNP and independence.
We should note that both groups are still against the idea overall. But for Yessers the margin is a fairly tight 16 points, whereas No voters oppose it by a crushing 40 points.
And while SNP voters were the most in favour of the idea, by an even closer 12 points, it was Tories – the overwhelming main beneficiaries of UK and Scottish media bias – who were utterly against, by a huge 64 points.
It's traditionally Unionists who get accused of Stockholm Syndrome in Scotland. But SNP/Yes supporters' defence of the people who despise and mistreat them seems here to be edging from admirable fair-mindedness towards plain self-harm.
It may be that the phrasing of the question has led them to reflexively and instinctively defend the actions of the Scottish Government. And it could also be that the SNP's pathological subservience to the mainstream press and reluctance to attack it has just rubbed off on voters. We don't know. Readers can make of it what they will.