If you're not on Twitter, readers, you've been missing ALL the fun today.
Above are just the creepiest two of a series of tweets posted this morning by "social justice campaigner" Mike Dailly of the Govan Law Centre – previously known to those of this parish – to the effect that he'd really rather prefer if people stopped following my personal Twitter account, @RevStu, because I was so all-around awful.
It didn't work out quite as well as he'd hoped.
(I've no idea, incidentally, why he chose to pick on the personal account rather than the Wings Over Scotland one. I never talk about Scottish politics on it, and it's usually chiefly reserved for foul-mouthed outbursts at badly-designed technology/software and useless customer service helplines.)
Ironically for a self-professed socialist and trade union fan, Dailly appeared to be suggesting that he was engaged in creating some sort of a blacklist to be circulated to the media, in which anyone who followed me would be incriminated by association.
That this is perhaps a somewhat inconsistent policy for someone who follows the Holocaust-denying ex-UKIPper and present-day loony Alistair McConnachie (see here), and extremist Loyalist nutcases Andrew Skinner and "Stronger United", among lesser trolls, seems to have gone over Mike's head somewhat.
The reaction online was incredible. Friends and opponents alike condemned the deeply creepy move, and there was much amusing satire, which unfortunately due to the nature of Twitter you really did have to be there to enjoy. The most striking result was that rather than decimating my personal account's modest 2,400 followers at the start of today, at the time of writing it now stands at over 3,300.
We have of course rushed out a quick cash-in range of promotional "I'M ON THE LIST" items, which readers over-burdened with money can avail themselves of while stocks last. (Stocks will last forever.)
But the incident typifies a week that's seen the most concerted and sustained smear attacks on this site to date. Every time the No camp and media tries to rubbish Wings Over Scotland with personal slurs against me, more and more curious onlookers come to see the freakshow for themselves, realise the impression they've been given is false, and in many cases stick around to read more, as seen in our readership stats.
The enemy, in short, is doing our leafleting for us.
There's been all sorts of other high-jinks today too. Thanks, apparently, to a subversive agent within the offices of the Scotsman that we didn't even know we had, the front cover of the print edition's motoring section today looked like this: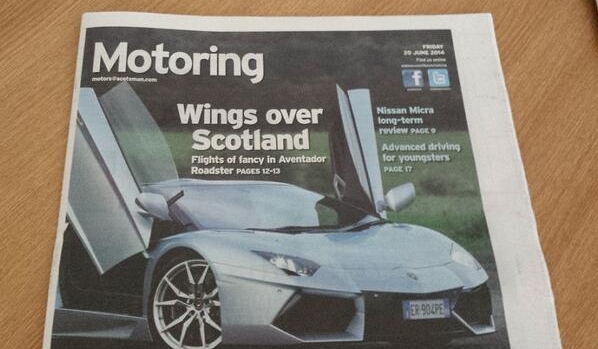 …before some killjoy spotted it and hastily replaced it for the digital version.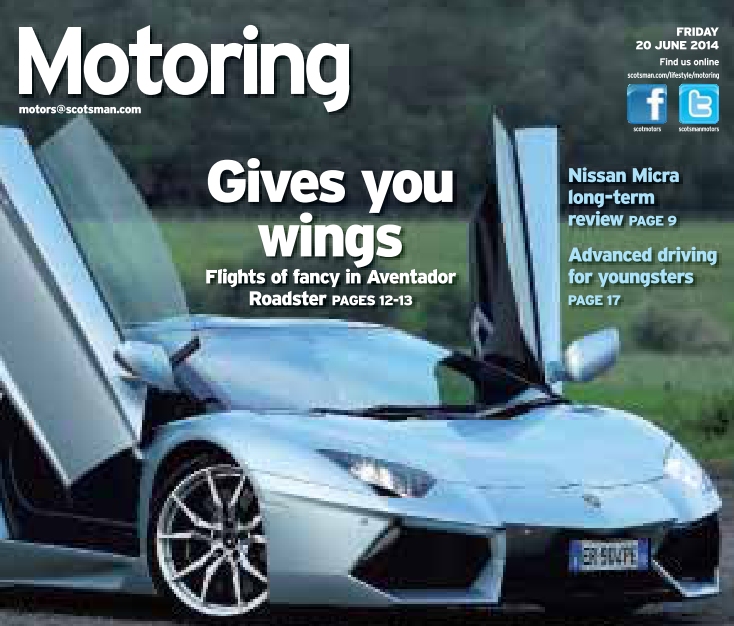 And the attempted assault on our credibility (which a whiny Lib Dem site joined in with too, sending us yet more traffic) was somewhat undermined by an unexpected article on STV's "Scotland Decides" minisite which left us spoiled for choice for pull-quotes for our next ad blurb, though it's hard not to love "arguably the most exciting, invigorating, and innovative entrant to the Scottish media world in recent years".
(It followed this lovely piece by Robin McAlpine on Bella Caledonia the day before.)
So this stuff's all good for a chuckle, but such soap-opera antics shouldn't and won't distract from the much more important work this site does every day. In the meantime, if our Unionist pals want to keep sending more eyeballs our way to see it, with their mad bully-boy tactics and hysterical wolf-crying, far be it from us to dissuade them.