In our view, it's a serious mistake to treat prominent Labour activist Duncan Hothersall as someone sincerely concerned with the best interests of the Scottish people, differing only in how those interests are to be best served. His sole aim is to advance the fortunes of the Labour Party, and himself within it.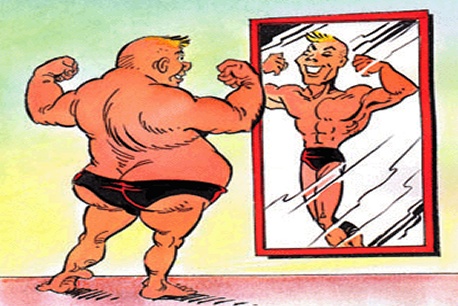 But that's only an opinion, based on extensive personal experience of Hothersall issuing a long string of despicable lies, defamations, smears and general falsehoods in an attempt to discredit this site, chiefly among the more gullible elements of the Yes campaign. So let's forget about Duncan's toxic, cowardly excuse for a personality and examine his philosophy on its own merits, because it's an exemplary case study of the wider ideology of Labour in Scotland's opposition to independence.
We can do this because he gave a speech to a meeting of the Equality Network last week, and the No camp has helpfully put it all on its blog. Let's step through it.
"I'm pleased to be here among people on both sides of the debate who I've known and worked alongside for decades, and I am proud to call them friends. If we disagree on independence, so what? It's not the most important thing in the world."
Jings. You'd be quite hard pushed to tell that from Duncan's enormously prolific Twitter account, which comprises roughly 60% attacks on the SNP and Yes campaign, 30% attacks on me personally, and 10% other stuff. But I digress.
"Human rights – including LGBT rights – matter more. War and peace matter more. Education and health matter more."
It seems curious to separate those issues from a people's right to determine its own government. After all, who decides on human rights? Who chooses whether to go to war? Who controls education and health? Governments do.
"In those terms I'm confident that there are many more things we agree on than disagree on in this room. I think that's worth bearing in mind."
A classic deflection strategy. You might agree with Harold Shipman on everything except whether it's right to murder hundreds of old people, but that was pretty much the most important element of his beliefs.
"My view of the independence question is simple – I'm looking for the best outcome for the most people."
Note: the best outcome for the most people, not the most Scots. Keep that distinction in mind, because we'll be hearing a lot of it.
Hothersall, we must say to his credit, is pretty open about the fact that he doesn't consider Scotland a country, just a "bit of" one. He's openly telling Scottish people that they don't matter to him because they're few in number, and that they should vote against their own interests if doing so would benefit a larger group of others.
"I have nothing ideological in me about the union; no sense of nationalism for the UK. My politics is not based on geography, it's based on the values of fairness, equality and social justice."
…which does unfortunately make the next line a complete lie. As far as we can tell Hothersall has never campaigned for the entire EU, or indeed world, to amalgamate into a single nation under a single government. His chosen "unit size" is, arbitrarily, the United Kingdom. He believes in it being a nation, and in Scotland not being a nation. He is, by any conceivable definition but certainly and unarguably in the context of the independence debate, a British nationalist.
(It would be interesting to find out whether Duncan believes that Scotland's separate NHS, education and legal systems should be absorbed into those of the UK under the same principles. If you believe in everything being the same and people being united under the same "values", how can you justify them being educated differently, getting different medical treatment and being subject to different laws?)
"And it's simply my judgement that we get the best outcome for the most people through Scotland staying in the UK.

I believe that partly because I believe in the redistribution of wealth as a principle, and Scotland staying in the UK enables that to happen to a far more significant extent than if we were separated."
We already know what this means, of course – the redistribution of wealth FROM Scotland TO (chiefly) England. Gordon Brown has told us so explicitly and repeatedly, and even wants it legislated into the (non-existent) "British constitution".
Scotland is the wealthiest part of the UK outside the south-east of England. The "pooling and sharing of resources", to use the catchphrase recently adopted by Brown, Alistair Darling, Anas Sarwar and others, therefore means only one thing – Scottish money subsidising poor parts of England.
With budgets already stretched to breaking point, that obviously means that Scotland can no longer afford the things voters consider to be the main achievements of the Scottish Parliament – universal "free" services – which is why Labour in Scotland has undertaken to end them and impose the same miseries of austerity on Scotland as are currently endured by the rest of the UK, in the name of being "One Nation".
"I believe it also because I care about people across the UK, and I know that within the UK we can do a lot more for them than just set examples."
Our emphasis, just in case you doubted our assertion that his socialist concern for all the people of the world in fact ends at Dover. French and poor? Nigerian and starving? Chinese and oppressed? Sorry, Duncan doesn't give a toss about you.
"Some people say the UK can't be reformed and we need to give up and start afresh. I fundamentally oppose that sort of defeatism. I want a progressive, inclusive and fair society for everyone in the UK, not just those of us north of Berwick."
We all want that. Unfortunately there are no UK parties offering it. The ship of social democracy is fatally holed below the waterline, sinking fast, and has been abandoned by the captain. Scots have a sturdy lifeboat (with a handy oil-fired engine backing up the oars), but Hothersall insists we must all drown in the name of "solidarity".
"[waffle about LGBT issues]

There is an argument that a socially progressive Scotland could be an example to the rest of the UK come independence. In my opinion, devolution is a far better place from which to influence the rest of the UK on LGBT equality."
No supporting evidence is offered for this opinion. It's hard to see how independence would have hampered the Scottish Government's ability to lead the rest of the UK on equal marriage, for example.
(We'll pause for a brief moment here to ponder how much it must sting Hothersall that 13 years of Labour government at Westminster and eight at Holyrood saw homosexuals still forbidden the same rights as heterosexuals, and that it took an SNP Scottish Government and a Tory/Lib Dem UK one to actually bring forward legislation. Labour in Scotland in particular would never have dared offend the religious lobby – especially the Catholic one in its west of Scotland heartlands – in such a way.)
"The actions of foreign countries have a much weaker influence on us than the actions of parts of our own country.

And within the UK the influence can go two ways, as witnessed by the distinct whiff of one-upmanship when England and Wales passed equal marriage before we did. The reality is that nothing like the same sort of influence happened when our closest neighbours the Scandic countries did it. Devolution is a far better platform for setting examples."
We'll bow to Duncan's greater knowledge of the LGBT community here. We didn't detect any "whiff of one-upmanship" when the UK government actually got its legislation moving slightly ahead of Scotland's, but maybe we don't move in the right circles. But once again, we struggle to see how Scottish independence would have held progress back in either jurisdiction.
"Much of the debate so far has been about reinforcing the apparent political differences between Scotland and the rest of the UK.

The truth is all democracies have areas where different views prevail – that would be the case in an independent Scotland as it is in the UK. The central belt overrides everywhere else."
Once again: "Scotland is not a country, it's just a region".
Of course there would still be political differences in an independent Scotland. But Scotland has a proportional electoral system, ensuring that all views would be fairly represented. That's why the Parliament's balance is determined on regional lines – to ensure that the central belt doesn't dominate due to the weight of population there.
"If we were to divide up the UK along political lines, we wouldn't be splitting at the England/Scotland border. We'd be drawing a line from Wales to Hull, or thereabouts."
And once again: "If people in Yorkshire are suffering, we must suffer too".
The assertion is, of course, a lie anyway:
On geographical terms, which is how Hothersall's speech frames the issue, the lines could scarcely be clearer. England is Tory blue from Bournemouth up to the Borders and from Dorset across to East Anglia, with just a few isolated urban pockets of Labour red. Scotland, Wales and Northern Ireland are all largely Tory-free.
"In any case, there's a name for redrawing boundaries because you don't like election results – gerrymandering."
Um, we're pretty sure nobody's proposing to redraw the boundary between Scotland and England. The border will be staying exactly where it is now. Again, the claim is that there's currently no boundary – and therefore no legitimate grounds for complaint about a democratic deficit – because Scotland isn't a country. We'd respect the Unionist argument a lot more if they'd just come out and say that instead of constantly snivelling on about what "proud Scots" they are.
"This vote is about where national power lies; nothing else. We must not pretend it is about policies – that's what elections are for."
Heavens, we agree on something. Why, then, is the entire "Better Together" campaign, of which Duncan is an active and enthusiastic part, focused on endlessly demanding "answers" on literally hundreds of individual policy issues rather than on the principle of where national power lies?
"Independence would create a new island of self-interest in the world. And a new island of self-interest creates competition not co-operation. Competition to attract multinationals with tax breaks. Competition which favours corporate interests over the interests of people. I don't want that."
Crivvens. What on Earth are you doing in the Labour Party, then? Anthony Giddens, a Labour peer and former director of the London School of Economics credited with being one of the architects of New Labour, wrote in 2010 that Labour's years in government were a period in which "the party led an onslaught on civil liberties, betrayed leftist ideals, failed to make any impact on inequality and, worst of all, embarked upon a calamitous war in Iraq".
Duncan Hothersall, like the vast bulk of Labour in Scotland, opposes independence not because it will damage Scotland, not even because it will damage the UK, but because they believe it will damage Labour.
(Though in fact there are no rational grounds for that belief, and indeed the reverse is far more likely to be true. The party is currently tearing itself in two trying to at least appear to cling to its old ideals in Scotland while simultaneously courting right-wing voters in Middle England with Tory policies and endless rhetoric about being "tough" on welfare and immigration. The conviction isn't based on logic, but almost solely on blind tribal hatred of the SNP.)
Their arguments about the redistribution of wealth ring hollow, because under 13 years of Labour government the concentration of UK wealth in London was dramatically accelerated, not slowed. Labour was famously "intensely relaxed" about business people and corporations becoming "filthy rich", and oversaw a spectacular rise in the wealth of the top 1% and an accompanying increase in inequality.
Hothersall's (and Labour in Scotland's) objections to independence, if we take them in good faith, rely on the fiction that a future Labour government will enact the Labour politics of 1964. Every last scrap of evidence points in the opposite direction. Duncan is either the stupidest man on Earth or the biggest liar.
We're not entirely sure which it is (though we know which way we lean, and of course it's possible that it could be both), but it doesn't really matter. What matters is that he speaks loyally with the voice of his party (and the No campaign), and his party has already told Scots absolutely explicitly what a No vote stands for.
It stands, in essence, for the complete re-absorption of Scotland into the politics of the UK – in practical terms the end of devolution and the rolling back of its works.
There will be no more doing things our own way. No more spending our money on our own priorities, on health and education instead of wars and nuclear weapons. We have to be the same as everyone else in the UK, even if they're suffering under the yoke of Tory governments, because "solidarity" is more important than getting the governments we elect. Because we're just a little region, not a country, and little regions have to accept what the big regions dictate.
Labour are barely even trying to hide it. They're telling us exactly what a No vote means, with only the thinnest, most transparent veneer of pretence that they're offering the opposite. It might even be the case that they're wilfully fooling themselves, in a virtuoso display of doublethink. But we suspect it's altogether more likely that they're just lying through their teeth.