We've been toasting in the sun with the Wings Emergency Kitten most of today, readers, celebrating the fact that Wings Over Scotland now has more unique readers per month than the sales of any Scottish newspaper.
(As of May we're reaching 253,000 people monthly, whereas the best-selling paper, the Scottish Sun, shifts 248,000 copies. It is, of course, a ridiculously unfair comparison for all sorts of reasons, but it's still nice as a purely symbolic milestone.)
Even so, when an alert reader sent us a picture of today's Scottish Sunday Express we wondered if we might have baked our brains a bit too much, because it carried a feature about something that we didn't remember doing at all.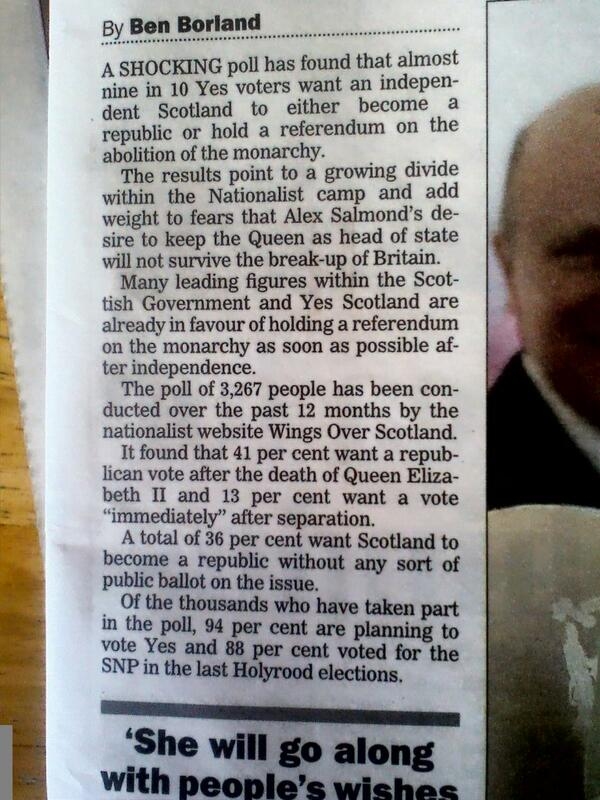 It took us a couple of minutes before we realised they were talking about this. It's an informal reader survey on a variety of topics that we published almost a year ago, and which a tiny proportion of readers have completed.
It's just a bit of fun, completely self-selecting and therefore psephologically totally worthless, so it's fascinating that the Express has seen fit to dredge it up to try to build some sort of shock-horror story out of it.
The survey also lets readers answer only the questions they feel like – not all the questions were added at the same time – so there's no way of knowing how many of the people who responded on the monarchy question are the same people who revealed how they voted in the last elections.
The notion that the survey represents a "growing divide within the Nationalist camp" is also nonsensical, because as well as the Wings survey being basically meaningless, there's no remotely similar poll to compare it with and say whether the "divide" is indeed "growing", or getting smaller or staying the same.
It's a funny old business, the Scottish media.