Because 2020 is the maddest year in history, Ruth Davidson opened her contribution to Holyrood's debate on the Brexit deal today with a lengthy quote from this website.
Because hey, why NOT, right?
We thought we'd preserve it for posterity and lolz, because it's not something we're the least bit ashamed of. Human existence is almost never black and white. Sometimes people you despise can be right about things, sometimes people you respect can be wrong about things, and if you lack the maturity to deal with that, the shame is on you.
(There's no better example than that living embodiment of 2020's madness, the trans debate. Nobody of a leftish persuasion wants to be on the same side as Piers Morgan and on the opposite side to Billy Bragg, but if one of them's right and one of them's wrong then those are the breaks. If you decide your ideology based on personalities rather than facts you're a drooling moron and please don't read our website.)
A few of the usual suspects have of course leapt with glee on the quotation as if it were some sort of smoking gun, a position which is roughly as intellectually sound as saying all vegetarians must be genocidal anti-Semites because Hitler was one, or boycotting Maltesers because you found out that Jimmy Savile really liked them.
(They include some people who are just jealous of a site that anyone is reading.)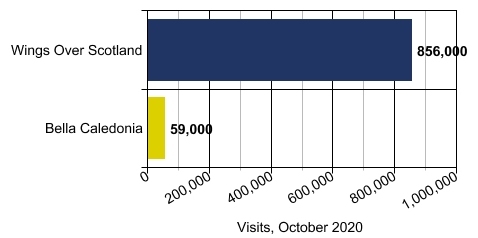 But the bottom line is that Davidson was right, because she was quoting a source that was right. The SNP gave away an idiotic and needless own-goal today, opposing a deal that even only 10% of Remain voters wanted opposed, and by effectively voting for no-deal they made themselves look almost as stupid and cynical and unprincipled as Labour, who hilariously voted on opposite sides at Westminster and Holyrood.
If Ruth Davidson – an ardent and active Remainer, let's remember – has the basic wit to see that and Nicola Sturgeon doesn't, then the truth is that that reflects a lot worse on Nicola Sturgeon (and the pathetic pygmies snarking about it on social media as a substitute for anyone ever caring about anything they say) than it does on either Ruth Davidson or Wings Over Scotland.
As for us, we're just shrugging and putting it down to 2020. We fear that far madder things than Ruth Davidson making sense for once are lurking just over the horizon.