Last night – at the insistence of the SNP – the House Of Commons held a six-hour emergency debate in the wake of the UK's unquestionably illegal bombing of Syria at the weekend, under the supposed justification of a chemical attack that may well not have happened at all, far less have been the responsibility of the unfortunate country's murderous dictator Bashar al-Assad.
(Loony left-wing conspiracy theorists casting doubt on Assad's responsibility for what happened – or didn't happen – in Douma include, er, Major General Jonathan Shaw, the former head of the UK's special forces, and Admiral Lord West, the former First Sea Lord under Tony Blair and Minister For Security And Counter-Terrorism in Gordon Brown's government.)
The debate concluded with a token vote, not on whether the bombing was right or wrong but which merely asserted whether Parliament had "considered" the subject. (ie voting that it had NOT done so would have made a statement that the Prime Minister acted improperly by committing UK forces to a conflict without obtaining MPs' assent.)
Faced with the opportunity to issue a symbolic public rebuke to the government for bypassing Parliament on a matter of war and breaking international law, the radical socialist opposition Labour Party of Jeremy Corbyn… abstained.
In doing so Corbyn's party stomped all over the memory of its own former Foreign Secretary Robin Cook, who resigned in 2003 over the principle of the Iraq War being undertaken without a proper legal basis and who felt so strongly that Parliament, not the whim of the Prime Minister, should determine the UK involving itself in war that he had the words below carved on his headstone: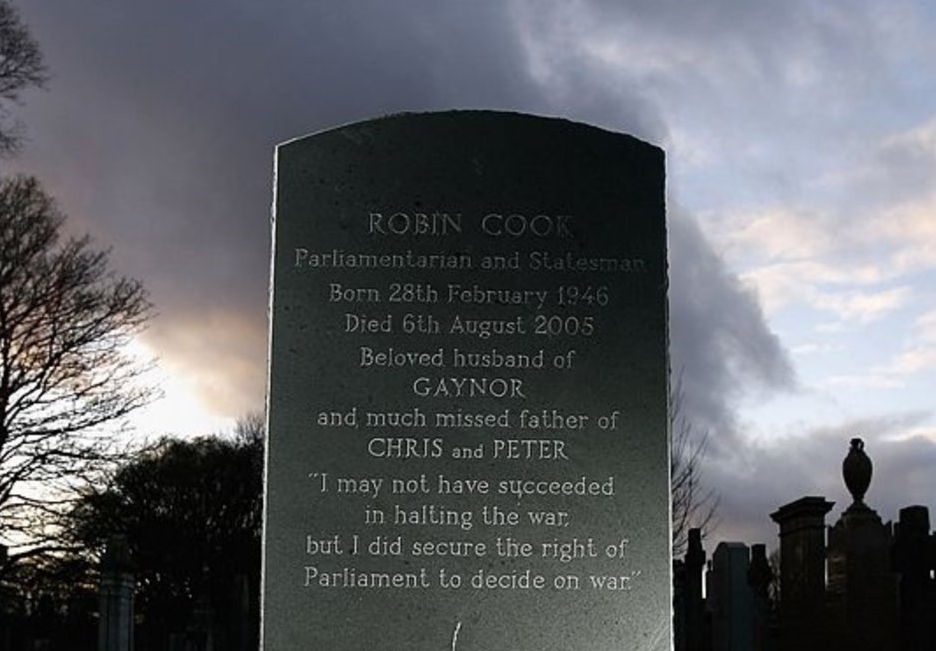 But few were surprised when that right was tossed aside without a word of protest from Labour (indeed, with some vocal support from the Labour benches), because it added to a very long list of Labour abstentions when the chips were down on any number of major issues of recent years:
On a Tory bill for an early EU referendum
On retrospectively depriving workfare victims of compensation
On the right of civil servants to strike
On rejecting the siting of nuclear weapons in Scotland
On opposing the top-rate tax cut from 50p to 45p
On opposing savage cuts to public-sector pensions
On stopping fuel-duty increases
On maintaining concessionary bus travel for the elderly
On massive pay rises for councillors
On the criminalisation of squatting
On reducing VAT from 20% to 17.5%
On savage welfare cuts and the benefits cap
When it really matters – and sometimes even when it doesn't and is just an easy open goal spooned into the stands – you can always count on Labour to do nothing.