Even by the low, low normal arithmetical standards of the Scottish media, yesterday's Scottish Sunday Express humiliated itself with the most stupendously factually wrong articles we've seen in a newspaper for some time.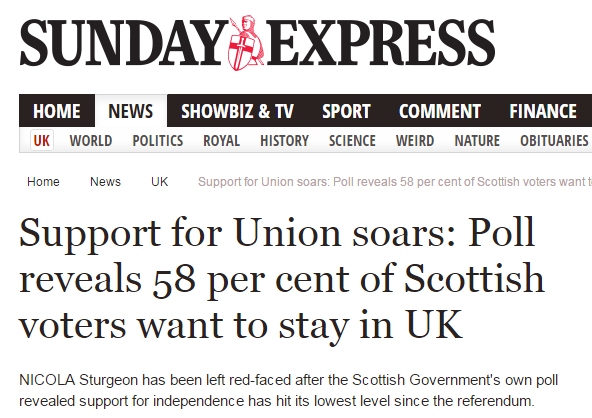 James Kelly on Scot Goes Pop! has already eviscerated its comically inept bumbling in detail, but we thought we'd just quickly give you a visual version.
The annual Scottish Social Attitudes Survey, on which the Express' story is based, has for a variety of reasons historically always found an extremely low level of support for independence – in 2013, for example, it recorded a figure of just 23%, just 18 months before an actual referendum vote of almost exactly twice that.
The latest set of stats in fact show, by a dramatic margin, the HIGHEST support for independence ever found by the SSAS. Measuring like-for-like numbers, backing for independence rose by six points to 39%, easily beating the previous highs of 35% (in 2005) and 32% (2004 and 2011).
Support for the Union, meanwhile (measured as a combination of votes for devolution and Scotland being entirely run by Westminster, with the Scottish Parliament totally abolished), came in at 54% – the LOWEST ever tracked by SSAS, down four points on the previous all-time low of 58% (unsurprisingly, also 2005).
We've crudely added this year's figures onto the end of this graph by What Scotland Thinks. (The top chart is with Don't Knows included, the bottom chart without.)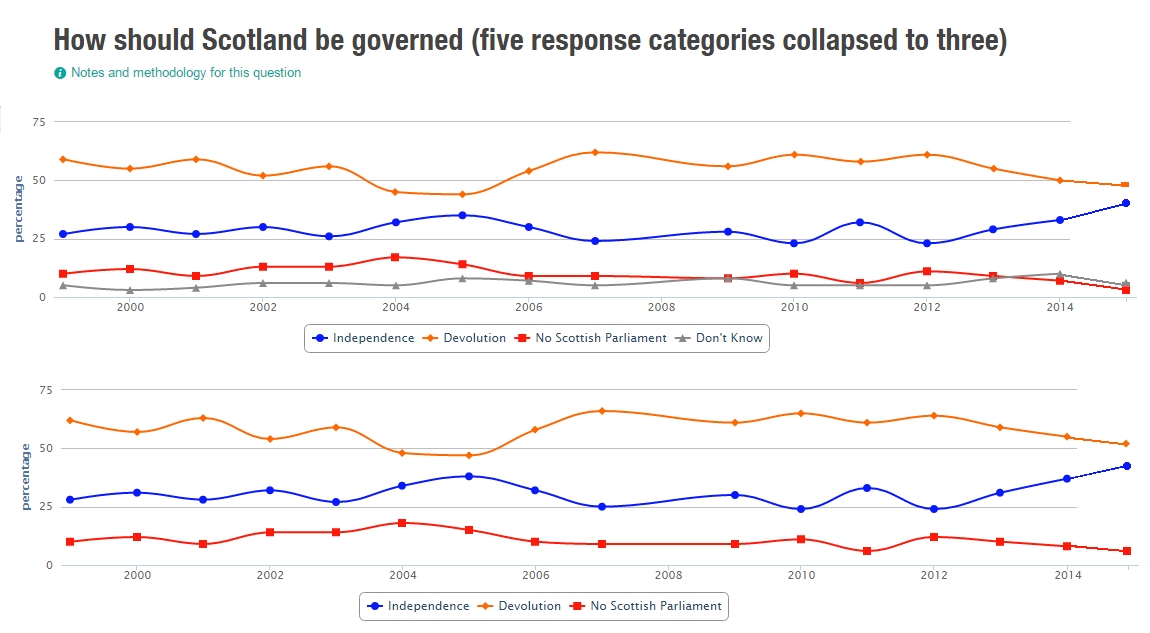 We already know that the SSAS figures are a terrible guide to how Scotland would actually vote in a binary-choice referendum. But whichever way you slice them, this year's numbers are great news for the Yes movement.
Independence support is the highest ever, support for the Union the lowest ever. The closest gap previously recorded by the SSAS – more than a decade ago – was 23 points and as recently as 2012 it was 49 points. This year it's just 15.
Here's a close-up of the last five years: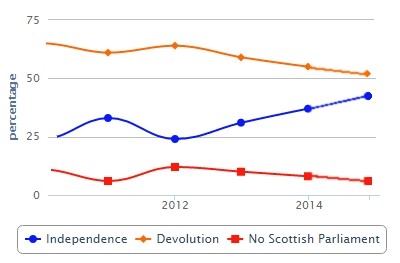 And here's a graph of the size of the Union's lead since records began:
We'll drop the Express a line and offer to explain how numbers work to them really, really slowly. And if we've got time, we'll also leave their dictionary open at "soars".