The ramifications for Scottish politics of the failed stitch-up of Alex Salmond over false allegations of sexual abuse have hardly begun to be felt. The Parliamentary inquiry into the affair, which formally began yesterday and is due to start interviewing people in August, looks set to be swamped in material – or at least, whatever material hasn't been quietly and conveniently disposed of already – and nobody knows how long it'll take to reach any sort of conclusion.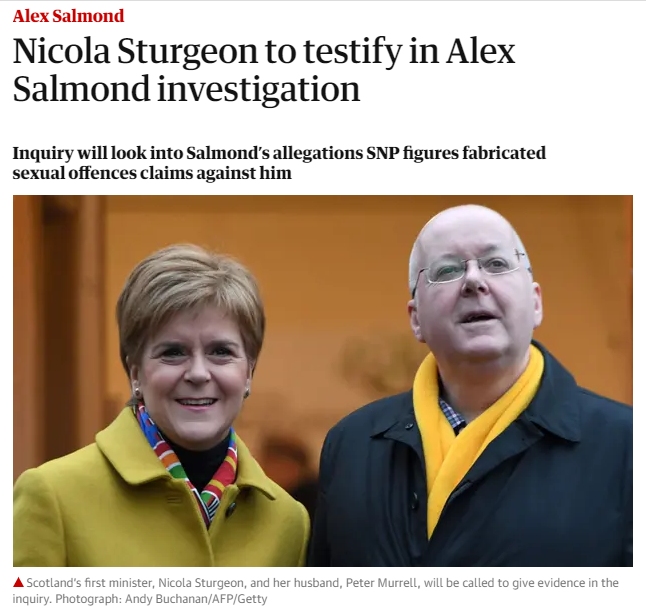 It seems a safe bet that the SNP leadership will be praying it doesn't do so before the 2021 Holyrood election, for all sorts of reasons – not least that it appears beyond any credible doubt that Nicola Sturgeon lied to Parliament about the investigation.
But while Salmond was found innocent on every charge, he continues to be attacked from behind a shield of anonymity by the accusers that the mainly-female jury declined to believe, supported and co-ordinated by organisations funded almost entirely by the Scottish Government and with very close personal links to it.
So when we were putting out our latest Panelbase poll, we thought we'd find out what the people of Scotland thought about it.
As recently as today, Brenna Jessie of Rape Crisis Scotland was continuing to attack and smear Salmond and anyone associated with him.
Rape Crisis Scotland, readers may recall, was behind the letter published in almost every Scottish newspaper just after the trial, which basically implied that Salmond was still guilty, and which was anonymously "signed" by all of the accusers.
Given that Salmond has alleged a conspiracy against him at the highest levels, such actions have given rise to questions about why Salmond wasn't also given the benefit of anonymity before the verdict. And as it turns out those concerns are widely shared.
We firstly asked about anonymity for the accusers: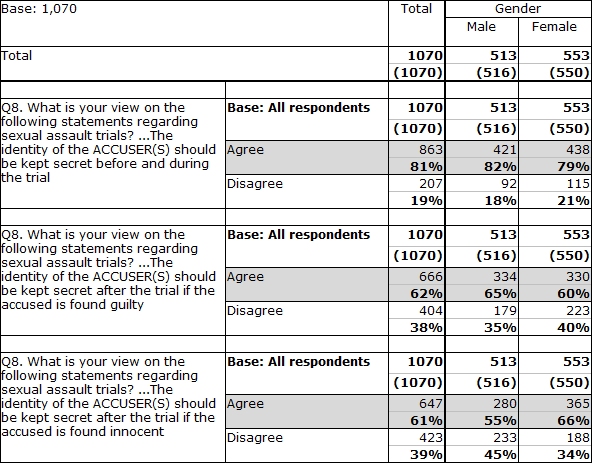 A large majority – over 4:1 – believed that the complainers should be protected before and during the trial. But that number dropped sharply regarding the aftermath of the trial, regardless of the verdict.
From a margin of 62 points, the figures supporting continued anonymity after the trial for the complainers dropped to 24 points if the accused was found guilty and 22 points if they were found innocent. While those are still clear majorities in favour, the size of the difference surprised us, as did the almost identical figures whether the defendant was found guilty or innocent.
And another outcome we weren't expecting was that there was very little difference between men and women. Counter-intuitively, women were MORE likely to want the complainers to stay anonymous if the defendant was acquitted than if they were guilty, whereas men were more logically the other way round, but otherwise the numbers for men and women were consistently only a few percentage points apart.
We then asked if people thought the accused person should also have their identity kept secret, and the results were startling.
Very nearly as many people (75% vs 81%) thought that Salmond should have been protected by anonymity as the accusers, which isn't too surprising as it seems a basic principle of fairness and equality given the huge damage that can be done by false claims of sexual assault. And an even higher number thought that that secrecy should have been maintained after the innocent verdict.
But what's most striking about those figures is that significantly more people wanted Salmond's identity to have been kept secret after the verdict than felt that way about the accusers.
Respondents wanted his anonymity to have been protected after he was cleared by a margin of 54 points – more than double the 24/22 points for the accusers. And again, perhaps unexpectedly, that view was held very strongly by women (a 48-point margin) as well as men (62 points).
The Scottish people appear to believe that Alex Salmond was done a serious injustice by being splashed all over the newspapers for months on end while innocent of any crime, often in articles which all but declared his guilt while picturing him alongside murderers, rapists and Nazi war criminals like Adolf Eichmann.
Salmond has also been left financially ruined by his defence, which ran to hundreds of thousands of pounds and which there's no legal means to recoup. We asked a question about that too.
Here we found the biggest gender gap. Women thought he should have been able to recover his costs by a huge margin – two to one – but that figure was dwarfed by the almost 6:1 majority of men who felt the same way.
It's abundantly obvious from these results that the continued vendetta being pursued against Alex Salmond by elements of the SNP and Scottish Government, and those paid by them, does not have the support of Scottish voters, whatever their sex.
(It also has interesting implications for the extremely one-sided prosecutions which are currently being conducted by the Crown Office and Procurator Fiscal Service with regard to the anonymity of the accusers. We've had no response to our most recent letters on the subject for almost a month.)
But we suspect that'll do nothing to rein the ongoing smear campaign back in the coming months. The stakes are far too high for that.