Our ongoing quest to discover just who is actually willing to take responsibility for the actions of the Crown Office and Procurator Fiscal Service (COPFS) with regard to the trial of Alex Salmond and its aftermath took another diversion yesterday when we received a reply from HM Inspectorate of Prosecutions in Scotland.
It had sounded like a promising lead. After all, HMIPS' apparent purpose is to "inspect the operation" of COPFS, "improve the way COPFS serves the public" and "make COPFS more accountable", all of which are exactly what we were after.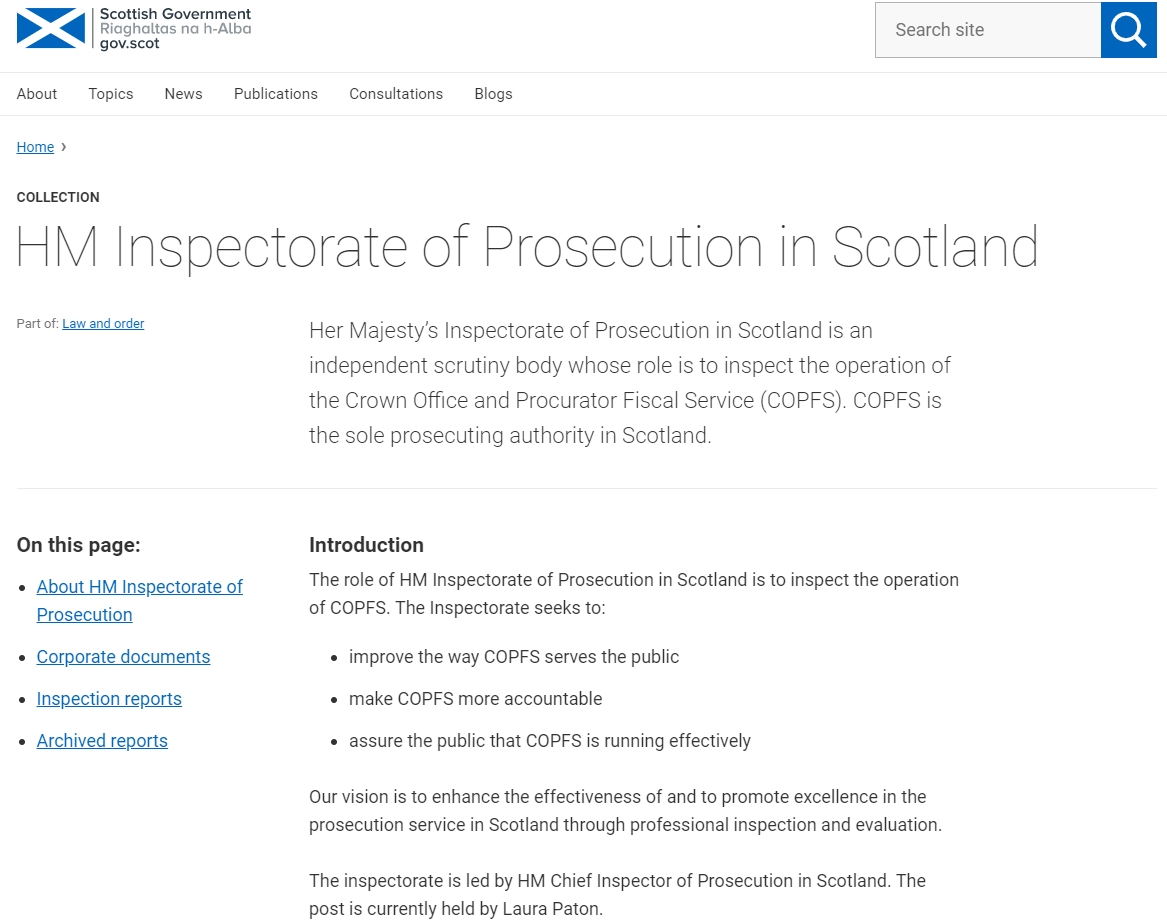 Sadly we had another disappointment in store.
"Dear Mr Campbell

Thank you for your email of 21 May 2020 in which you raise concerns regarding the conduct of the Crown Office and Procurator Fiscal Service in relation to the case of HMA v Alexander Salmond.

As HM Chief Inspector of Prosecution in Scotland, my role is to secure the inspection of the operation of COPFS, as set out in the Criminal Proceedings etc. (Reform) (Scotland) Act 2007. Inspecting the operation of the service takes the form of assessing strategic, thematic or recurring issues, and findings are reported to the Lord Advocate and to the public generally. My role does not include the investigation of the service's handling of individual cases. In particular, decisions in relation to criminal prosecutions, including whether proceedings should be initiated, are taken by the Lord Advocate acting independently of any other person, in accordance with section 48(5) of the Scotland Act 1998.

As a result of our inspections, I make any necessary recommendations with a view to supporting improvement in the delivery of the service. However, I am not able to 'instruct' the service as you request – I am not a regulator, and have no power to enforce compliance.

Where there are concerns about the handling by COPFS of individual cases, these are more appropriately dealt with by the complaints handling function of COPFS in the first instance. The COPFS website describes various means by which a complaint can be made.

If you are unhappy with the manner in which your complaint has been dealt with, including in relation to any delays in handling your complaint, you should contact the Scottish Public Services Ombudsman.

Information on how to do so is included on the same page noted above, and you may also wish to visit www.spso.org.uk.

Further information about my role and the types of inspection activity undertaken is available online.

I hope this information will be of assistance.

Yours sincerely

Laura Paton
HM Chief Inspector
Inspectorate of Prosecution in Scotland"
So let's recap the timeline.
——————————————————————————————-
5 APRIL: We send our initial report about the apparent witness identification in six Scottish newspapers. It's sent to Police Scotland and to the Complaints address at COPFS (because it's not at all clear from the options on the COPFS website what the appropriate address would be).
RESPONSE: A generic "we are actively considering" reply, no name attached.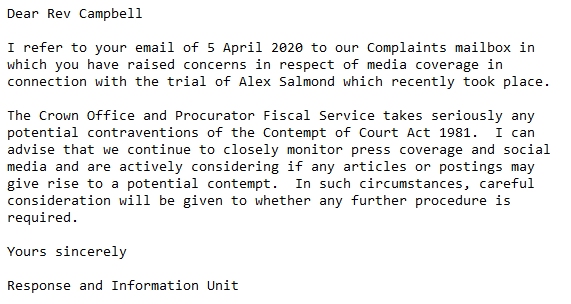 4 MAY: Concerned by the lack of action, we telephone COPFS for an update, and are told to email their Media Relations team.
RESPONSE: Two days later we get a sniffy reply saying we've contacted the wrong department and another generic cut-and-paste job. It suggests that we contact the Complaints address we'd written to in the first place a month earlier.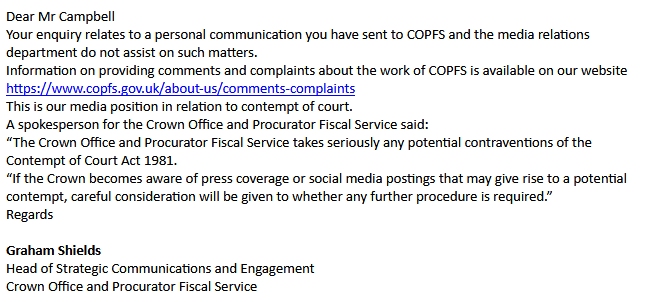 7 MAY: We send another reply asking that if Mr Shields is not responsible – contrary to what COPFS itself had told us – he forward the letter to whoever is. We also resend the letter to the Complaints address ourselves.
RESPONSE: None as yet, from either Mr Shields or anyone else at COPFS.
19 MAY: With no response forthcoming, and considering the matter urgent, we send the letter to the Cabinet Secretary for Justice, and to the address given on the Scottish Government website for the Lord Advocate, James Wolffe.
RESPONSE: The next day we receive a letter telling us that the Cabinet Secretary for Justice is not responsible for justice and that we should instead write to the Lord Advocate (which we've already done), to the Complaints address of COPFS (which we've already done twice), to the Scottish Public Services Ombudsman and to HM Inspectorate of Prosecution in Scotland.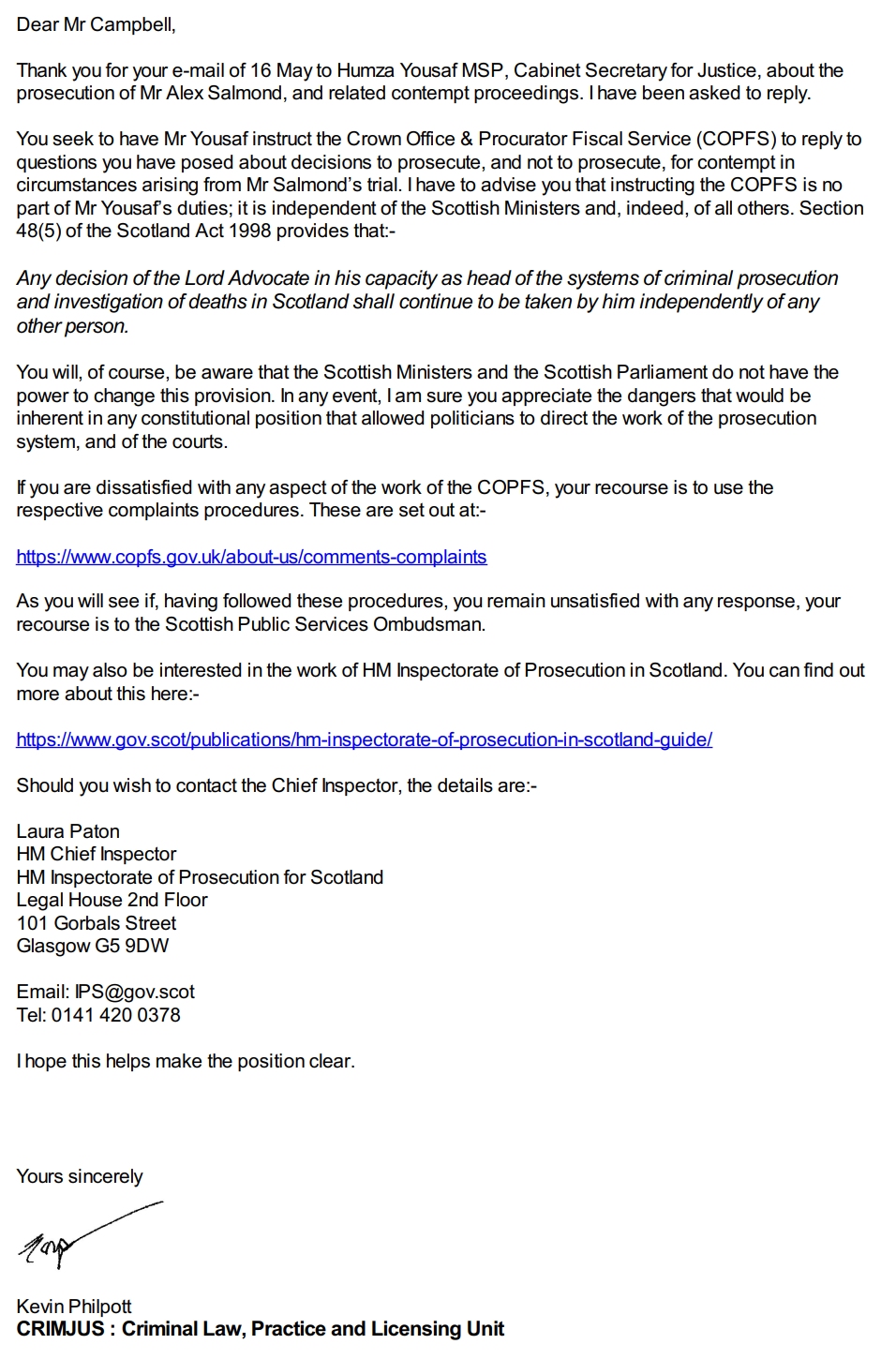 One of the several problems with this response, though, is that the Lord Advocate actually recused himself of responsibility for the Salmond case due to his conflict of interest, and it was prosecuted by Advocate Depute Alex Prentice. But we don't yet know if the Lord Advocate also recused himself from related matters like the charges against Craig Murray and Mark Hirst, and potentially the people named in our report.
We also don't know if Alex Prentice recused himself too, because there would seem to be a clear and apparent conflict of interest there, since he could be viewed as having a vested interest in claiming some sort of scalp from among Salmond's supporters to save face after the failed prosecution of Salmond himself.
Nevertheless, HMIPS sounds like the most relevant body of the other two mentioned in the letter, so we decide to give them a go.
21 MAY: We write to HMIPS, and get the response above, telling us it's nothing to do with them and to contact the Scottish Public Services Ombudsman. The SPSO is basically a consumer watchdog with no actual powers to do anything, and therefore cannot compel COPFS to answer our questions.
We'll send them the email too, but it seems a waste of time.
——————————————————————————————-
So that leaves us with this situation:
DEFINITELY NOT RESPONSIBLE FOR ANYTHING TO DO WITH JUSTICE OR CRIMINAL PROSECUTIONS IN SCOTLAND:
 -The Lord Advocate
 -The Cabinet Secretary For Justice
 -The Crown Office and Procurator Fiscal Service
 -HM Inspectorate of Prosecutions in Scotland
 -The Scottish Public Services Ombudsman
RESPONSIBLE FOR JUSTICE AND CRIMINAL PROSECUTIONS IN SCOTLAND:
 – Um…
 – Er…
 – Taggart?
 – Chief Commissioner Miekelson?
  – Supercop?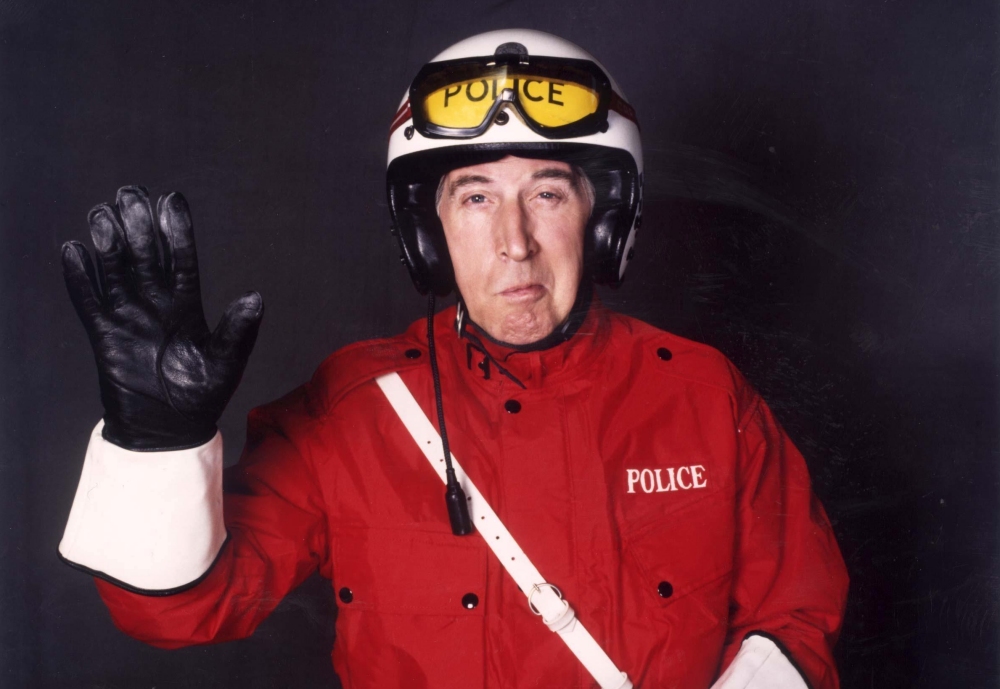 – Det. Sgt. Bruce Robertson?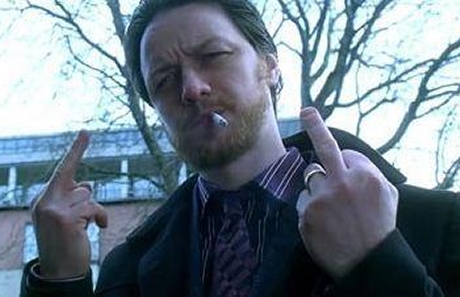 – PC Murdoch?
 – Hamish Macbeth (and wee Towser)?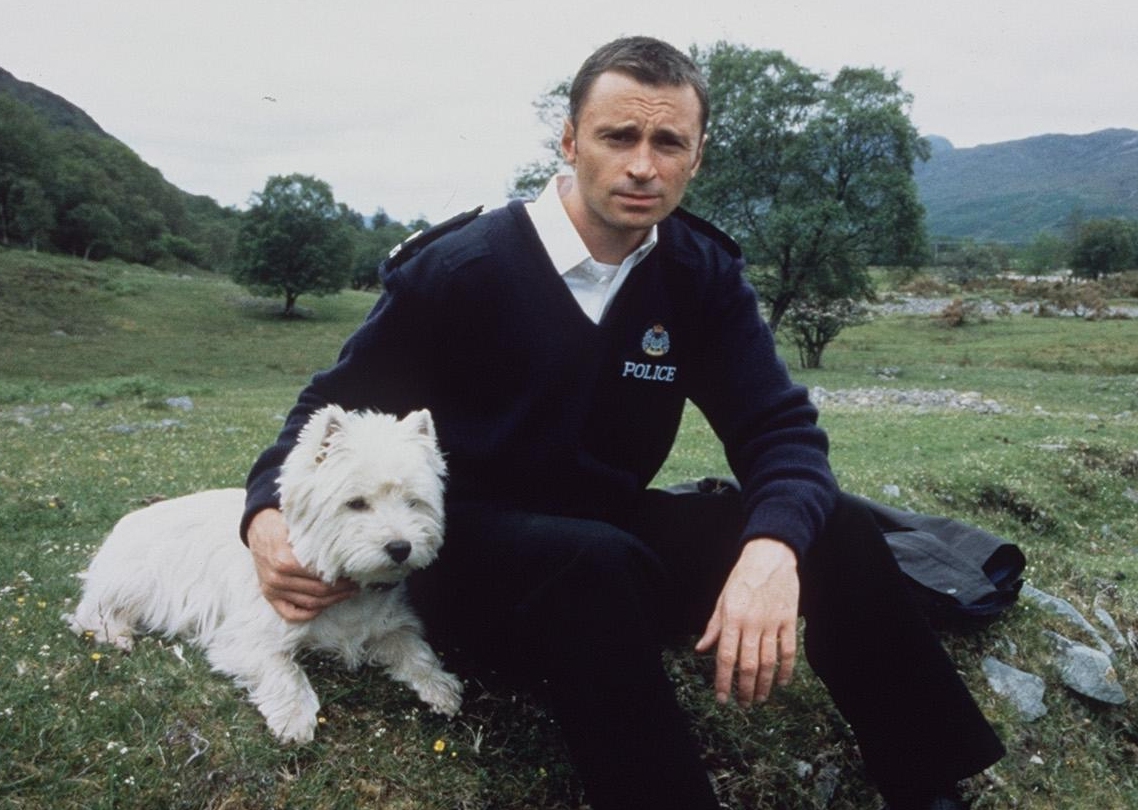 – Or maybe we should talk to DI John Rebus. Might he know anything?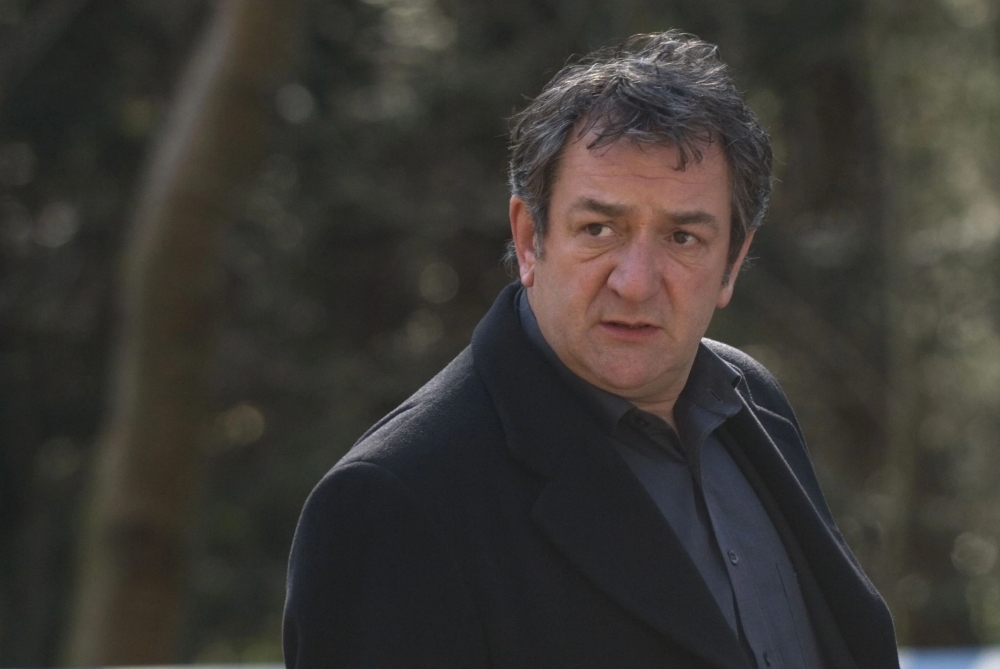 To be honest we're running out of ideas, readers. We'll keep you posted.