The battle-cry of right-wing Labour apologists all this week has been "realism". It's all very well people like Jeremy Corbyn having crazy old principles about what Labour is supposed to stand for, runs the argument, but you can't argue with public opinion and public opinion is desperate for Labour to become Tories with a slightly softer edge.
"Mental John" McTernan, for example, told the readers of the Telegraph yesterday that Labour's disastrous, shambolic abstention on the welfare reform bill was the right thing to do because the party "had to show the public it got the message over welfare".
But what actually IS the public's message on welfare?
Luckily, we have some data on that.
YOUGOV POLL, JULY 2015

61% don't want more welfare cuts, versus just 24% who do.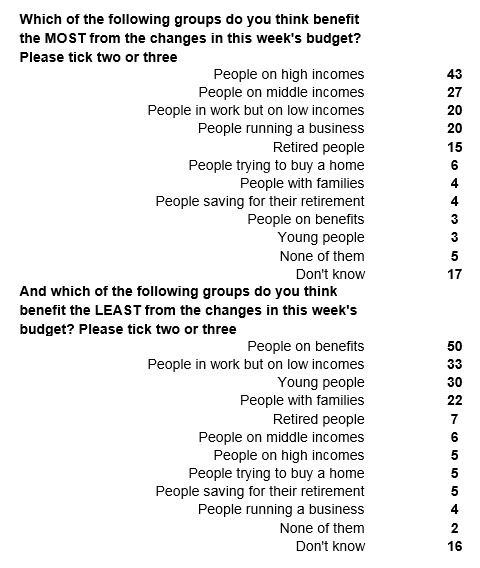 Voters strongly feel the budget was for the rich, not the poor.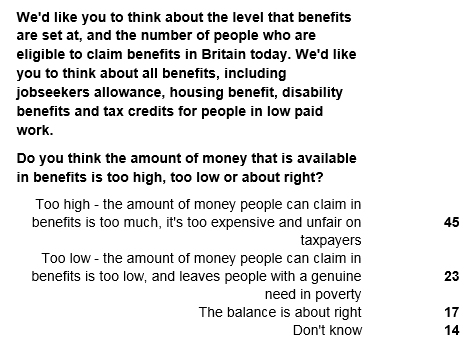 Earlier we saw that 61% of people think that benefit cuts in the last five years have gone either too far or far enough already, while according to this question 45% think there's too much money spent on benefits.
So a majority of people DON'T want any more cuts, while only a minority do.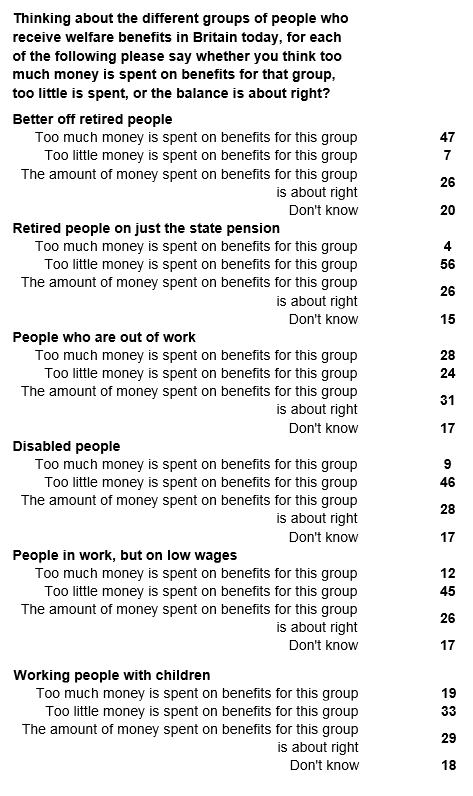 Contrary to anything you'll read in the press, more people actually think too LITTLE money is spent on benefits for every named group (except for wealthy pensioners and the unemployed) than think too MUCH money is spent on them.
By large margins, people want MORE money spent on benefits for low-paid workers, children, the disabled and retired people on state pension only.
And even in the case of the unemployed, barely over a quarter of respondents think too much money is spent on benefits. 55% say they're getting the right amount or too little – TWICE as many as think unemployed people are getting too much.
YOUGOV POLL (LONDON RESPONDENTS ONLY), JULY 2015
London, remember, is where the benefits bill is highest.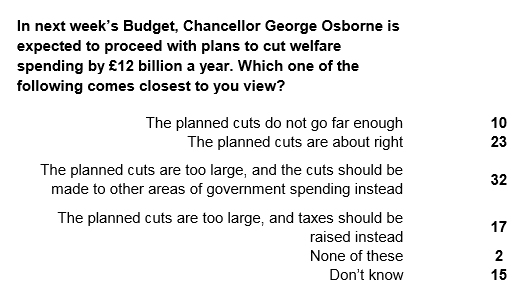 49% of London residents think Osborne's welfare cuts are too large, compared to 33% who think they're not enough or about right. That's closer than the result in the country as a whole (see above), but still a 3:2 margin against more welfare cuts.

London is quite coincidentally also where most of the UK's rich people are. Yet only one in five respondents even in the capital wants income tax cut for the wealthy, and the largest number (36%) wants it raised.
YOUGOV POLL, LATE JUNE 2015
Polls can provide seemingly contradictory results, of course.

Just a few days earlier, the same polling company recorded a statistical tie (within the margin of error) on whether there should be more cuts, though the largest number of people were still opposed and only 40% were prepared to say they were in favour.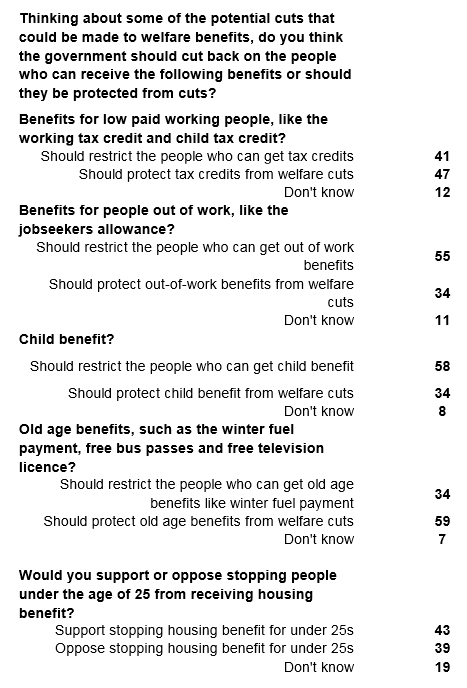 When asked about specific groups, the sample wanted restrictions on eligibility, rather than cuts to the benefits themselves, and even then majorities wanted tax credits, child tax credits and pensioner benefits protected, with only a very slim majority in favour of banning housing benefits to under-25s.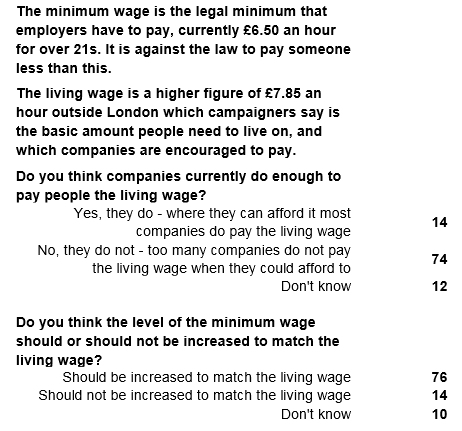 Finally, huge majorities were in favour of forcing – not encouraging – employers to pay the living wage. (The real one, not the Tories' cynically rebadged minimum wage.)
This is a key piece of context – it's not that the public hates welfare, but that the public wants employers to be paying decent wages so that benefits don't have to be paid to people in work and can be redirected to those in need.
Until such times as that's the case, the public wants MORE money spent on benefits for the low-paid, the disabled and those on the state pension. The idea that voters back ever more savage welfare cuts is simply a myth peddled by right-wing newspapers distorting (or outright making up) statistics.
Almost never is there a 50%+ majority for more welfare cuts, and most of the time the public is actively and clearly against them.
But the media commentariat, obsessed with gazing at its own navel and listening to nobody but other media commentators, colludes in this toxic lie – we presume mainly out of laziness – then yells furiously at any politician who dares break the (imaginary) "consensus", hysterically accusing them of dooming Labour to eternal defeat if it dares stand up for the poor and vulnerable.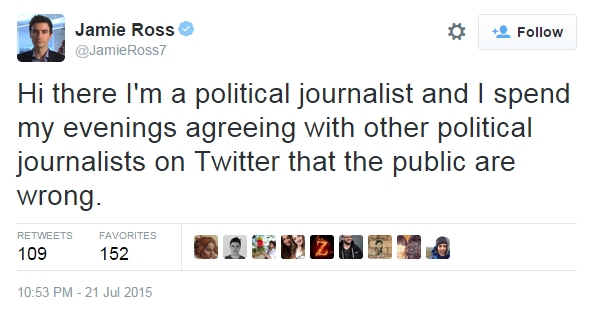 Until some of them start actually listening to what the public is telling them – clearly and explicitly – they'll continue to do British politics a grave and shameful disservice.