As this site is somewhat on the left of the political spectrum, it'd be all too easy to attack yesterday's Budget based on its interpretation by what still passes for the UK's left-wing media. So instead let's look at it through the eyes of the Daily Mail, which is putting, shall we say, quite a positive spin on it.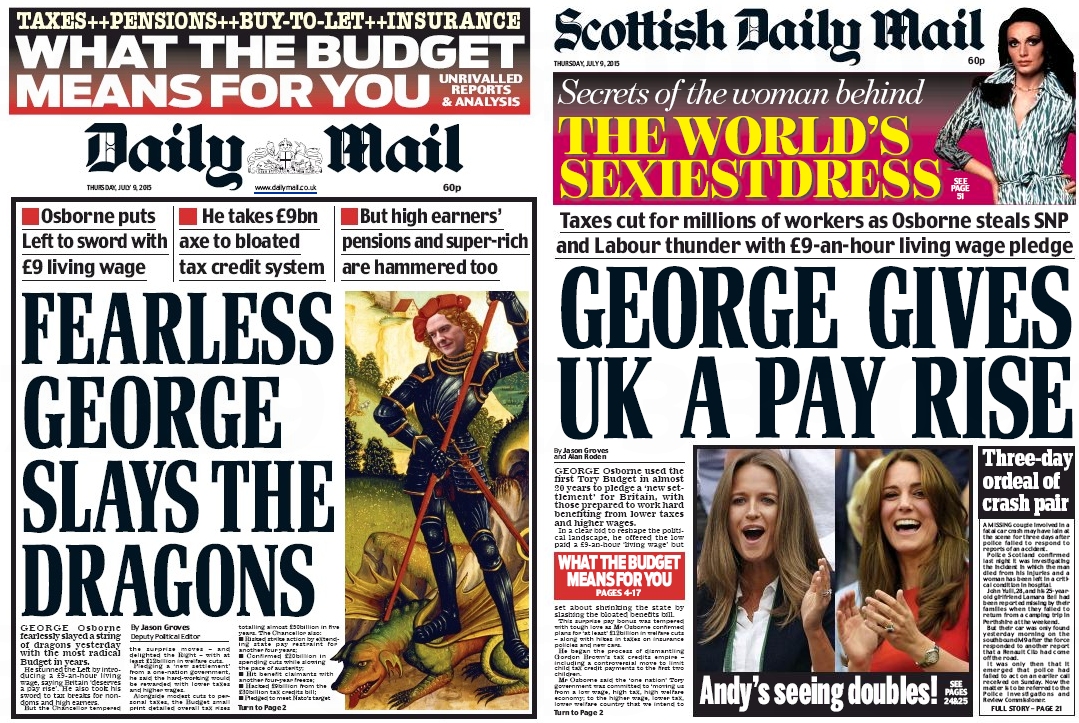 Fair-minded readers will concur, we trust, that the Mail's English and Scottish editions are both portraying George Osborne's first all-Tory budget in almost 20 years as being a good thing for the nation. But let's take a look inside. Because when it's finished with the spin, even the Mail can't disguise that what happened yesterday was the biggest robbery of the British people in a lifetime.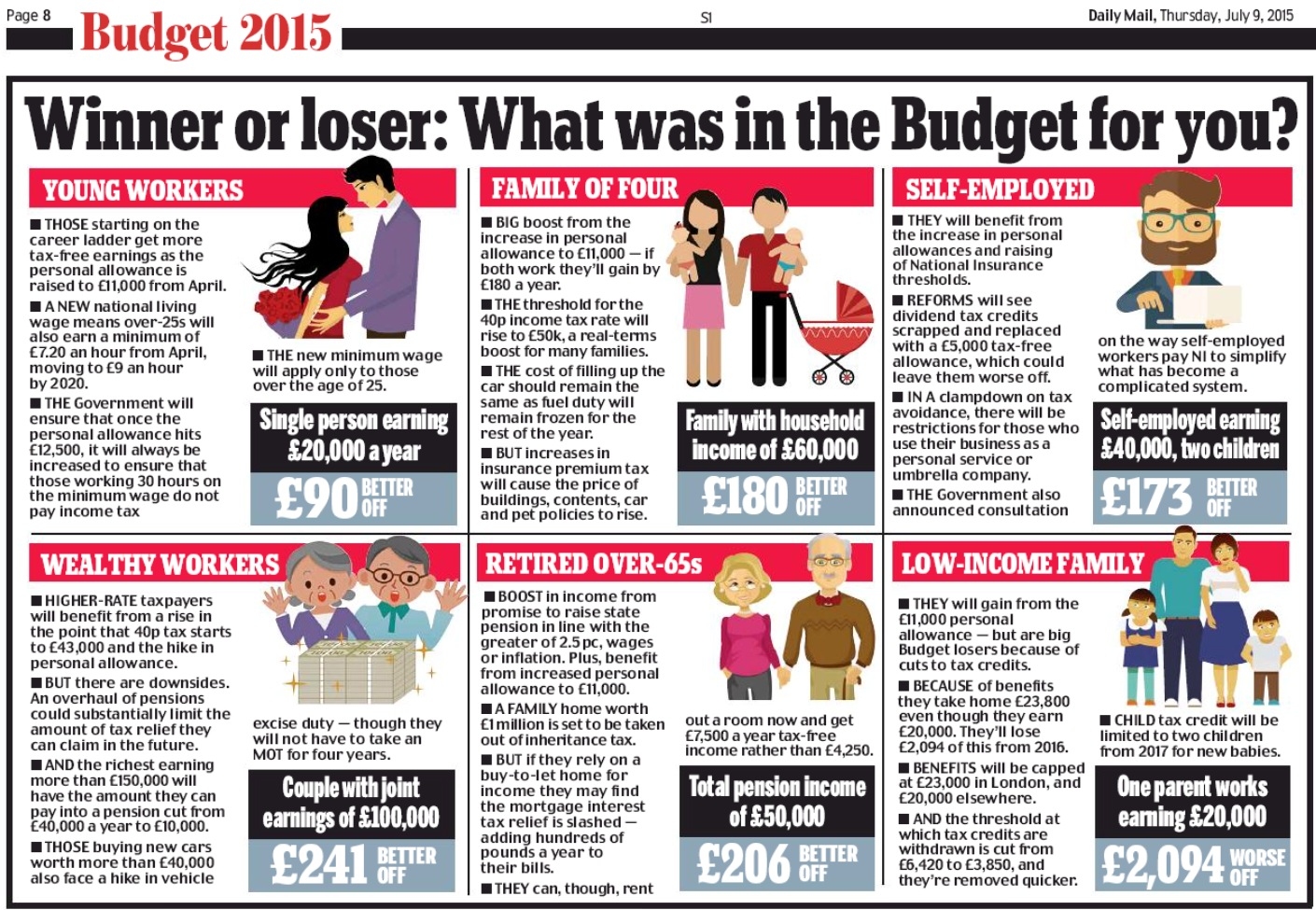 Above is the Mail's at-a-glance graph of the winners and losers from the budget, and eagle-eyed viewers will have immediately spotted the sting in the tail. Although the paper portrays five out of six groups as being better off, even the Mail notes that their gains are funded by an eye-watering assault on the poor.
The five "winner" groups make a total net gain of £890, which is paid for by slashing a monstrous £2,094 from a low-income working family. Keen students of arithmetic will notice that that makes the population overall (as seen by the Mail) worse off by £1,204 a household per year – money Osborne has earmarked to cut inheritance tax for millionaires, increase military spending and reduce corporation tax.
But on a closer inspection it's even worse than it looks, because in order to depict most people as winners the Mail has made some pretty heroic assumptions. Let's take them in turn.
"YOUNG WORKERS" 
The Mail identifies a young single person on £20,000 a year as its benchmark. It doesn't specify what "young" is, but the new "National Living Wage" doesn't apply to anyone under 25.
The most recent UK government figures available for average income by age are for 2012-13, and identify the median income for working people in the 20-24 age group as not £20,000 but £14,500.
With a lower minimum wage, no entitlement to housing benefit for anyone under 22 and the savage cuts to tax credits, even that feeble £90 gain per year looks a highly optimistic assessment.
"FAMILY OF FOUR"
The Mail assumes a family with two children and two working parents will have a joint income of £60,000. The UK average salary is in fact £26,500, making a fairer assessment £53,000.
This entry curiously talks about the higher-rate 40p tax threshold increasing to £50,000 when in fact it's going to be £43,000 after Osborne's changes take effect (it's not due to reach £50K until 2021), so the Mail's figures here must be treated with extreme suspicion.
A real-life family will be earning less and paying more tax on it than the Mail has assumed, which will wipe out that £180 and then some.
In fact, paying the extra 20% of tax on £7000 more of their income than the Mail claims will cost this family £1,400. The Mail also conveniently gives them just two children – a family with more will lose a significant sum from the new limit on child tax credit – and ignores the possibility that they live in social housing, which could see their rent rocket.
"SELF-EMPLOYED"
The graphic suggests a figure of £40,000 for a self-employed single parent with two children. We're going to pause for a moment for the laughter to die down before we point out that in reality, the median annual income of a self-employed person is less than £10,800.
Huge numbers of people have been forced into poorly-paid self-employment by previous welfare reforms, but now the tax credits which topped up their income have been brutally slashed the idea of them being £173 better off is comical.
"WEALTHY WORKERS"
We're struggling to see where the Mail finds an extra £241 a year even for the blessed couple with a household income of £100,000. It notes that they'll lose out on pension contributions, tax relief and vehicle duty, and the only named compensations are the increase in tax thresholds.
But the 40p threshold is only increasing by £615. Assuming that affects both partners, that's £1,230 less income being taxed at the extra 20%, a saving of £246, with another £160 gained from the increased personal allowance.
We must therefore assume that all the negative effects will only add up to £165 a year. But the Mail specifically suggests that the couple will buy cars priced at over £40,000 and those will attract a £310 premium every year over and above the usual excise duty, for five years. So on the paper's stated criteria, even these people are going to be slightly worse off.
"RETIRED OVER-65s"
"Total pension income of £50,000". Ahahahaha. The same UK government figures for average income by age group we cited above suggest that the median pensioner income is around £18,000 per person, giving a couple £36,000, almost a third less than the Mail suggests.
The Mail's analysis is quite bizarre – it suggests the average pensioner couple is making money from a buy-to-let home but also renting out a room in their own house to a lodger, and it factors in the cut in inheritance tax even though that will usually benefit the couple's children rather than them.
Nevertheless, with a pension triple-lock and increased tax allowances, and no real downsides, the relatively wealthy (and coincidentally Conservative-voting) elderly look like the best bet to actually gain something from Osborne's budget.
"LOW-INCOME FAMILY"
Even in predicting a savage, catastrophic loss of over £2000 for a family already barely making ends meet, the Mail sugars the pill. The calculation assumes an income of £20,000 a year, which for many families is an optimistic figure even when tax credits are included.
Unemployed, ill and disabled people, meanwhile, simply don't exist in the Mail's world, and those will suffer hideously from the four-year freeze in working-age benefits, brutal cuts to Employment Support Allowance and more.
In short, then, the Daily Mail is looking at the Budget through several pairs of heavily rose-tinted spectacles at once, and even then paints a picture of an assault on living standards which hits almost everyone below pension age in Britain.
Even on the Mail's glass-half-full analysis it's a redistribution of wealth from the poor to the rich on an almost unprecedented scale, and because the paper has carefully excluded most of the people who'll be hit the hardest the reality is even worse.
(The Mail seems to have ignored the notion that any of its sample workers could be in the public sector, for example, and are therefore limited to 1% pay rises for four years, unless they're MPs. Labour have already backed the freeze.)
Whether you work or whether you're on benefits, or if you're both, you're going to get it in the neck so that the children of the rich can avoid paying a windfall tax on their inheritance, so that the UK can strut around on the world stage with more aircraft carriers, so that big businesses can pay even less tax (in the farcical hope that they'll voluntarily pass these benefits down to workers in higher pay) and so that the Tories can accumulate a warchest for a future cut in the top rate of tax for the wealthiest.
Good luck, Britain. Don't lose your job or get sick.