It's not often you get to see someone actually thinking out loud.
The spectacular collapse of their "FACT: the biggest party forms the government" line earlier this month has clearly left Scottish Labour somewhat scarred. Ever since it was blown out of the water as being not only untrue but also comically hypocritical, the party has been frantically trying to find a new way of saying it that conveys the same message without being technically false.
Blair McDougall looks like he was trying out a few variations that he meant to send to Jim Murphy by private message but accidentally tweeted publicly. Just minutes apart and seemingly apropos of nothing (they're not responses to tweets from anyone else), he says the same thing four times in slightly different phrasing.
Yet every one of them is as wrong as the last.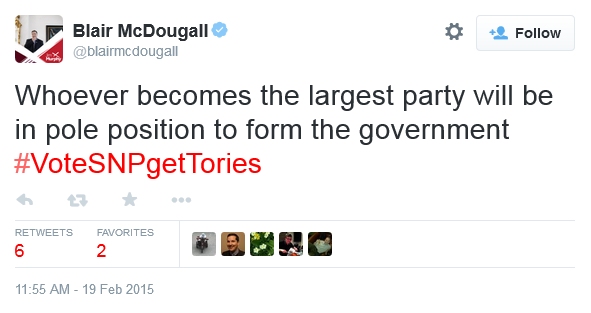 Rubbish. Imagine that the election breaks down CON 285 LAB 275 SNP 45 LIB 20 UKIP 5 OTHERS 20. Who's in "pole position" there?
The Tories are the biggest party, but even with backing from the Lib Dems and UKIP they're well short of the 321 seats they realistically need for even a slight majority. Labour have fewer seats, but could secure backing from the SNP and the Lib Dems for a workable 340 votes, with potential extras available from Wales and NI.
The party in "pole position" is whichever one has the best chance of forming a viable government. Labour have a large advantage in that the SNP, who are expected to grab at least 20 seats and possibly far more, will absolutely not back the Tories. In the highly-plausible example above, being the biggest party gets the Tories nowhere.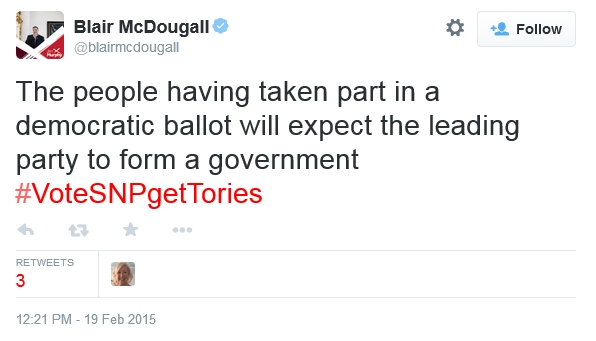 Nonsense. Democracy by no means always delivers single-party government – indeed, in Europe majorities are the exception rather than the norm. By definition, any grouping which can command a majority in Parliament is a democratic one. If the electorate wanted to give one party absolute control, they would.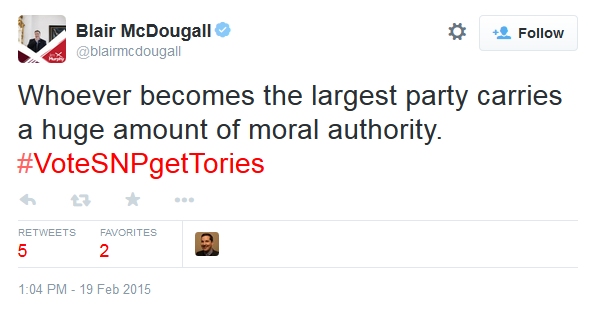 Hogwash. Which has the more "moral authority" – Tony Blair's 2005 government, which represented just 35% of the electorate and got to steamroller the wishes of two-thirds of the country, or the current coalition, which was voted for by almost 60%?
If Labour had succeeded in their attempts to form a coalition with the Lib Dems, that alliance would have spoken for 52% of the nation – a majority, and more than Blair's government did, yet without the largest party being involved. And Labour's senior spokesmen in Scotland today both expressly told us at the time that it would have had the "moral authority" to do so.

You'd imagine, as someone who works for both of them, Blair McDougall would know that. Which only leaves us with his final effort.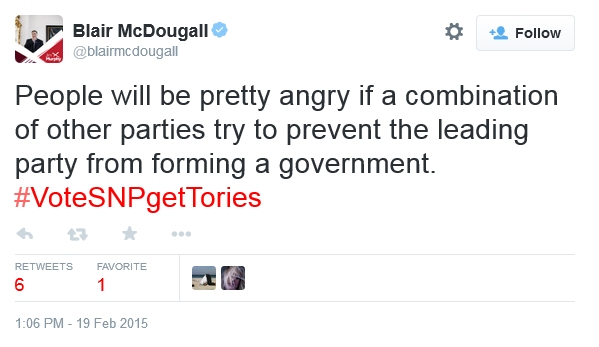 Piffle. The people will expect SOMEONE to form a government, but mostly they'll want it to involve whoever they personally voted for. If Labour get one fewer seat than the Tories, but can get a workable majority by co-operating with other parties, Labour voters will be thrilled, as presumably will be the supporters of those other parties.
The only people who'll be angry will be those who voted for the party which won most seats. But since for this scenario to occur they'd almost certainly have to number somewhere in the region of 30% of the electorate, it's hardly an outrage. You can't really whine about not being the government if only 3 in 10 people voted for you.
Given that "Vote SNP get Tories" is Scottish Labour's ONLY election message, we suspect we'll see many more bouts of semantic wrestling in weeks to come as the party tries to find a way of making a demonstrably false line stick. We're waiting keenly to see the next attempts.
.
FOOTNOTE: See here.