20 years ago today, Scotland voted to have a Parliament for the first time in almost three centuries, by an overwhelming margin (although with modest enthusiasm – less than 10% more people actually voted for devolution than voted for independence in 2014, at 1.78m and 1.62m respectively).
Just 20 months after the vote the Parliament came into being, and Scotland's media has been complaining about how useless it is ever since.
Today's newspapers commemorate the anniversary by unleashing the full pontificating weight of the punditariat – most of whom have been opining wearily on Holyrood's failings for the entire period – to bleat with their customary single voice about what a disappointment it's all been.
The weird thing is that after all that time, none of them can actually explain why.
Here, for example, is David Torrance in the Herald: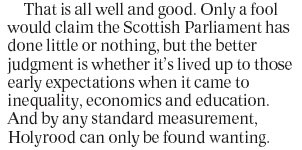 Can it? What should it have done? What powers did it ever have to significantly impact on inequality or economics? You can plough gamely all the way through to the end of Torrance's typically pedestrian commentary and not find a single example of something he wishes Holyrood had done but didn't.
If you want to read basically the same article again, you can venture over to the Times and endure Magnus Linklater making the same vague complaints:
Linklater concludes by bemoaning "today, as one looks back on Scotland's double decade of devolution, the overwhelming sense that lingers is: what might have been". But the nature of what it was precisely that he would like it to have been goes unspoken. Which opportunities were lost, exactly? The reader is left to guess.
Over on the Guardian, a piece by Gerry Hassan starts out more positively:
"Twenty years later devolution has been a success. There are no serious calls for the Scottish parliament to be abolished or for a return of direct rule from Westminster."
Although the timing of the latter assertion is unfortunate in the light of a weekend poll showing that the number of people making just such a call was at a record high of 19%, or over a million Scots.
But Hassan, too, quickly descends into grumbling.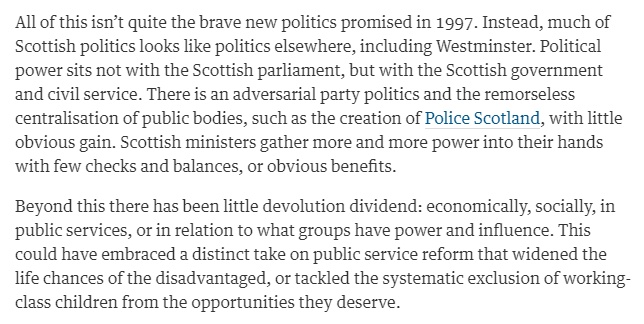 And again, there's no suggestion of HOW the Parliament could have achieved those things. It was set up as a glorified local council with almost no powers to affect serious economic change which could address inequality, and it remains so now. Wages, most welfare, most taxation, immigration and the vast majority of other economic levers are out of Holyrood's reach by design.
So saying that it "could have embraced a distinct take on public service reform that widened the life chances of the disadvantaged" is just woolly white noise padding out column inches until the required wordcount is reached and the paycheque earned. What Hassan would have had Holyrood actually specifically do is a mystery.
The piece is, however, a model of clarity compared to Paul Sinclair's incomprehensible witterings for the Scottish Mail On Sunday.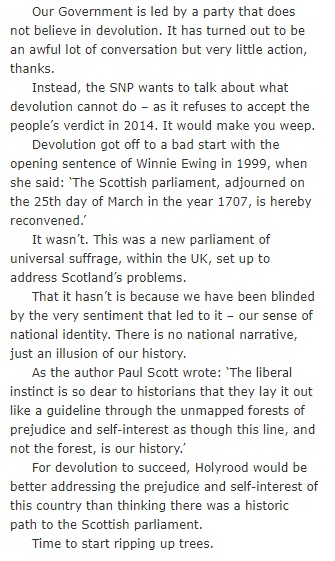 We'll gratefully accept answers on a postcard about what on Earth any of that means.
The final word, though, must go to the Scotsman's eternally grumpy old man, Brian Monteith, one of the leading lights of the No/No movement back in 1997 and whose opinion of devolution hasn't improved with time.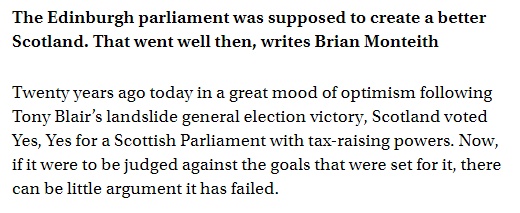 So convinced is Monteith that there can be no argument over the Parliament's failure that he doesn't bother to make one. Instead, bizarrely, he embarks on a long list of things he was completely wrong about.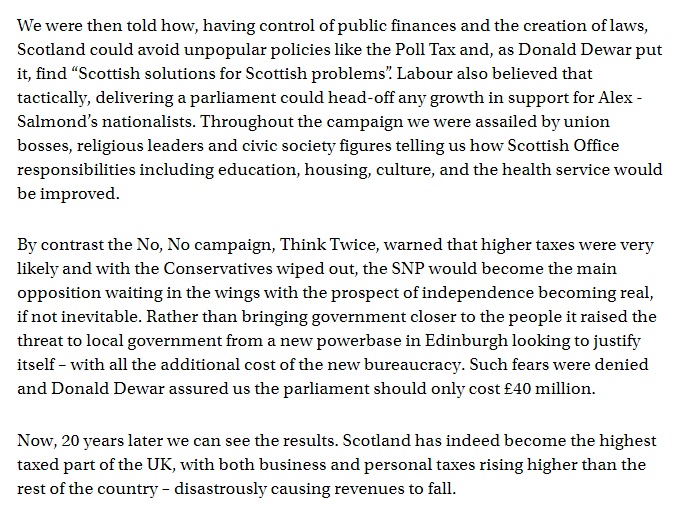 By almost any measure, the Scottish NHS is indeed in better shape today than its counterparts elsewhere in the UK, and is widely recognised as such by voters. Higher education is free in Scotland. Social housing is being built again. Government is unquestionably closer to the people, and far more of them trust their government in Edinburgh than the one in London.
And Monteith's claim that the price of such progress is higher taxation is a myth that's been endlessly debunked. A small minority of Scots do pay slightly more income tax than their rUK counterparts, but everyone pays less council tax and nobody pays the bedroom tax. Overall it's beyond any reasonable dispute that the tax burden on Scots is LOWER than anywhere else in Britain, and they get more services for their money, including free prescriptions, bridge tolls and personal care.
(There are hundreds more words of whining to get through in the column, but to be honest we can't face wading through them all paragraph by paragraph. Suffice to say is that everything good in Scotland has apparently happened despite devolution and everything bad has happened because of it.)
The biggest material change in Scottish public life since devolution has arguably been the apocalyptic collapse in the fortunes of the print media. Scotland On Sunday, for example, sold 135,000 copies a week when the Scottish Parliament opened its doors, but has plummeted to just 22,000 today, and the rest have followed similar trajectories.
(The Daily Record was shifting more than 700,000 when Scots voted for devolution, but has now lost almost 80% of that audience and is clinging to barely 140,000.)
With the endless diet of carping, cringe and misery they've served up over that time, it's not much of a struggle to see why. And with the same torn coupons still spouting the same old doom and gloom two decades later (sparingly supplemented by youngish fogeys like Torrance, cut from identical cloth), we wouldn't bank on anything changing any time soon.
The only real debate about the future, in fact, is whether the Grim Reaper will come for the elderly hacks or the papers they write for first.