I went to "Dunkirk" at the cinema today. If you want to know what it's like, just watch this trailer 40 times in a row and save yourself the £12.
It's a poor movie, disjointed and aimless and curiously lacking in tension or narrative given the real-life subject matter. (It's remarkably short on dialogue, which is lucky because you can barely make out any of what little script or story there is from behind the endlessly howling one-note airhorn of the soundtrack. It's a bit like someone filmed an IKEA assembly manual in live action during a Formula 1 race.)
But I couldn't help thinking that part of the reason it was so unengaging was because it felt akin to watching a boxing match between two fighters you don't like. If Mike Tyson took on Tyson Fury, would you cheer for the rapist or the anti-Semitic homophobe?
Dunkirk – the reality, not the film – is a story of a near-miraculous feat, snatched from the jaws of a truly evil enemy (although you don't see a single German face in the movie until a passing half-glimpse in the final moments). But I watched it with no sense at all of good guys and bad guys, because for the last five years Britishness has been so aggressively weaponised against the Yes movement that neither side felt like mine.
(Particularly so in a military context, with Govan shipyard jobs used as a blackmail tool and – most transparently – in the deliberate and openly-political scheduling of Armed Forces Day against the Bannockburn anniversary in 2014. Indeed, the very concept of Scotland has been actively and forcefully ejected from the idea of Britishness.)
A dog-food salesman with whom Wings readers may be familiar was praised this week by honorary Army colonel Ruth Davidson – what was that we were saying? – for a blog post about making "the emotional case for the Union".
(The emotional case for the Union, you may not be entirely astounded to hear, turned out to be "SNP BAD, too wee too poor too stupid".)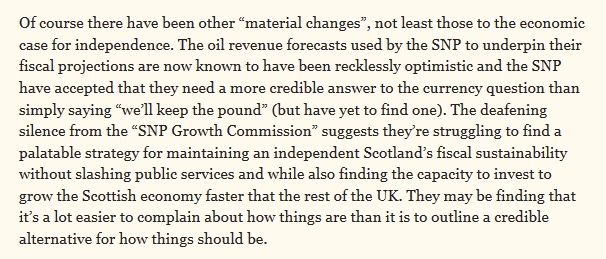 But to coin a Dunkirk-appropriate phrase, that ship has sailed. The aforementioned cynical weaponisation by the No campaign of anything that might once have been a source of shared British pride; the grotesque, vicious triumphalism of 19 September 2014 in George Square; the open return to hardline sectarianism and bigotry – all of it wrapped in the Union Jack – has for huge numbers of Scots permanently extinguished whatever part of them they may have considered British.
In significant part because of what happened at Dunkirk, WW2 ended in victory for the Allies. But the UK's official goal in declaring war was the liberation of Poland, and it wasn't until 50 years after the German invasion that the Poles were actually free. In 1945 the people of Eastern Europe simply traded the jackboot of the Nazis for the iron fist of Stalin, and the latter was barely less bloody.
Scotland's position is – obviously – not materially analogous to that of Poland. But a great many Scots now hold the Union in no more esteem than the Poles held its Soviet counterpart, and no amount of appealing to their emotions from those who've spent the last six years sneering, threatening and belittling them is going to change that.