We were looking for something else this afternoon, but accidentally found this: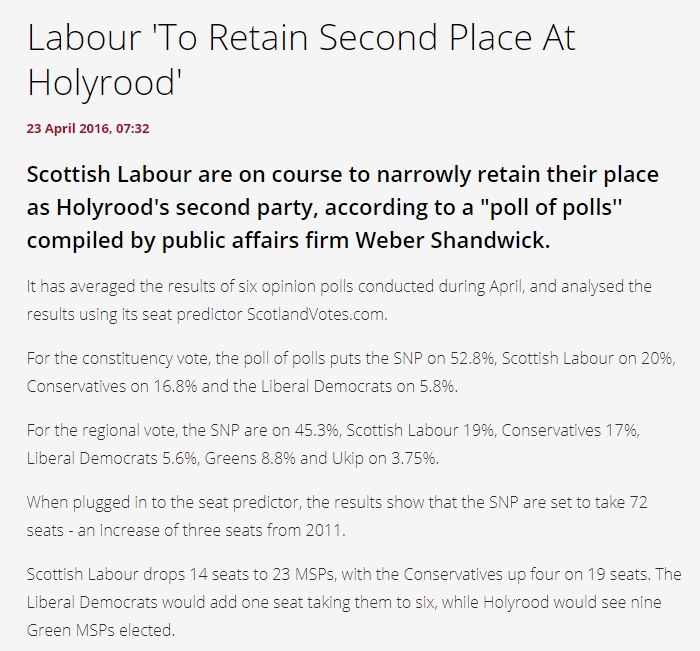 Just two weeks before the last Holyrood election, widely-respected analysts Weber Shandwick had put together a prediction of how the results would pan out. Just for a bit of fun, let's compare it to the reality.
Based on a "poll of polls", WS predicted an increase in the SNP's absolute majority from 2011, going from 69 seats to 72. But alert readers may recall that that isn't what happened. The SNP significantly underperformed both on vote share and seats, and actually lost its majority, becoming reliant on the Greens and vulnerable to united opposition attacks, such as the repeal of the Offensive Behaviour (Football) Act.
SEATS
SNP predicted: 72
SNP actual: 63
LAB predicted: 23
LAB actual: 24
CON predicted: 19
CON actual: 31
LIB predicted: 6
LIB actual: 5
CONSTITUENCY VOTE
SNP predicted: 53%
SNP actual: 47%
LAB predicted: 20%
LAB actual: 23%
CON predicted: 17%
CON actual: 22%
LIB predicted: 6%
LIB actual: 8%
REGIONAL VOTE
SNP predicted: 45%
SNP actual: 42%
LAB predicted: 19%
LAB actual: 19%
CON predicted: 17%
CON actual: 23%
LIB predicted: 6%
LIB actual: 5%
GRN predicted: 9%
GRN actual: 7%
The SNP and Green votes and seats were considerably overestimated, while the Tory vote was severely underestimated – Ruth Davidson's Red Hand Of No Surrender To A Second Referendum Party ended up with an astonishing 63% more seats than the projection, and taking 2nd place from Kezia Dugdale's hapless Labour.
The Tories are now led by a blundering gammon-faced poltroon and Labour appear staggeringly to have found someone even more hopeless than Dugdale, but swap the two parties around (as they've switched 2nd and 3rd) and the figures from today's Panelbase poll are still eerily similar to those over-optimistic projections from 2016.
2016 SNP predicted: 72 seats
2020 SNP predicted: 74
2016 LAB predicted: 23
2020 CON predicted: 24
2016 CON predicted: 19
2020 LAB predicted: 17
2016 LIB predicted: 6
2020 LIB predicted: 5
2016 GRN predicted: 9
2020 GRN predicted: 9
And today's poll is 10 MONTHS out from an election, not two weeks. A very great deal of potentially very murky water is yet to flow under the bridge. All we're saying is, the avalanche of hubristic crowing from certain SNP quarters, and complacency from indy "inevitablists", might just be getting a little ahead of itself.